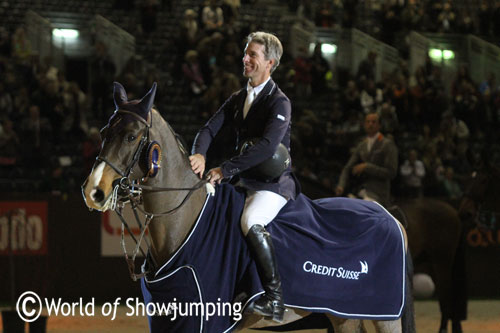 Richard Spooner won with Cristallo. Photo by Jenny Abrahamsson.Richard Spooner and Cristallo (Caretino x Cicero) won the Credit Suisse Grand Prix on Thursday evening at the CSI5* show in Geneva. Seventeen riders made it to the jump-off in the 1-55 class, but only sixteen turned up again as Carsten-Otto Nagel chose not to ride Corradina (Corrado x Sandro) the second time around.  
For a long time there were no clears in the jump-off. Rider number eight - Harrie Smolders on Exquis Walnut de Muze (Nabab de Reve x Chin Chin) - was the first one to clear the jump-off track. The riders before Smolders all had faults, such as the unlucky Reed Kessler who had the last fence down, and Rodrigo Pessoa and Werner Muff who both had the first fence down. The most drama was caused by Christian Ahlmann though, who fell off after a short turn and a misunderstanding between him and Codex One (Contendro X Glueckspilz).
Gregory Wathelet and Citizenguard Cadjanine Z (Canabis Z x Feinschnitt I Z) were the next ones to clear the course, and the Belgian rider slotted in to second place until Richard Spooner and Cristallo took over the lead on 37.42 seconds pushing Harrie down to second and Gregory to third. Marco Kutscher with Spartacus TN (Stakkato x Grannus) took over the second place on 37.64 seconds.
It was a good day for Richard Spooner; he also ended second in the 1.45 class earlier in the day on speed machine Billy Bianca (Vectha x Iroko) - a class that was won by Rodrigo Pessoa on HH Let's Fly (Lordanos x Forrest).
Top five:
1. Richard Spooner - Cristallo
2. Marco Kutscher - Spartacus TN
3. Harrie Smolders - Exquis Walnut de Muze
4. Gregory Wathelet - Citizenguard Cadjanine Z
5. Edwina Tops-Alexander - Ego van Orti
Unhandled rendering error in 'PrevNextNews' part: System.Exception: System.Data.SqlClient.SqlException: Timeout expired. The timeout period elapsed prior to completion of the operation or the server is not responding. at System.Data.ProviderBase.DbConnectionPool.GetConnection(DbConnection owningObject) at System.Data.ProviderBase.DbConnectionFactory.GetConnection(DbConnection owningConnection) at System.Data.ProviderBase.DbConnectionClosed.OpenConnection(DbConnection outerConnection, DbConnectionFactory connectionFactory) at System.Data.SqlClient.SqlConnection.Open() at IceCube.Common.GetDataViewByQuery(String strQuery, IEnumerable`1 prms) exec WOSJ_News_PrevNext_s @ObjectID,@NavID at IceCube.Common.GetDataViewByQuery(String strQuery, IEnumerable`1 prms) at IceCube.BuiltInParts.Repeater.RenderCall(ITemplate currentTemplate, Int32 navID, Int32 zoneID, SitePart sitePartID, Dictionary`2 uiArgs) at IceCube.BuiltInParts.Repeater.RenderCall(ITemplate currentTemplate, Int32 navID, Int32 zoneID, SitePart sitePartID) at IceCube.Rendering.CallPartBlockInfo.ToString()