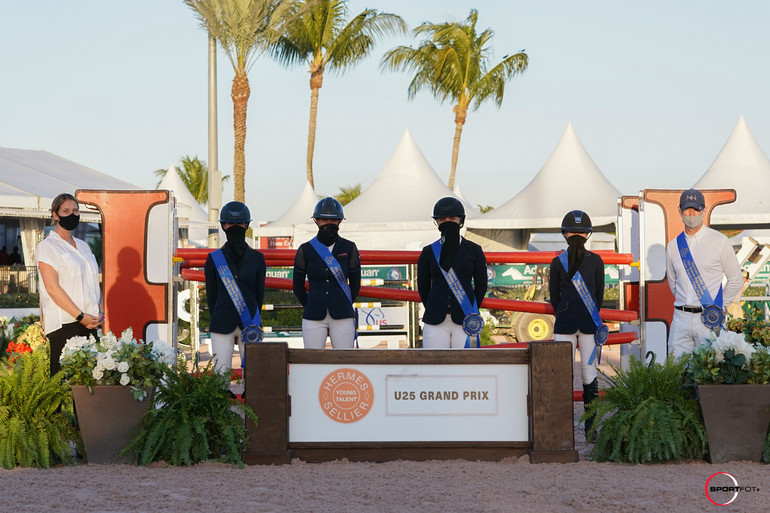 Leah Rogers Meierfeld, Senior Equestrian Account Executive for Hermès, Ioli Mytilineou, Jessica Mendoza, Emily Moffitt, Grace Debney, and Chef d'Equipe McLain Ward in their awards presentation. Photo © Sportfot.
Press release from Equestrian Sport Productions
---
In the $25,000 Hermès U25 Grand Prix Series Team Event, Team Baywatch took the victory with an impressive final score of zero. The team was composed of Jessica Mendoza (GBR) and I-Cap CL Z, owned by Jessica Mendoza (0,0); Emily Moffitt (GBR) and Light Blue, owned by Poden Farms (0,0); Ioli Mytilineou (GRE) and Caiam D'Ivraie, owned by Elia Construction SA (0,0); and Grace Debney (GBR) and Boheme De La Roque, owned by Temple Equestrian, LLC (4,0).
"It's really great to do this team," began Mendoza. "I've competed in this event several times, and this is my last year in [the under 25 division]. This year I used a green horse, and I thought this would be a good experience to be here and go into the ring with a Nations Cup format. I thought that was great, and it was nice to be a part of such a good team."
It is 16-year-old Debney's first season riding in the U25 series. She noted her excitement for the series and credited her horse for their solid day's performance. "It means so much to be on a team like this and to have this opportunity," she explained. "These are three other amazing riders on this team, and this season is my first time competing in the U25 series. It's cool to ride on the team with them and experience this type of team format."
Debney continued, "My horse is the quietest horse in the barn, and when she gets to the show ring she's all business and wants to jump clear as much as I do, so I was really proud of her today. She was amazing."
Chef d'Equipe McLain Ward also credited Debney and the entire team's hard work and determination. "They did great, and their win is very exciting. They're four top young riders and pretty seasoned in competition. Grace (Debney) was on a new horse that I helped sell to her. Her trainer Sam Schafer has worked with me for the last several years, so it's nice to be able to bring some experience to the table to help her bring a clear round to the team. She handled it beautifully, so it was a good afternoon."
It's Ioli Mytilineou's first season competing in Florida, and she is grateful for the opportunity to participate in more team events and gain that experience with her peers in the U25. "To me it's a great experience to be on this team," noted the 23-year-old. "I'm from Greece so I haven't done many team events, plus it's my first time in Florida. I'm liking it so far; I've got a win under my belt and I'm ready to go home now! Being a part of such a great team was awesome. It's a big class, and there is a lot of talent out here."
Moffitt, 22, was also on a green horse like Mendoza and admitted her pride in her mount and his performance. "I have a super green horse," she concluded. "This was his third 1.45m ever, and I was so proud of him. I'm a sucker for a team event. It's such a fun experience, and I'm lucky to be a part of such a great team, especially because it's all girls. I have to throw that in there! It's one of my favorite events, and I try to participate in it every year."
Second place in the $25,000 Hermès U25 Grand Prix Series Team Event went to The Chiefs, consisting of team members Lucy Deslauriers (USA) and Billy De Beaufour owned by Luja, LLC (0,0), Carlos Hank Guerreiro (MEX) and H5 Market Irminka owned by H5 Stables (0,0), Zoe Conter (BEL) and Dolitaire Chavannaise owned by Stephex Stables (4,0), and Eugenio Garza Perez (MEX) and Contago owned by El Milagro (0,0).
Third place was a three-way tie, and was awarded to Heathman Farm team of Delaney Hamill (USA), Ty Simpson (USA), Daniel Cyphert (USA), and Stella Stinnett (USA); Team Madden with riders Kelli Cruciotti Vanderveen (USA), Samantha Wight (USA), Audrey Schulze (USA), and Maria Brugal (USA); and Connect 4 with Flo Norris (GBR), Maya Nayyar (USA), Alessandra Volpi (USA), and Tanimara Macari (MEX).