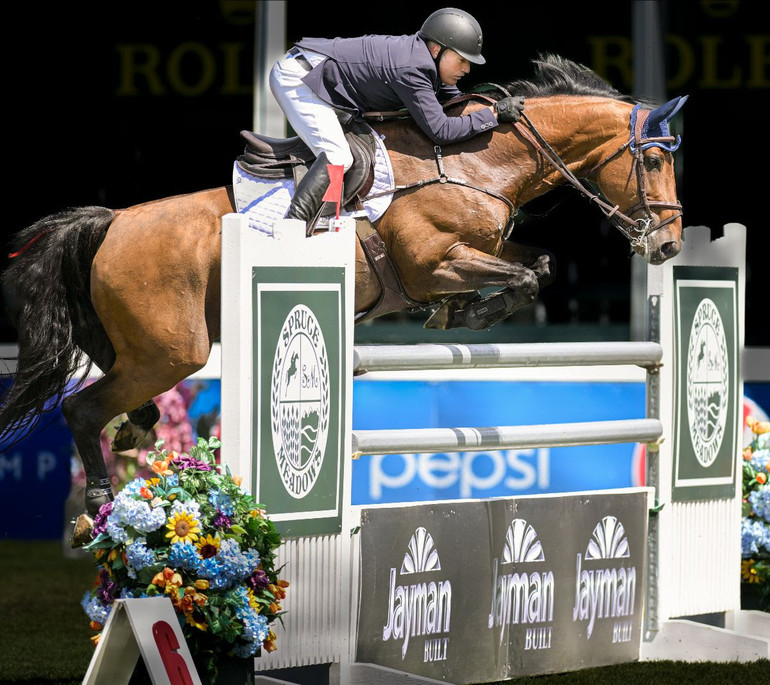 Jim Ifko and Un Diamant des Forets won the Jayman BUILT Cup at Spruce Meadows. Photo © Spruce Meadows Media/Mike Sturk.
Edited press release from Spruce Meadows
---
The CSI5* 1.50m Jayman BUILT Cup started off competitions in the International Ring at the Spruce Meadows 'North American' CSI5*/2* tournament. Fifty-four athletes entered the one-round competition against the clock looking to post the fastest clear ride and make it to the winner's circle. The course, designed by FEI course designer Peter Holmes (CAN), was 532m in length and needed to be completed in under a time allowed of 81 seconds.
It was a big field of top international athletes, but it was local rider Jim Ifko (CAN) aboard Un Diamant des Forets (Verdi TN x Richebourg) who could not be caught – with an incredibly fast time of 66.37. Almost three seconds behind followed Paul O'Shea (IRL) on Hellcat (Cassander van het Bremhof x Conan Z) to take the runner-up spot, while Jordan Coyle (IRL) and Picador (Lupicor x Concorde) ended third with a time of 69.69 seconds. Ben Asselin (CAN) and The Freshman (Namelus R x Chin Chin) finished fourh, and Kara Chad (CAN) fifth aboard Quidamo F (Quality 9 x Chameur).
The top five placed riders from this competition are now qualified for the ATCO Queen Elizabeth II Cup Grand Prix on Saturday, July 9, 2022.