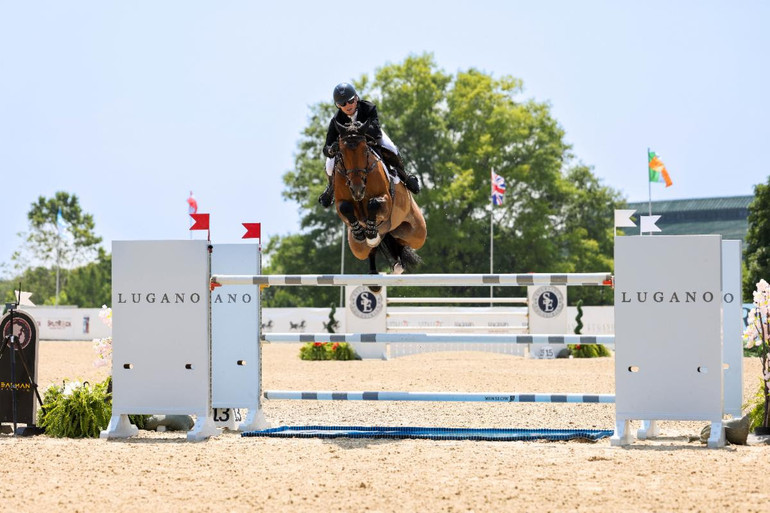 Shane Sweetnam and Gilona AO, winners of the $100,000 1.50m Lugano Diamonds Grand Prix CSI3*. Photo © Winslow Photography LLC.
Press release from Split Rock Jumping Tour
---
Two weeks of top-rated competition came to a close on the Lugano Diamonds Split Rock Jumping Tour (SRJT) as its Hunter Jumper series culminated Sunday with the $100,000 Lugano Diamonds 1.50m Grand Prix CSI3*, presented by Hagyard Equine Medical Institute. The highlight event drew an international field representing nine countries, challenging combinations across Alan Wade's (IRL) track where clear rounds seemed hard to come by, but it was ultimately the new partnership of Shane Sweetnam (IRL) and his own, Popish Farms LLC, and Seabrook LLC's Gilona AO (Zavall VDL x Silvio) that delivered the fastest of only two double-clear finishes to take the victory.
The top three in the $100,000 Lugano Diamonds 1.50m Grand Prix CSI3*: Shane Sweetnam, Audrey Schulze and Molly Ashe Cawley. Photo © Winslow Photography LLC.
The first-round track set forth 13 obstacles under a time-allowed of 75 seconds, featuring a colorful take on the SRJT wall in a bending line to a triple bar followed by an oxer. It also included triple (vertical-vertical-oxer) and double combinations (oxer-vertical) and proved problematic for more than one-fourth of competitors at the final fence where riders tackled a skinny vertical ahead of a bending line down to the Lugano Diamonds oxer with a liverpool beneath.
The fences were not navigated fault-free until tenth in the starting order when Chris Pratt (CAN) and Cjoxx Z completed the task, however the clock would catch them by just one-fourth of a second to leave the pair on one time fault. Nicole Loochtan followed just after with her own It's Me du Bosquetiau (Dayton Sitte x Albion du Chene Brule) to give the first clear within the time, but a jump-off was not guaranteed until ten trips later when last year's winner and two times a winner this week, Molly Ashe Cawley (USA), produced the effort aboard Loukas de la Noue (Malito de Reve x Mr Blue), owned by Oakridge Farm.
Loochtan returned first for the jump-off with a swift pace of 39.85 seconds, but ended with a rail down at the final fence, leaving the door open for the remaining contenders. Ashe Cawley challenged her pace, clocking through the timers in 38.42 seconds to take a temporary lead, however, it was also at the expense of a rail on 4 faults. Audrey Schulze (USA) knew a clear round would put her onto the podium and she did just that aboard Riverbrook Sport Horses LLC's Darquito (D'Inzeo 6 x Contefino 2) in a slightly more conservative finish of 41.2 seconds. A seasoned mount, but a brand new partner for Sweetnam in only their second week of showing and first week of FEI competition, the 12-year-old KWPN mare Gilona AO cleared the course with ease in 39.91 seconds to take the lead, pushing Schulze into second place, Ashe Cawley into third and Loochtan finished fourth.
"Alan [Wade] did a good course. It looked like there was going to be very few clear the way it went for the first half and then people figured it out a little bit – a few people ended with time faults and quite a few people with just 4 faults so it showed how fair it was," Sweetnam said of the track. "In the jump-off the draw obviously worked in my favor...Today luck was on my side, so I knew what I had to do and I was able to execute it."
The tour will head next to Portland, Oregon for the Split Rock Portland 1 & 2 in August. Remaining stops include Paso Robles, California; Lexington, Kentucky; Aiken, South Carolina; and Fort Worth, Texas, where athletes have the opportunity to earn qualification for the $300,000 Split Rock Championship series in Sarasota, Florida in January 2024.