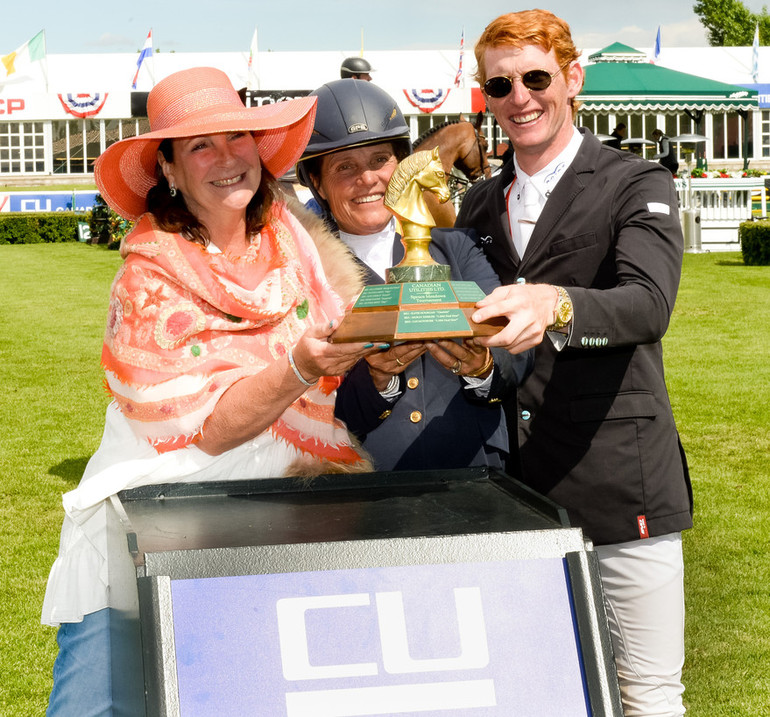 Together Leslie Howard and Daniel Coyle hoist the champions hardware with President and CEO of ATCO and Canadian Utilities, Nancy Southern. Photo (c) Spruce Meadows.
It was a rare result tonight as Leslie Howard (USA) and Daniel Coyle (IRL) are both crowned Champions in the Canadian Utilities Cup.
Broken down to the hundredths of a second meant that both Howard and Coyle would lead the victory gallop in the 1.55m competition arriving simultaneously at 36.44 seconds. It was a great day of sport for fans, athletes and sponsors alike to not only see such a battle between the 51 horse/rider combinations in their attempt to qualify through an incredibly tough first round of competition for a chance at the jump off. But to also see Spruce Meadows veteran, the amazing Leslie Howard, arrive at a dead even tie against the 23 year-old Daniel Coyle.
It was clear for the spectators watching that Howard found her edge at the front half of the jump off round, finding the most efficient way around the winding and delicate track set by Leopoldo Palacios (VEN). A very pleased Howard boasted over her mare, Donna Speciale (Cavalier x Concord), and the round "I thought she was brilliant going from 1,2,3ab,4 – I think at that Intermediate time we were ahead – She was amazing." Howard continued "I took a wider more cautious approach to the Liverpool, I got a little scared because she can sometimes touch the front rail of the Liverpool – and then I knew I was probably behind, so I just decided to do a 'Hail Mary' to the last – and again she was amazing."
Coyle who was behind at the first half of the intermediate time with Tienna (For Pleasure x Polydox), a 9 year-old Canadian Sport Horse mare. Coyle commented, "I had a touch on the first part of the combination of the first round, so going into the jump off I knew there were a few places I may have had to be a bit more cautious of." He continued, "In the jump off I was a bit slow to one and again I was careful over the double – but from what I felt out there, I knew I could start to get going after that and start to take some chances. I really made up a lot of time over those last four fences."
Following behind, just a fraction off the pace of the two leaders, was Kent Farrington (USA). Farrington aboard his exciting and talented 10 year-old grey gelding, Dublin (Cobra x Calido), galloped through the finish timers only 0.38 seconds behind for a third place finish. Farrington, very pleased with the overall result said, "Dublin is spectacular, he is ultra – ultra careful and sometimes too careful so there is a very small margin for error." He continued, "my plan was always to take him to Spruce Meadows because if you can learn to jump here over these impressive fences and learn to be brave then it's going to pay off in the long run. When asked where he may have lost the win tonight, Kent explained, "Because Dublin is careful, and still a bit green, he can jump so high sometimes and spend a lot of time in the air – I think that's where I lost today."
---
Source: Press release and photo (c) Spruce Meadows.