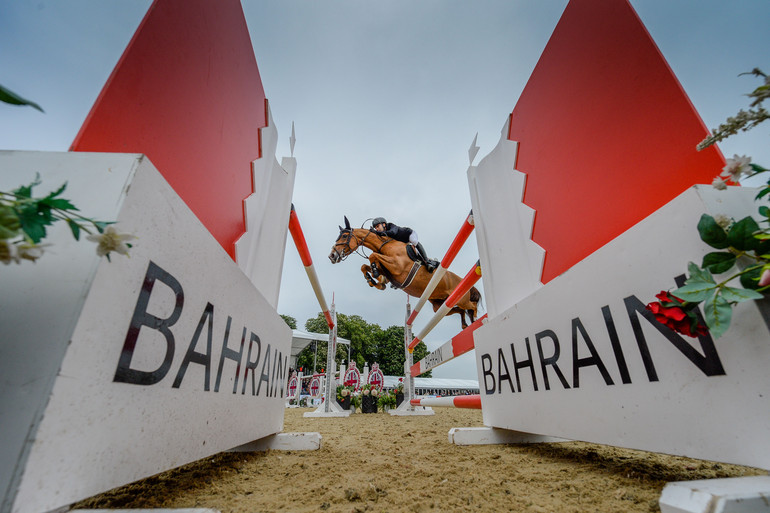 Abdel Saïd and Arpege du Ru, winners of The CSI5* Kingdom of Bahrain Stakes for The King's Cup at Royal Windsor Horse Show. Photo © Royal Windsor Horse Show/Peter Nixon.
Edited press release from Royal Windsor Horse Show
---
Twenty-one of the world's best horse-and-rider combinations went head-to-head in today's pinnacle class at Royal Windsor Horse Show, the CSI5* 1.55m Kingdom of Bahrain Stakes for The King's Cup. First into the arena was Britain's William Funnell riding the 13-year-old chestnut gelding Equine America Billy Diamo (Cevin Z x Andiamo), and Funnell showcased all of his experience to jump clear and set the standard for the rest to follow. Clears continued to come in the Castle Arena, including yesterday's CSI5* Pearl Stakes winner, Lily Attwood, Belgium's Abdel Saïd, and two members of Britain's FEI World Championship bronze medal-winning team – Ben Maher and Harry Charles.
However, the skilfully curated course also caused problems throughout, with nearly half of the field accruing four faults. Beneath the historic Windsor Castle, crowds came alight when 68-year-old veteran John Whitaker entered the arena. Whitaker executed a superb clear jumping round, but disappointment came when he picked up two time faults.
Eventually, eight combinations progressed through to the jump-off and first to go was Abdel Saïd riding Arpege du Ru (Apache d'Adriers x Quat'Sous). Saïd – who won this class back in 2017 – set the standard with an exceptionally fast round of 32.32 seconds, putting pressure on the remaining combinations. It was a tightly fought contest as France's Kevin Staut looked to challenge the lead but could not quite match the pace set, coming home in a time of 33.76 seconds with Beau de Laubry Z (Bisquet Balou Vd Mispelaere x Nabab de Reve). After both Ben Maher and Lily Attwood had a pole down, all British hopes rested on Harry Charles who with Aralyn Blue (Chacco-Blue x Ludwig AS) delivered a beautiful round. However, Charles could only do enough for second, with a time of 32.97 — just over 0.60 seconds slower than Saïd, pushing Staut to third.
Saïd said; "I'm really happy with Arpege, she's naturally a really fast mare, I know her really well as I've been riding her since she was eight, so I stuck to my plan and I'm really pleased with how she went. I love competing at Royal Windsor Horse Show, the British crowds are so supportive and they really understand the sport so it's an amazing experience."
Speaking of his tactics for the jump-off, Saïd said: "I don't usually walk the jump-off course when riding Arpege, as she has such an unusually quick stride, so I spoke to a few colleagues who told me the lines. I tend to just take what I see as it comes, and today it really paid off."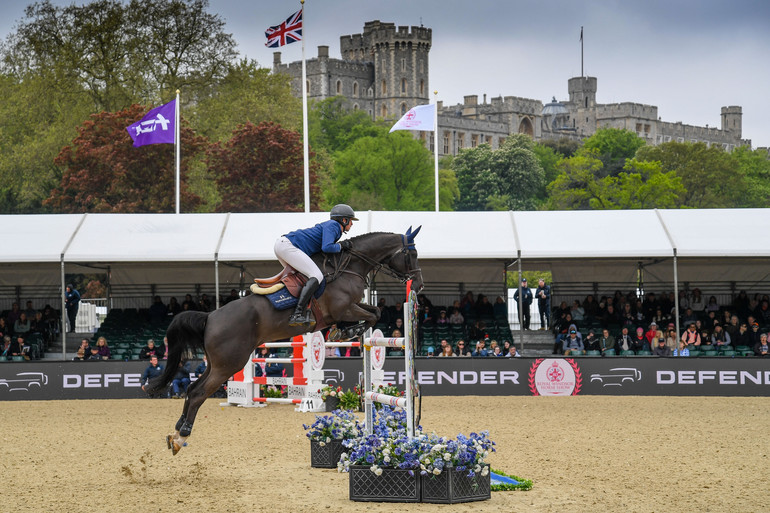 Martin Fuchs and Viper Z, winners of the CSI5* The Defender Challenge Stakes. Photo © Royal Windsor Horse Show/Peter Nixon.
The second day of international showjumping got underway with 28 starters tackling Bernardo Costa Cabral's technical 1.50m course in The CSI5* Defender Challenge Stakes. The competition consisted of two rounds, with eight returning for the jump-off.
Britain's own Ben Maher and the incredibly careful stallion Enjeu de Grisien (Toulon x Andiamo) were first to go in the second round, and set the precedent for the combinations to come with a time of 38.08 seconds. However, the time would only be good enough for the fifth place.
Fastest was Switzerland's Martin Fuchs and Viper Z (Vigo D Arsouilles Stx x Grannus), who finished in a time of 37.03 seconds – 0.05 seconds quicker than Germany's Daniel Deusser and Kiana van het Herdershof (Toulon x Lys de Darmen). Britain's Jodie Hall McAteer finished in third with Kimosa van het Kritrahof (Chatman x Eros Platiere), followed by her compatriot William Funnell and the home-bred Billy Marmite (Billy Mexico x Vectha) in fourth.
Speaking about Viper Z, Fuchs said: "He's really great and is naturally very quick, it's his first 5* show, so I'm delighted with this result. When walking the course I believed it would suit us, so it's always very nice when it works out. Royal Windsor Horse Show is just such a nice atmosphere, with amazing people who know the sport all around."