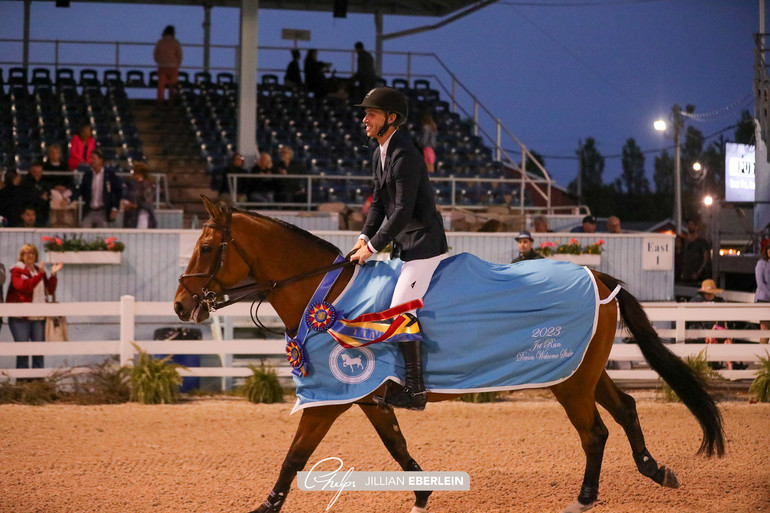 Alex Matz and Cashew CR, winners of the CSI4* $38,700 Jet Run Devon Welcome Stake at Devon Horse Show. Photo © Phelps Media Group/Jillian Eberlein.
Edited press relase from Phelps Sports
---
Tuesday's jumper competition at the Devon Horse Show was highlighted by the CSI4* $38,700 Jet Run Devon Welcome Stake. This was first FEI class of this year's show and also the biggest class so far with a total or 34 entires ready to duke it out in the prestigious Dixon Oval.
The field of competitors was put to the test on the Anderson Lima designed course. Lima, a well-known course designer within FEI showjumping, challenged the riders to an 11 obstacle, 13-effort track that featured six oxers, two double combinations, and one water jump in the middle of the ring at jump four.
The 1.50m class was set to a one round format that put riders on a race against the clock. McLain Ward set the pace early on with a 58.73 second clear round. He would eventually be surpassed by several riders and their mounts, but it was Alex Matz (USA) and Cashew CR (Cassini II x Quinar Z) that came out on top with the fastest clear round amongst the group at 56.32 seconds – securing the blue ribbon. Devin Ryan (USA) and Eddie Blue (VDL Zirocco Blue x Marlon) took second with a time of 57.83, while Roberto Teran (COL) and BP Wakita (Pacino x Cruising) finished in third after stopping the clock at 58.02.