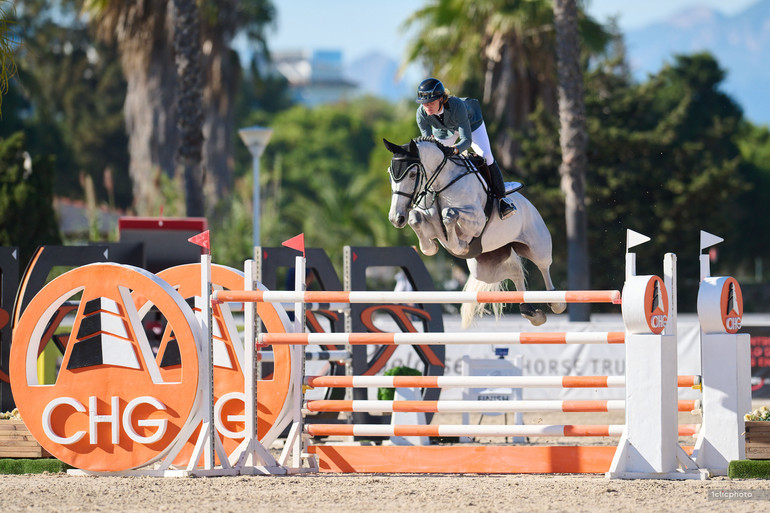 Alexa Ferrer and Arka de La Hart won the CSI3* 1.50m CHG Grand Prix at Autumn MET II 2022. Photo © Hervé Bonnaud/1clicphoto.com.
Press release from the Mediterranean Equestrian Tour
---
The second week of the Autumn MET II 2022 in Oliva Nova, Spain, ended in glorious sunshine and with a French victory in the CSI3* 1.50m Grand Prix presented by CHG – Construcciones Hispano Germanas S.A – with Alexa Ferrer (FRA) and the 11-year-old mare Arka de La Hart Z (Arko III x Kashmir van Schuttershof) taking the top honours.
Eleven horse-and-rider-combinations out of a starter field of 55 pairs cleared the first-round track set by Spanish course designer Javier Trenor in the vast Oliva Nova arena. Counting 13 obstacles and 16 efforts with a time allowed set to 77 seconds, the 1.50m course was demanding, with many running into trouble at the triple combination at fence number ten. "The course in this Grand Prix was difficult, but sensible – and the time allowed was tight," Ferrer said after her victory. "The hardest part of the first round was the line with the triple combination."
As the third pair out in the deciding jump-off over a shortened track, Ferrer and Arka de La Hart Z raced around with ease, stopping the clock on 31.54 – a time that proved to be unbeatable. "My plan was simple: To go as fast as possible," the happy winner said about her tactics ahead of the jump-off.
"My horse is such a special mare," Ferrer said about Arka de La Hart Z. "I enjoy riding her so much. She has so much quality, and has jumped so many clear rounds."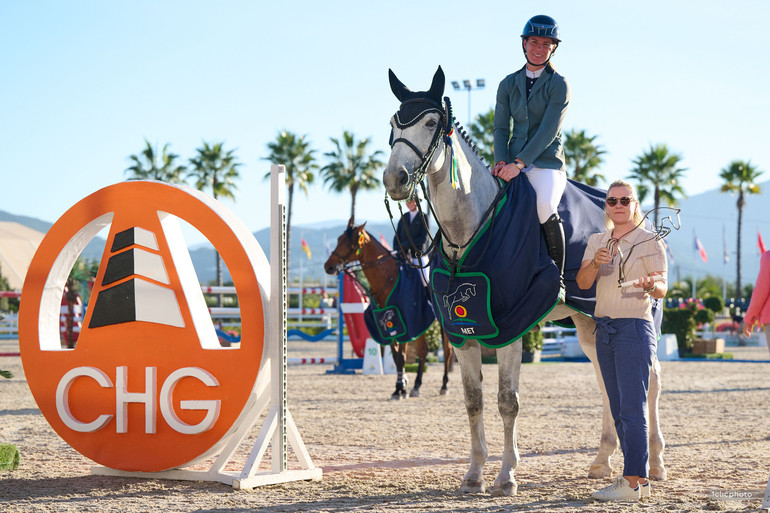 Alexa Ferrer and Arka de La Hart with MET Event Director Bettina Pöhls. Photo © Hervé Bonnaud/1clicphoto.com.
As the youngest rider in the jump-off, Great Britain's 20-year-old Sienna Charles – the daughter of London 2012 Olympic team gold medallist Peter Charles – and Stardust (Chacco-Blue x Con Air 7) took the runner-up position with a beautiful round in 33.62 seconds. Germany's Alexander Müller and the 10-year-old Ohlala 13 (Cracker Jack D x Balou du Rouet) placed third, while the fourth place went to his compatriot Christian Hess and the 11-year-old Quality Time 7 (Quadros 3 x Carpaccio). As the fastest four-faulter in the jump-off, Belgium's 21-year-old talent Thibault Philippaerts and Derby de Riverland (Kannan x L'Arc de Triomphe) took the fifth place.
The Autumn MET II 2022 now moves on to its third and last week with classes up to CSI3* level. Ending on November 13th, the second part of the Autumn MET 2022 is followed by Autumn MET III which kicks off on November 22nd.