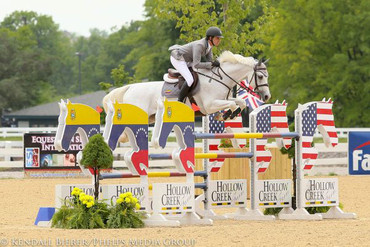 Andres Rodriguez and Darlon Van Groenhove. Photo (c) Phelps media group.
Andres Rodriguez left no door open during the Sunday finale of the Kentucky Spring Classic, riding his own Darlon Van Groenhove to the $50,000 Commonwealth Grand Prix winged victory in an untouchable 43.193 seconds. Ireland's Kevin Babington captured the second place just behind Rodriguez with Mark Q, while Todd Minikus (USA) closed out the competition in the third place.

The rider from Venezuela has been knocking on the door throughout the Kentucky Spring Series, riding to the second place during the $34,000 Hagyard Challenge Series at the Kentucky Spring Horse Show, and consistently putting in clear rounds during the second week of competition. Today, as the third in the order of 14 to return for the jump-off, he knew he would have to put on the pressure to keep competitors on their toes in an attempt to catch his trailblazing pace.

"I had 11 riders behind me, so I knew I had to take a big risk," Rodriguez said. "That risk was my decision to do eight strides to the last jump. It was nine strides going forward, so I needed to angle it to try to get the eight. I am really happy with this win, Darlon jumped amazing."

The win marks a milestone in the progress Darlon Van Groenhove has made recovering from a slight injury incurred during the 2014 Furusiyya FEI Nations Cup Finals in Barcelona, when he did not pass the jog.

"Darlon was my best horse result-wise last year," Rodriguez elaborated. "He is coming back from a six-month rest. This is his first show back, and he is in good shape. I have high hopes for him in Calgary, and he is probably the horse I would consider for the Pan American Games. I couldn't have expected more from him out there. It was a wonderful victory because this is his biggest win since we started competing with him again, and when you bring a horse back after so long and that you have missed for so long, it really is something special."

The eight strides to the final oxer was not the only move that Rodriguez made to secure the win. He also left out a stride down the first line, clearing the second obstacle in only six strides, setting a pace that second place rider, Kevin Babington (IRL) admitted that he knew he could not catch.

Four riders attempted to leave out the stride down the opening line, but only Rodriguez succeeded with the leave-out, seeing either the first or second obstacle fall in a shot to catch his pace. The pressure to catch Rodriguez during the first half of the course caught Shane Sweetnam, Richie Moloney and Roberto Teran.

Pablo Barrios and Zara Leandra attempted to angle the penultimate obstacle in the same fashion as Rodriguez, but the Audi-vertical fell in their haste.

Minikus was able to lay down a clean and quick jump-off round in 45.171 seconds with Con Capilot, but the time was not enough today to catch the Venezuelan, falling short with a 1.97 second differential.

"When I heard that Andres had made his move down the first and last line, and how fast his ride was, I knew I was riding for second," Babington laughed.

He continued, "Mark Q is 13 years old now, and I have Shorapur who has stepped up to the plate as my number one horse. It takes the pressure off of Mark Q to use him for classes like today instead of in the 1.60m or the grand prix all the time. He jumped great in the first round, and I was delighted with our results from the jump-off."

Babington and Mark Q tripped the timers in a clear 44.835 seconds to take the second place.
Although today's event was only nationally ranked, the Kentucky Spring Horse Show Series featured a CSI2* week and a CSI3* week, which brought many riders back to the Kentucky Horse Park. "It has been quite a few years since I have been here for the Spring and Summer shows, and honestly, it is the FEI classes that brought me back," Babington said. "In order to be on the world stage, you have to keep your eye on your ranking points. I thought that this was a nice build up before going to Europe and I am really glad I came. I was chatting with some of the other riders and it is just incredible the level of riding, it has changed, and it is incredible. There is such a great camaraderie at these shows, and we are all trying to learn from each other and help one another. The sport is really turning a corner for very positive reasons, I think."

Rodriguez echoed Babington thoughts, saying, "I am really happy that I made the decision to come here. Everything was top-notch. The course was really good for a CSI3*, Bernardo Costa Cabral has done an amazing job; he builds according to the horses and the riders. He makes us have to go all in. I really want to congratulate the show organizers for making this an FEI competition. I would not have thought of coming if it was not for the FEI classes-there are many venues we love, but it is our job to compete for world ranking points, so when you have the availability to get the world ranking points in a facility like this, where you can also bring other horses along, it is perfect."

Only three other riders would ride to double-clear results. Emanuel Andrade and Bon Jovi went clean in 45.171 seconds, a conservative pace for the otherwise speedy rider. Colin Syquia and Adventure E grabbed the fifth place in 47.427 seconds, while Hayley Barnhill and Zephire finished just under the time allowed in 51.736 seconds to round out the top six.

For more information about the Kentucky Spring Horse Shows, please visit http://www.kentuckyhorseshows.com/.

RESULTS: $50,0000 COMMONWEALTH GRAND PRIX
1 1195 DARLON VAN GROENHOEVE ANDRES RODRIGUEZ 75.854 43.193
2 1141 MARK Q KEVIN BABINGTON 74.576 44.835
3 1291 CON CAPILOT TODD MINIKUS 75.929 45.171
4 572 BON JOVI EMANUEL ANDRADE 74.118 45.965
5 1166 ADVENTURE E COLIN SYQUIA 75.595 47.427
6 630 ZEPHIRE HAYLEY BARNHILL 75.987 51.736
7 160 PALOUBET WILTON PORTER 74.235 4 41.841
8 552 ZARA LEANDRA PABLO BARRIOS 73.486 4 42.178
9 136 G AND C CLOSE UPLUIFER LARRAZABAL 73.787 4 46.714
10 23 ARISTOTELES V JONATHAN MCCREA 73.868 4 46.796
11 935 CYKLON 1083 SHANE SWEETNAM 74.201 8 47.087
12 486 BORIENA H RICHIE MOLONEY 75.724 9 52.648

Source: Press release from Phelpsmediagroup.com.