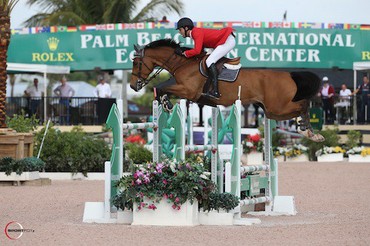 Andres Rodriguez and Fifty Fifty 111. Photo (c) Sportfot.
Andres Rodriguez (VEN) and Arao Enterprises LLC's Fifty Fifty 111 (Action-Breaker x Major de La Cour) have had a tremendous week at the 2015 Winter Equestrian Festival (WEF), taking home two major career wins. The duo took home Thursday's $34,000 Ruby et Violette WEF Challenge Cup Round 8 and continued their hot streak with a first in Saturday's $34,000 Nutrena CSIO 1.45m Classic.
Due to intense rainfall in the area this afternoon, equestrian competition and special events for Saturday evening at the Palm Beach International Equestrian Center were cancelled.
The current schedule for Sunday, March 1, at the Winter Equestrian Festival is available online -CLICK HERE TO VIEW CURRENT SUNDAY SCHEDULE
An update will be available Sunday morning as conditions of the venue and rings are assessed, pending overnight weather. Equestrian Sport Productions appreciates everyone's cooperation! Please check the above link for the updated schedule or check the WEF Facebook page.
The Winter Equestrian Festival's eighth week will conclude with the Hollow Creek Farm Children's, Junior and Young Rider Grand Prix classes as well as the conclusion of their Nations Cup team events, followed by the $150,000 Grand Prix CSIO 4* presented by Lugano Diamonds, which will be live streamed here:http://bit.ly/1wrDbZB.
Anthony D'Ambrosio's track for the $34,000 Nutrena CSIO 1.45m Classic on Saturday morning saw 14 clear rounds out of 39 trips. Laura Kraut (USA) and Constable II finished just behind Rodriguez in 59.61 seconds. "I saw Laura's round, and I knew that it was six strides between Fences 7 & 8, but my horse has a big step and if I could do it in five I would take the class, so I went for it," commented Rodriguez. Meagan Nusz (USA) aboard Vesuvius rounded out the top three finishing fault-free in 60.12 seconds.
"Winning the WEF Cup Challenge on Thursday and then winning the class today, I'm so happy. This horse is really important to me, and I couldn't be happier. She used to be pretty difficult, but she's coming along very nicely. When you have a young horse and give them a fair chance, they'll do well. She's been so fast, so my expectations with her are very high because she's getting consistent," said Rodriguez, who finished the course in 59.55 seconds for the win.
The two will look to improve upon their fantastic performances throughout the remainder of season and for the rest of the year. Rodriguez, who rode for the fourth placed Venezuelan Team in Friday night's $100,000 Nation's Cup presented by Kingsland Equestrian, said he believes the future is bright. "I'm really looking forward to the future with Team Venezuela. We have great veteran anchor riders and some extremely talented young riders coming up. It's taken us a while to get here, but I think we're moving into the top tier of teams in the sport," he remarked.
Source: Press release from Jennifer Wood Media, Inc.
Final Results: $34,000 Nutrena CSIO 1.45M Classic
1. FIFTY FIFTY 111: 2005 Belgian Warmblood mare by Action-Breaker x Major de La Cour ANDRES RODRIGUEZ (VEN), Arao Enterprises LLC: 0/59.55
2. CONSTABLE II: 2007 KWPN gelding by Harley VDL x Lupicor LAURA KRAUT (USA), Cherry Knoll Farm: 0/59.61
3. VESUVIUS: 2002 KWPN gelding by Numero Uno x Expert MEAGAN NUSZ (USA), Amalaya Investments: 0/60.12
4. LA PETITE FLEUR 6: 2007 Oldenburg mare by Lexicon x Romino ANDRES AROZARENA (MEX), Jorge Arozarena: 0/60.56
5. ISHD DUAL STAR: 2002 Irish Sport Horse mare by Quickstar x Concorde LAURA CHAPOT (USA), Mary Chapot: 0/60.66
6. ZERNIKE K: 2004 KWPN gelding by Sam R 60 x H Topas BRIANNE GOUTAL (USA), Remarkable Farms LP: 0/60.90
7. TALOUBET: 2000 KWPN gelding by Baloubet Du Rouet x Quidam De Revel PAULO SANTANA (BRA), Paulo Santana: 0/61.95
8. ZZ TOP VH SCHAARBROEK Z: 2001 Zangersheide gelding by Zandor Z x Latus I EMANUEL ANDRADE (VEN), Emanuel Andrade: 0/61.99
9. ECKHAM VAN HET STEENTJE: 2004 BWP gelding by Berlin x Kannan MARGIE ENGLE (USA), Elm Rock LLC: 0/62.34
10. CENTURION B: 2002 Belgian Warmblood gelding by Rebel Z I x Indoctro LISA GOLDMAN (USA), Mary Goldman: 0/62.57
11. MERIDA 8: 2007 Irish Sport Horse mare by Metropole x Hildenley MEREDITH MICHAELS-BEERBAUM (GER), Artemis Equestrian Farm LLC: 0/63.49
12. HH CARLOS Z: 2002 Zangersheide gelding by Chellano Z x Voltaire MCLAIN WARD (USA), Double H Farm: 0/64.10