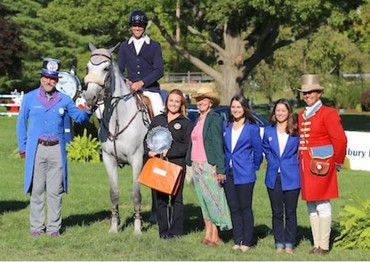 Andres Rodriguez and SF Ariantha accept the Equis Boutique "Best Presented Horse" award. Photo by Jump Media.
Andres Rodriguez of Venezuela and SF Ariantha, owned by Robert and Sofia Castro, were awarded with Equis Boutique's "Best Presented Horse" award at the FEI Horse Inspection for the prestigious American Gold Cup CSI 4*-W at Old Salem Farm in North Salem, NY, held from September 9-13.

Equis Boutique initiated the "Best Presented Horse" award early in the 2015 season and has continued to honor individuals for horse and rider presentation at many of the elite FEI competitions in North America.

Rodriguez and SF Ariantha have had a successful summer campaign after only beginning their partnership four months ago, collecting a major win at Spruce Meadows in July and picking up several solid placings at HITS Saugerties last week. Rodriguez felt privileged to receive the award, admitting he put on a tie and dressed to impress for the inspection, knowing the award would be presented. "I made sure that I had a jacket on with my tie and I even put on a new pair of Nike sneakers," smiled Rodriguez, who is known as Chepito to his friends.

"To be honest, I never really prepared much for the jog but last week at HITS I saw Jonathan McCrea all dressed up and decided I wanted to give it a shot and try to give him some competition this week," he laughed.

Groom Danielle Burns has overseen the care of SF Ariantha since she became the ride of Rodriguez, and her attention to detail is second to none. The mare, who boasts an extravagant trot, was the last of Rodriguez's mounts to jog, and received the award over more than 100 horses who were presented. "She has the best trot in the barn and I knew that if she went towards the end she would impress the ground jury. I asked Danielle what she thought and we decided to jog her last and then when I showed up in my tie they knew I was serious," said Rodriguez. "She's the prettiest horse in my string and she's just the best at everything, so I wanted to save her for the end."

SF Ariantha is the mount Rodriguez is hoping to point towards the 2016 Olympic Games, and will look to gain experience on the mare throughout the year. The duo placed sixth in the American Gold Cup Qualifier FEI class presented by Windsor Show Stables on Friday, qualifying them for the $215,000 American Gold Cup CSI 4*-W Grand Prix to be held on Sunday. "She's really coming along and she's done some big Grand Prix classes since I've had her. I think we will be looking for a lot of education with her in the next few months and possibly aim to do a CSI 5* at the end of the year," said Rodriguez. "At the beginning of next year we will start gearing her up and hopefully prepare her for a run at the Olympics. That's the goal."

Founders of Equis Boutique, Elena Couttenye and Cesar Hirsch are thoroughly involved with the international equestrian community, as both serve as FEI judges for international competition around the world. Couttenye and Hirsch recognized a need to improve and enhance the FEI Horse Inspections in North America and through the development of the "Best Presented Horse" award Equis Boutique has reenergized the event.

"Andres is a great example of the momentum and competition between riders taking the inspection more seriously, and preparing with both turnout and presentation," said Hirsch. "We are proud of the expansion and relevance of the award and will continue to offer recognition to the teams and riders who prepare diligently for international competition."

Source: Press release from Jump Media.