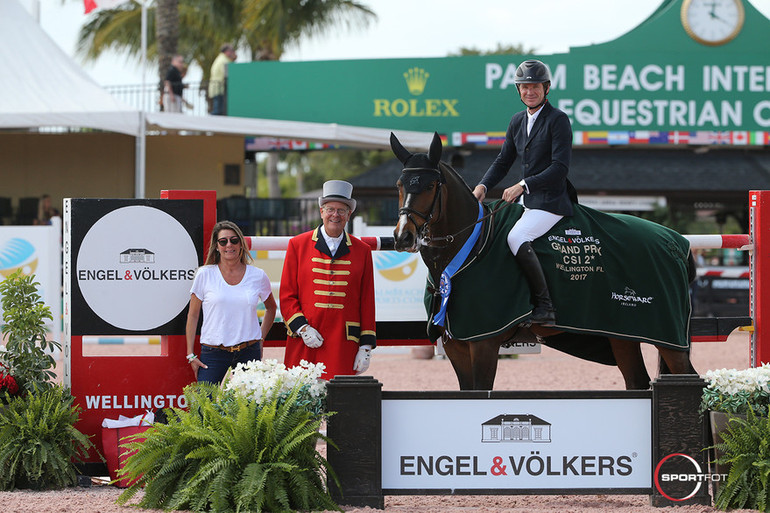 Beat Mändli and Simba won the $50,000 Engel & Völkers CSI2* Grand Prix at the Winter Equestrian Festival. Photo (c) Sportfot.
Switzerland's Beat Mändli emerged victorious riding Grant Road Partners' Simba in the $50,000 Engel & Völkers Grand Prix CSI2* to conclude competition for week eleven of the 2017 Winter Equestrian Festival (WEF) in Wellington, FL.
The 12-week WEF circuit concludes with its final week of competition at the Palm Beach International Equestrian Center (PBIEC) running March 29 through April 2, 2017, sponsored by The Wanderer's Club. The week's highlights include the $216,000 The Wanderer's Club Grand Prix CSI 4*, the $50,000 Hollow Creek Farm Under 25 Grand Prix Series Final, and the $50,000 USHJA International Hunter Derby.
Guilherme Jorge (BRA) set his final course of week 11 for 45 starters in the two-star grand prix. Twenty-three qualified for the jump-off, and six completed double clear rounds. It was Mändli and the 11-year-old Oldenburg gelding Simba (Toulon x Argentinus) that took the win in 43.66 seconds.
Canada's Jordan MacPherson jumped to second place with JEM Stables' Aanwinst in 44.77 seconds. Fellow Canadian Beth Underhill rode Sandy Lupton's Count Me In to third place in 45.26 seconds.
Prior to his purchase by the Dinan family in 2015, Simba was jumping successfully in England, and has since continued his career under Mändli's guidance.
"I am just very happy to have him to ride, and he has been going better and better every time he goes in the ring," Mändli detailed. "He is fun. He was good in Vilamoura last year. Then he had a little bit of a rest, and now we have just been playing around with him and preparing for the tour in Europe. That was maybe the third time that I have gone fast with him in a jump-off, and it is the first time that it worked out, so I am very happy."
Speaking further of Simba, Mändli stated, "I hope he is going to be a five-star grand prix horse. He has all the quality and the ability to do it. He just sometimes wants to do it too well and gets a little bit strong. I just have to work on keeping his energy in control; all the rest is perfect. He is a careful, scopey horse who wants to do the job. It will be interesting to see where he goes."
Mändli, the 2007 FEI World Cup Jumping Final winner, rides under the Dinan family's ownership and teaches young rider Katie Dinan full-time. For Mändli, as well as his young horses and student, the addition of the CSI 2* division this year has been a great enhancement to the show.
"I think it is a very good addition, especially to a professional who is training someone," Mändli noted. "Now I can do my two or three horses in the two-star and then focus completely on my student when she goes in the five-star. For younger horses, of course, not everyone is ready to go in the five-star classes, so I think it is a really good thing."
Second place finisher Jordan MacPherson has had her mount Aanwinst, a 12-year-old Dutch Warmblood mare (Odermus R x Jackson) for five years now, and enjoyed the opportunity to compete in the two-star division for more experience with her mount.
"I would say that we have a really good partnership," MacPherson stated. "When I got her, she was seven, so we were able to grow and move up through the ranks together. It has definitely been great for me to learn how to bring a young horse along up to the two-star level. I think over the last couple of years she has really proven herself as a great horse, and I am just really happy that I get to ride her and that I get to compete with her."
Coming in third, Underhill was riding the ten-year-old Hanoverian gelding Count Me In (Count Grannus x Sherlock Holmes), a horse that she has competed for three years.
"He started doing some national grand prixs in Canada and the U.S. last year," Underhill described. "This is his first year jumping in the International Ring here at WEF, so that has been really exciting and great exposure for him. I could not have been more proud of him today. There were a lot of clears, but it felt like we were in great company."
Remarking on the class, Underhill stated, "I thought the course was perfect. It was demanding, but fair. I think all of the horses came out of this week jumping more confidently; certainly mine did. It was a really wonderful experience for my horse having this division. It is a great opportunity for young horses like mine to develop and learn the skills that they need to without the pressure of the 1.60m height. It feels special when there is a five-star at the same time. You have the opportunity to be part of that, but still bring the young horses along the way that you would like to."
Also competing in the International Arena on Sunday, the $10,000 Martha Jolicoeur, Douglas Elliman Low Amateur-Owner Jumper Classic was pinned in a California Split with a win for Caroline Donnally and Reve du Razzy in Section A, and victory for Hannah Patten and Love in Section B.
Speaking of her round, MacPherson detailed, "I went 16th in the jump-off, so at that point there was only one clean. My plan was to go quick enough, but to leave the jumps up, knowing that there had only been one clean before me.
"I think that the addition of the two stars has been a great learning experience and a great way to get in the ring with great competitors and great horses, and be able to compete against the best at the two-star level," MacPherson added.
---
Source: Press release from Equestrian Sport Productions News // Picture © Sportfot