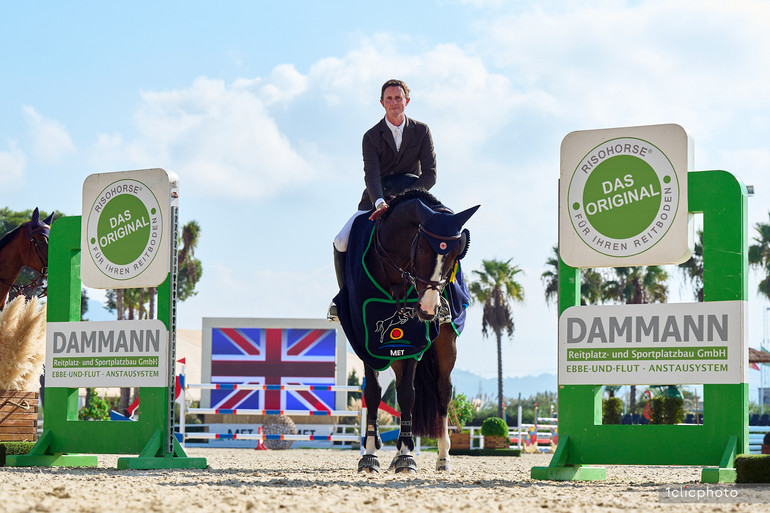 Ben Maher and Ginger-Blue, winners of the CSI2* Grand Prix presented by Dammann Reitplatz- u. Sportplatzbau GmbH at Autumn MET 2023. Photo © Hervé Bonnaud/1clicphoto.com.
Press release from Mediterranean Equestrian Tour
---
The first week of Autumn MET I 2023 at Centro Ecuestre Oliva Nova in Oliva, Spain, concluded on Sunday with the CSI2* 1.45m Grand Prix presented by Dammann Reitplatz- u. Sportplatzbau GmbH. Great Britain's Olympic Champion Ben Maher and the 12-year-old Ginger-Blue (Plot Blue x Royal Bravour, bred by P. Verberne, Sint-Oedenrode and owned by Jane Forbes Clark and Ben Maher) took the win with a time of 39.49 after an exciting jump-off between twelve horse-and-rider-combinations.
"Oliva is a nice pit-stop for us before heading into the indoor season," Maher said after his win. "I brought Ginger-Blue here so we can get some nice rounds in before the indoor season starts. I think what made the difference for us today is the fact that I could really attack the fences in the jump-off, and we got the roll-back really tight."
"We like coming to Oliva," Maher said about the venue at Centro Ecuestre Oliva Nova, where he and his family are frequents guests. "Originally, we came here when we had many students, but even now when it is a bit more quiet for us, we like to come back. The facilities are great and the management works really hard to keep everyone happy."
Oliver Lazarus (RSA) and Conbalthago PS (Contendros 2 x Baloubet du Rouet, bred by Gestüt Lewitz and owned by Team Equest Pty Lim.) placed second in 41.75, while Marc Houtzager (NED) on Sterrehofs Calimero (Quidam de Revel x Bollvorm'S Libero H, bred by Stal Horn and owned by Stoeterij Sterrehof) and Niklaus Schurtenberger (SUI) on C-Steffra (Clarimo x Lavall I, bred by Gerd Castensen and owned by Michaela Rikart and Sascha Rikart) shared the third place after both pairs clocked the time of 43.00.
"I am really proud of my horse," second-placed Lazarus said about the 9-year-old Conbalthago PS. "I think the course today was technical, even though it was not on maximum height, there were plenty of questions asked. For the jump-off, my plan was to give my horse an educational round, as this was only his second two-star Grand Prix."
Lars N. Pedersen (DEN) and Boegegaarden Gladiola (Boegegaardens Grafs Stakkato x Boegegaardens Apollo, bred by Stina Og Jørgen Schmict and owned by Stina Og Jørgen Schmidt) finished fifth in 43.74.

Autumn MET 2023 continues next week and runs until October 22nd, followed by MET II from October 31st to November 19th. Autumn MET 2023 ends with MET III, which runs from November 28th to December 17th.