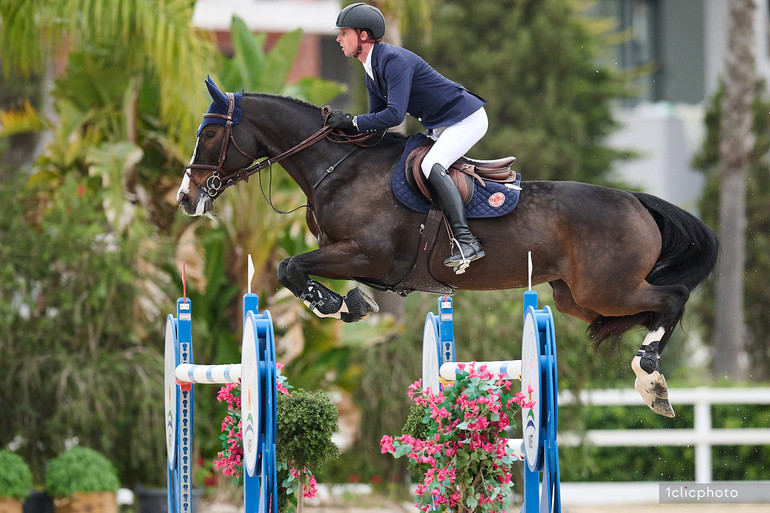 Ben Maher and Ginger-Blue, winners of the CSI3* 1.50m CHG Grand Prix at Autumn MET I 2023. Photo © Hervé Bonnaud/1clicphoto.com.
Press release from the Mediterranean Equestrian Tour
---
The third and final week of the first part of this year's Autumn MET at Centro Ecuestre Oliva Nova in Oliva, Spain, concluded on Sunday with the CSI3* 1.50m Grand Prix presented by CHG (Construcciones Hispano Germanas S.A).
After winning the CSI2* 1.45m Grand Prix presented by Dammann Reitplatz- u. Sportplatzbau GmbH during the first week of Autumn MET I, Great Britain's Ben Maher – the reigning Olympic Champion – and the 12-year-old Ginger-Blue (Plot Blue x Royal Bravour, bred by P. Verberne and owned by Jane Forbes Clark and Ben Maher) ended their tour in Oliva with another Grand Prix win.
Eleven horse-and-rider-combinations out of the 45 at start cleared the first-round track and joined the deciding jump-off, where Maher and Ginger-Blue were the quickest pair – taking the win in 35.15, nearly a second faster than the runner-up pair Nicola Philippaerts (BEL) and H&M Luna van'T Ruytershof Z (Levisto Z x For Pleasure, bred by Stal 't Ruytershof and owned by Team Philippaerts and Stutteri Arch).
Michael Hughes (USA) and Melodie-K van'T Kattenheye (Cornet Obolensky x Kannan, bred by Tonny Raman and owned by Stephex Stables) completed the podium in third, while Nano Healey (IRL) and Oak Grove's Clown FRH (Cascadello x Balou du Rouet, bred by H.G. Van Wijlick and owned by Gestüt Eichenhain GmbH) finished fourth, followed by Kendra Claricia Brinkop (GER) aboard Nector vd Bisschop (Echo van'T Spieveld x Darco, bred by Tom De Craene and owned by Stephex Stables and Scuderia 1918 Capital SRL) in fifth.