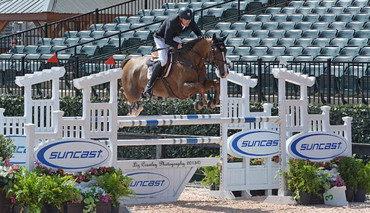 David Blake and Binkie. Photo ©LizCrawleyPhotography
The luck of the Irish continued in the George H. Morris Arena at Tryon International Equestrian Center (TIEC), as David Blake (IRL) aboard Binkie, owned by Pine Hollow Farm, captured their third FEI win at TIEC this season. Blake piloted Binkie to the only double-clear round in the $34,000 Suncast® Classic 1.50m FEI, edging out Alison Robitaille (USA) and Cassinja, who dropped a rail in the jump-off, finishing in 39.84 seconds. Blake and Binkie crossed the timers in 45.38 seconds with a clear round in hand to secure the win. Kristen Vanderveen (USA) and Bull Run's Testify finished in third, with a single time fault in the first round of competition. Tryon Summer 2 continues through Sunday, July 12, with the entire Summer Series concluding on July 19.

Binkie and Blake have made their mark in the George H. Morris Arena at TIEC, collecting several wins and top finishes throughout the Tryon Spring and Summer Series, with a highlight win in the $127,000 Adequan® Grand Prix on June 27 during Tryon Summer 1.

Blake drew the last ride in the first round of competition on Thursday, a situation he has become accustomed too, also riding last in his win two weeks ago. With a tough track designed by Ana Catalina Harris (MEX), Blake was able to observe and find the best possible route to cross through the timers with no faults.

"I had a lot of time to watch and figure out the course today. I got a great draw in going last. I thought the end of the course was causing a lot of problems. Having a time fault or knocking the double down seemed to be the struggle, so I knew I needed to be careful, but also keep a close eye on the time," he remarked. "It was hard to deliver both, which is where a lot of riders got caught. I decided to open up a bit on the backside of the course and I rode it so that the double was almost slowing down and that helped me with time and jumping through clean. It worked out really well."

Blake explained that going last in the order has allowed him to give his 2006 Dutch Warmblood gelding (Larino x Whisper B) several educational rides, but the position does give the rider a mental edge. Blake has proven he can overcome the pressure to ride consistent fault-free rounds in make-it-or-break-it circumstances.

"I was in the same scenario during the grand prix two weeks ago and it's a nice position to be in, but also puts on a lot of pressure on to get the job done. I know he's a great jumper and I never really worry about him pulling a rail. I absolutely trust him and feel confident that he can go around clean every time we get into the ring," commented Blake.

The duo's consistency has kept them atop the leaderboard in the larger FEI classes offered at TIEC amongst a slew of talented international names and Blake sees Binkie as a real contender at the top levels. His laid back personality and willingness to fight in the ring are all signs that the best is yet to come.

"He's been incredibly consistent for me since his first win at Spring 7. That was the first time that we really started to bring him out at this level. He's young and I always have to remember that because I don't want to over do it," he said. "We're lucky that so far he hasn't had to go very fast in the jump-off and that's better for a young horse. He's getting great experience and I'm thrilled with him so far this season."

Giving Binkie time to recuperate from a string of stellar performances at Tryon Summer 1, Blake was impressed with the gelding's efficiency and carefulness in the ring today. "He felt super. He had last week off and it's great for him to come back now in the same good form he left with after his big win on Saturday night," he said.

"The prize money here is as good as anywhere in the world and we're in top form here," added Blake. "The team and the horses are happy and I am truly grateful for the opportunity. I'm thankful to the Dvorkin family and the Pine Hollow Farm team for making these wins possible. It wouldn't happen without them."

Final Results for $34,000 Suncast® Classic 1.50m FEI

1. BINKIE, 2006 Dutch Warmblood gelding by Larino x Whisper B DAVID BLAKE (IRL), Pine Hollow Farm: 0/0/45.38

2. CASSINJA, 2005 Holsteiner mare by Cassini I x Celina I ALISON ROBITAILLE (USA), Mr. & Mrs. Bertram Firestone: 0/4/39.84

3. BULL RUN'S TESTIFY, 2004 Selle Francais gelding by Dollar Du Murier x Marquise Des Monts KRISTEN VANDERVEEN (USA), Bull Run Jumpers, Inc: 1/69.1

4. CALIFA LS, 2003 La Silla stallion by Carthago x Norappa La Silla MARK BLUMAN (COL), Stransky's Mission Farms, Inc: 1/69.38

5. CASPER, 2003 Swedish Warmblood gelding by Cardento x Ronja LORCAN GALLAGHER (IRL), Sweet Oak Farm: 1/69.89

6. BALOU DE REVENTON, 2006 Oldenburg stallion by Cornet Obolensky x Georgia LIUBOV KOCHETOVA (RUS), Liubov Kochetova: 1/70.61

7. BUGATTI VDL, 2006 Dutch Warmblood stallion by Silverstone x Uzamieka VDL CANDICE KING (USA), Bellissimo, LLC: 1/70.63

8. LUKE SKYWALKER 46, 2005 Oldenburg gelding by Lord Pezi x Shakira PAIGE JOHNSON (USA), Salamander Farm: 1/70.65

Source: Press release from Tryon International Equestrian Center.