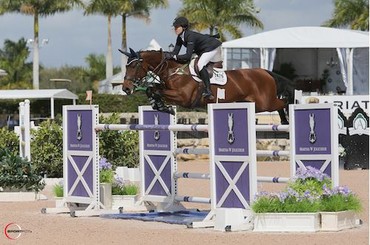 Brianne Goutal and Ballade van het Indihof. Photo © Sportfot.
The 2015 Winter Equestrian Festival (WEF) resumed with competition at the Palm Beach International Equestrian Center (PBIEC) on Friday after inclement weather forced the cancellation of Thursday's classes. The $34,000 Ruby et Violette WEF Challenge Cup Round 5, originally scheduled for Thursday, was held in the afternoon with a win for USA's Brianne Goutal and Ballade van het Indihof. Alexander Zetterman (SWE) and Flecu finished second and Abigail McArdle (USA) and Cade placed third.

Ariat® International, Inc. is the title sponsor of week five CSI 3* competition on February 4-8, 2015. The week will feature the $127,000 Ariat® Grand Prix CSI 3* on the grass jumping field at The Stadium at PBIEC on Sunday, February 8. The weekend also highlights the 6th Annual Great Charity Challenge presented by Fidelity Investments®, which will be the main event on Saturday, February 7, under the lights of the International Arena at PBIEC. Both events will be live streamed at www.COTH.com. The Great Charity Challenge will begin at 6:30 p.m. Watch it LIVE at: http://bit.ly/1DfE5ZK. The $127,000 Ariat® Grand Prix CSI 3* starts at 2 p.m. Watch LIVE here: http://bit.ly/1KvCJu5.

Robert Ellis of Great Britain set the speed track for Friday's Ruby et Violette WEF Challenge Cup Round 5 with 77 rounds and 17 clear combinations. With her win aboard Remarkable Farms LP's Ballade van het Indihof, Brianne Goutal broke Eric Lamaze's four-week hold on the series. The defending winner had one rail down to finish out of the money.

Although other riders were faster, Goutal's early clear round, fifth in the order of go, would prove unbeatable. Lamaze went right before her, fourth in the order, and it was no mistake that Goutal crossed the timers just fractions off of his time. She watched his every step before entering the ring, and followed the same track. Her resulting time of 59.90 seconds held on through over 70 rounds for the win. Sweden's Alexander Zetterman and Flecu finished second, almost three seconds slower in 62.54 seconds.

"It helped a lot to have Eric before me," Goutal admitted after the class. "He always has the best jump-off tracks or speed tracks. He wastes no time. You see which numbers he does. From jumps two to three he did six strides and everyone else did seven, including myself. I walked that line and I did not walk six, and I am still not so sure how he did it. He is amazing to watch because he is always cutting corners, but just in the right way that he is not compromising the fence, so it is great to have him in front of you."

Goutal's winning mount, Ballade vent het Indihof, is a 14-year-old Belgian Warmblood mare (Thunder van de Zuuthoeve x Heartbreaker) that the rider has owned for several years, but had a long break from showing. She finished third in the $125,000 Trump Invitational Grand Prix, presented by Rolex, to kick off the season in January and has maintained her top form.

"That horse is absolutely incredible. I just got her back. She was off for almost two years with injuries," Goutal explained. "She is the most careful horse I have ever ridden, and I think I have ever seen. She is electric and allergic to wood. What's wonderful is that she is super brave as well, which is a great combination. She is really, really fast. To be honest, I didn't think I was going to win. I didn't feel like I was going very fast. I felt I was neat. I was hoping for top ten, and I think I just got really lucky that she's so fast naturally. She does everything so efficiently, never wasting any time. I went around to the last jump even."

Goutal praised course designer Bob Ellis on a great track that saw rails in many different places for some of the top horses and riders on Friday. "I thought it was a beautifully designed course. At this level, these course designers are so good. They just know where to put the jumps and how to trick you and how to test you. I was super impressed with the track today because I thought it was a big speed track that had options and a lot of tests, but it wasn't overdone or underdone at all. A lot of different jumps came down, which is, in my opinion, the mark of a great course. You have to pay attention to every jump and be super aware from beginning to end," Goutal stated. "He always builds different courses. I think he does all the right tests. We see a few course designers that are consistent like him, and there is a reason they are building in this ring. I am super grateful to be jumping these kind of courses all the time."

Goutal will jump Ballade van het Indihof again in Sunday's $127,000 Ariat® Grand Prix CSI 3* on the grass field at The Stadium at PBIEC. After a great finish on the grass at the Trump Invitational, she feels her horse is ready to take on the new venue.

"She jumps really well on grass. She is a really confident horse and she is just fun to ride, so I am looking forward to it," Goutal stated. "I love to go over there. I think it is a great change of venue and pace, and we are super lucky to have that as an option."

Also competing on Friday, the $6,000 Spy Coast Farm 1.40m Speed Challenge was held with two sections of competition. Adam Prudent and Patrick Flin and Plain Bay Sales' Vasco won Section A in the International Arena. Laura Chapot and The Edge's Out of Ireland won Section B in the Mogavero Ring.

Final Results: $34,000 Ruby et Violette WEF Challenge Cup Round 5
1. BALLADE VAN HET INDIHOF: 2001 BWP mare by Thunder van de Zuuthoeve x Heartbreaker
BRIANNE GOUTAL (USA), Remarkable Farms LP: 0/59.90
2. FLECU: 2004 Swedish Warmblood gelding by Hip Hop x Flamingo
ALEXANDER ZETTERMAN (SWE), Alexander Zetterman: 0/62.54
3. CADE: 2002 Belgian Warmblood gelding by Heartbreaker x Darco
ABIGAIL MCARDLE (USA), David McArdle: 0/62.61
4. DOBRA DE PORCEYO: 2006 Warmblood mare by Action Breaker x Indorado
SCHUYLER RILEY (USA), Wolfstone Stables: 0/64.66
5. EMERALD: 2004 BWP stallion by Diamant de Semilly x Carthago
HARRIE SMOLDERS (NED), Euro Horse Bvba Axel Verlooy: 0/64.68
6. SI BELLA: 2006 Selle Francais mare by Diamant de Semilly x Digne Espoir
ADAM PRUDENT (FRA), Henri Prudent: 0/65.23
7. ADARE: 2005 KWPN mare by Royal Bravour x Burggraaf
LAUREN HOUGH (USA), Paris Sellon: 0/66.06
8. WINTER: 2001 Warmblood gelding by Unknown
DENISE WILSON (USA), Blue Gate Farm LLC: 0/66.14
9. FIRST CHOICE 15: 2003 Hessian Warmblood gelding by For Keeps x Angard
YANN CANDELE (CAN), Janice Aron: 0/66.24
10. NLF FAVORITE: 2005 Belgian Warmblood mare by Action-Breaker x Indoctro
EIRIN BRUHEIM (NOR), Nordic Lights Farm LLC: 0/67.00
11. CUJO 7: 2005 Wesphalian stallion by Cayetano L x Friedenstraum I
DEREK BRAUN (USA), Split Rock Farm, Inc: 0/68.54
12. CALVIN KLEIN: 2004 Swedish Warmblood gelding by Cardento x Feliciano
JONATHON MILLAR (USA), Millar Brooke Farm Ltd: 0/68.65

Source: Press release from Jennifer Wood Media Inc.