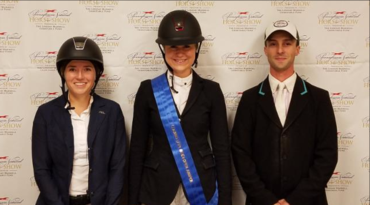 The top three: Ali Ramsay, Nicole Walker and Francois Lamontagne. Photo (c) Pennsylvania National Horse Show.
Riders from Canada took the top three spots in the $100,000 Prix De Penn National, presented by The Lindsay Maxwell Charitable Fund to close the 72nd annual Pennsylvania National Horse Show. Nicole Walker led the way on Falco van Spieveld (Toulon x Lys de Darmen), Francois Lamontagne was second riding Chanel du Calvaire (Luccianno x Kashmir van Schuttershof) and Ali Ramsay was third on Hermelien VD Hooghoeve (Tangelo van de Zuuthoeve x Thunder van de Zuuthoeve).
Nine horse-and-rider combinations out of 26 starters moved forward to the tiebreaking jump-off out after riding fault-free over the first-round course designed by Bernardo Cabral of Portugal. Five had double clear rounds beginning with Kelli Cruciotti (USA) who had a clear round in a time of 33.30 seconds on Hadja van Orshof (Cabrio vd Heffinck x Darco).
Lamontagne then took over the lead with a clean round in 31.51 seconds. However his compatriot dethroned him a few minutes later going clear in a winning time of 30.77. Emily Moffitt (GBR) made a valiant effort to take over the lead finishing in 32.04 seconds on Hilfiger van de Olmenhoeve (Dulf van de Bisschop x Querlybet Hero). Ramsay followed and stopped the timers a blink of an eye faster, finishing in 32.02 seconds.
"He is usually a bit of a slower horse, so we tried to leave out strides when we could and do tightturns back," said Walker, 23. "I knew there were some really good ridersng after me and I wasn't sure my time would hold up, but I'm just so happy that it did."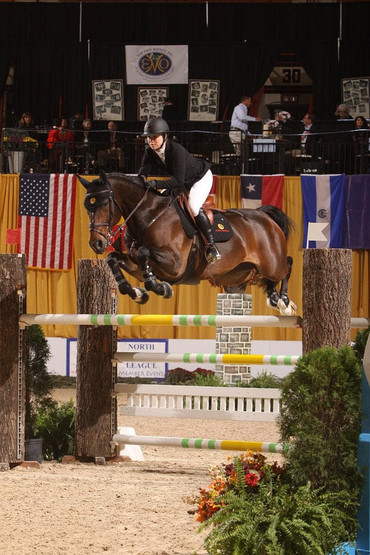 The winning pair: Nicole Walker and Falco van Spieveld. Photo (c) Al Cook - www.alcookphoto.com.
Swiss Olympic veteran and former World Cup champion Beat Mandli actually had the fastest jump-off time, finishing in 29.96 seconds on Dsarie, but a rail down at the penultimate fence cost him four faults and left him in sixth place.
"This is my first three-star win and definitely my biggest win to date," said an elated Walker who last showed in Harrisburg in 2011 when she rode in the USEF Medal Finals. "This is just an incredible night and one that I will remember forever!"
"My mare is 9, and I bought her when she was 5," Lamontagne said. "She is not the most conventional when she canters but she is scopey and careful. She was very good here tonight."
Ramsay also raved about her young mare. "My mare is just 10," she said. "I got her when she was 7. She is the best thing that has ever happened to me. I don't know how I got so lucky to have a horse like that. She is pretty spectacular. "
As a result of Walker's victory in the marquee event, she and Falco van Spieveld won the Open Jumper Championship, sponsored by Jay Cawley. Katie Dinan (USA) and Dougie Douglas were Reserve Champions. Walker was also named Leading Lady Jumper Rider, sponsored by Brandywine Tent and Lamontagne was named Leading Open Jumper rider, sponsored by Sapphire Riding Academy.
---
Source: Press release from Pennsylvania National Horse Show // Pictures © Pennsylvania National Horse Show / Al Cook - www.alcookphoto.com