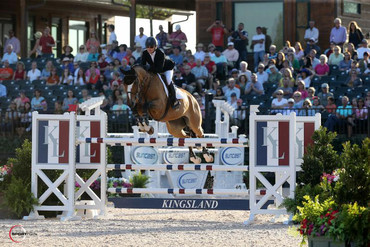 Candice King and Valinski S. Photo (c) Sportfot.
Candice King of Wellington, FL, and Valinski S brought home another victory at Tryon Spring 6 for Wyndmont, Inc. and trainer Ronnie Beard, this time topping the $75,000 Horseware Ireland Grand Prix under the lights in George H. Morris Stadium at Tryon International Equestrian Center (TIEC). King and Angel Karolyi (VEN) were the only two riders to advance to the jump-off, going head to head for the victory.

King and Valinksi S made headlines with their previous win this past week in the $25,000 Suncast® 1.45m Welcome Stake, only the third time King had sat on the 2002 Dutch Warmblood gelding by Nijinski x Rockina. The win today marks their fourth class together and the pair hasn't placed outside of the top ten in their partnership thus far. The duo finished their first trip in 79.68 seconds and completed the jump-off in 50.705 to take the victory.

"I'm so thrilled with him. He's been absolutely great. This is another great step in the partnership we're creating with him," said King. "We've got to discuss where we want to go but we do have plans for the next few weeks with him."

The course designed by Florencio Hernandez (MEX) proved difficult for most riders as only two of 28 entries moved forward to the jump-off. The time allowed was adjusted to 82 seconds after the first three trips of the class, which challenged riders even more.

"Today's course was very technical. It walked almost like it was a graph sheet, just very cornered and square. There wasn't anything on a bending line so it was very straight and there were very few angles," said King. "Today was definitely much more technical and the course wasn't so big per say but there were some very scopey questions. Where and how Florencio set the distances made it ride so scopey which is why I think it was so difficult."

Several fences proved tough for riders, most notably 10B, the second element in a tight one-strided line. The combination was the biggest test on course for riders and it drew significant attention during the course walk.

"There were a few combinations that I knew were going to be really tough. Fence 4, the plank fence, to the big oxer at Fence 5 caught a few and then also Fence 9 out of the corner because it was right towards the in gate and gave them a chance to bulge," explained King. "I knew though that 10AB was the biggest question on the course and for me when I walked with some of my students and friends I said you have to line that up and get extremely straight and help your horses out because it was quite wide. It walked a little easy and then it was quite wide out."

King was thrilled with her two rounds aboard Valinski S, as he was attentive and focused throughout the night in a large and intense atmosphere. The duo went first in the jump-off, putting the pressure on Karolyi and Raylyn Farm's Venus, who ultimately dropped a rail to finish second. As for their future together, it is still undecided but the duo will contest the FEI CSI3* competition next week at Tryon Spring 7 and the CSI4* competition at Tryon Spring 8.

"You know I stepped in, as I said, for Michael to help them out and they're great friends of mine and I have a lot of belief in them and their system. We're planning on next week for the CSI3* and the CSI4* the week after," commented King. "I'll have Kismet 50 coming in on the CSI4* week and Bugatti VDL too, so we're going to be very busy in the next few weeks. It's really nice going into these next two FEI weeks with three horses and I have to see with Ronnie and Michael as a partnership where we're going with everything, but he's been fabulous."

King had her hands full with second ride of the night, Bellissimo LLC's Bugatti VDL, who was excited by the atmosphere entering the arena. The pair put in a strong round, only to drop the last fence on course. The environment provided by the night classes at TIEC serve as great experience for not only veteran riders and combinations but for greener horses too, according to King.

"The opportunities here are really incredible for riders and their horses. You have a chance to gain experience on any type of ride and like tonight, I learned from my ride on Bugatti, which will be so beneficial moving forward in the coming weeks," said King, "A venue like this perfect and I'm so pleased with how everything rode this week. I couldn't have asked for anything more."

Final Results for $75,000 Horseware Ireland Grand Prix:
1. VALINKSI S, 2002 Dutch Warmblood gelding by Nijinski x Rockina CANDICE KING, Wyndmont, Inc.: 0/0/50.705

2. VENUS, 2002 Dutch Warmblood mare by Tangelo Van De Zuuthoeve x Pascha W ANGEL KAROLYI, Raylyn Farms: 0/4/50.577

3. ZONNEGLANS, 2004 Dutch Warmblood mare by Dutch Capitol x Lutina H GEMMA PATERNOSTER, Gemma Paternoster: 1/82.056

4. TRIOMPF, 2004 Dutch Warmblood gelding by Tangelo Van De Zuuthoeve x Etriompf HOLLY SHEPHERD, Loretta Patterson: 2/83.828

5. PLATINUM, 2005 Irish Sport Horse mare by Javlin x Ballybregagh Band of Gold KYLE TIMM, Apex Equestrian Center: 4/76.228

6. BASJE, 2006 Dutch Warmblood gelding HAROLD CHOPPING, Kendra Bullington: 4/76.258

7. BON GIORNO, 1999 Swedish Warmblood gelding by Acacio 948 x Bon Ami BYRN SADLER, Showcase 81 LLC: 4/77.99

8. BINKIE, 2006 Dutch Warmblood gelding by Larino x Whisper B DAVID BLAKE, Pine Hollow Farm: 4/79.348

Source: Press release from Tryon International Equestrian Center.