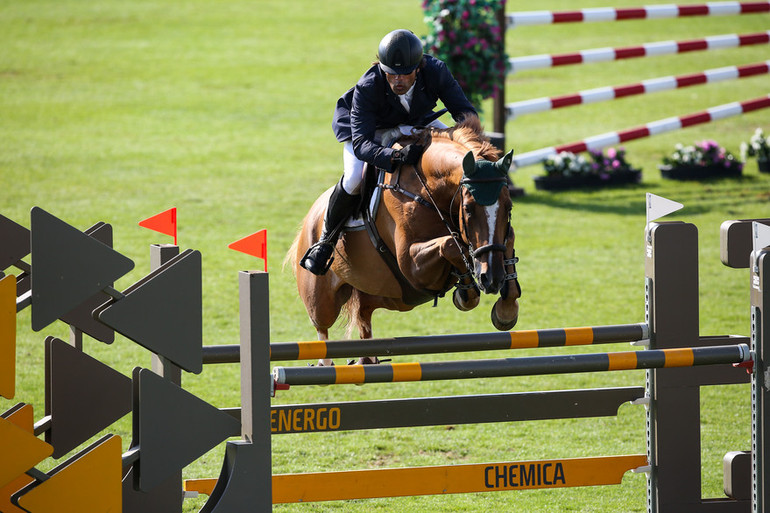 Carlos Mota Ribas and Brilexo won the Energochemica Derby Cup at the X-BIONIC® Summer Tour. Picture © X-BIONIC® SPHERE / Filippo Gabutti.
Temperatures hovered near 30˚C (86˚F) today on the X-BIONIC® Summer Tour, where Carlos Eduardo Mota Ribas of Brazil beat the heat and a field of 25, riding to an impressive win in the Energochemica Derby Cup CSI4* on his own Brilexo.
Uliano Vezzani's sprawling, 1.45m track required both bravery and stamina, a recipe that made for an exciting class, despite the afternoon's sun and soaring temperatures. Aside from the casual rail, the first portion of the course offered little trouble to most of the field, though the remaining half, which incorporated a series of natural obstacles beginning with a figure eight of bank jumps, was a different story.
For a number of riders, a closed dyke combination on the backside of the track proved insurmountable, resulting in several stops and eliminations. Those that met the challenge were forced to contend with a gallop home to the final two jumps: a large square oxer and upright vertical of natural panels on a corner, leading to more than one disappointing rail.
The 12-year-old KPWN gelding Brilexo (Phin Phin x Lux) was the second ride of the day for Mota Ribas, who earned 8 penalties with his first mount, Wilexo. With the course well in hand, the Brazilian rider wasted no time on Brilexo, making each turn count and charging through the dyke series to find two, flawless lines to the final jumps on course, stopping the clock at 133.06.
Second-place finisher Richard Howley of Ireland, riding Cruising Star, took a commanding lead as one of the last riders to go with a time of 138.46—nearly seven seconds faster than third place rider Jamie Wingrove of Great Britain on Bart VI (145.06). "[Cruising Star] is naturally a very fast horse. She's Irish, I'm Irish, so we're used to a bit of hunting," Howley joked after his ride.
This is an important win for Carlos Eduardo Mota Ribas and his longtime partner, Brilexo, who have been competing together since 2012. Last week, the pair finished sixth in the Prize Coca-Cola CSI4* on the X-BIONIC® Summer Tour.
---
Press release from X-BIONIC® Summer Tour
Picture © X-BIONIC® SPHERE / Filippo Gabutti