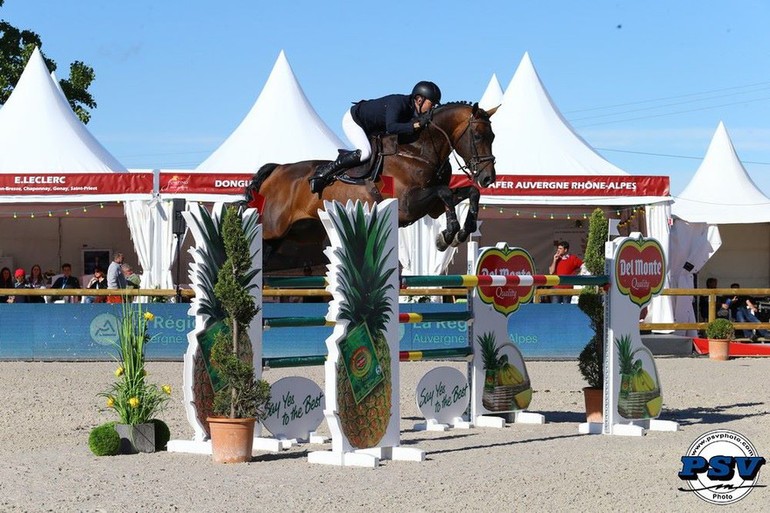 Cassio Rivetti and Ut Majeur de Brecey won Friday's CSI4* Prix Intersport in Bourg-en-Bresse. Photo (c) PSV Photo / Jumping International de Bourg en Bresse.
The Brazilian riders are on fire at the moment taking one victory after the other, and on Friday Cassio Rivetti continued their winning trend when going to the top in the CSI4* 1.50m Prix Intersport in Bourg-en-Bresse.
Riding the 9-year-old stallion Ut Majeur de Brecey (Diamant de Semilly x Quouglof Rouge), Rivetti was one of fourteen riders moving on to the jump-off in this competition that also counted for the Longines Ranking. Against the clock, the Brazilian rider stopped the clock at 39.50 seconds – over a second faster than the time of runner-up Alexandre Fontanelle (FRA) on Prime Time des Vagues (Diner's Time x Helios D'Aumont). Douglas Lindelöw (SWE) on Zacramento (Cardento x Cortus) finished third almost three seconds behind the winning time, Lalie Saclier (FRA) on Tescari'Jac (Jac'Potes x Shogoun II) fourth and Abdelkebir Ouaddar (MOR) fifth on Saphir du Talus (Diamant de Semilly x Voltaire) – all with double clear rounds.
---
Text © World of Showjumping // Picture © PSV Photo / Jumping International de Bourg en Bresse