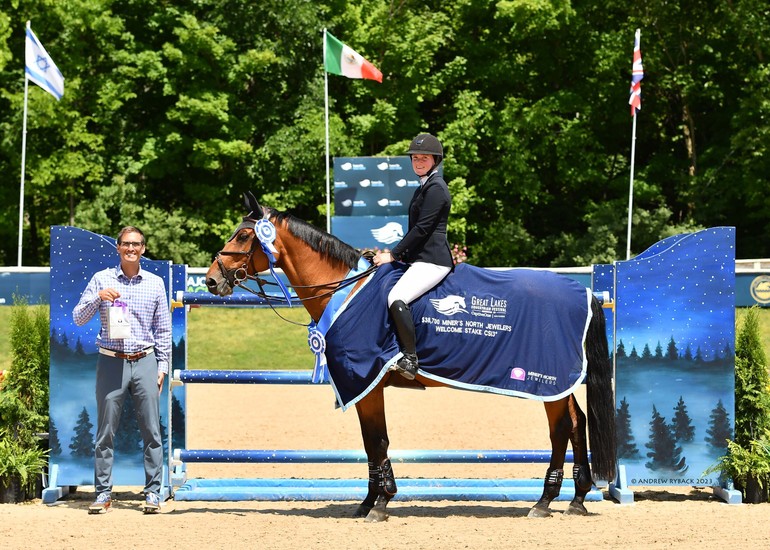 Cathleen Driscoll (USA) and Flotylla in their winning presentation, pictured with Jeff Guntzviller, General Manager of Miner's North Jewelers. Photo © Andrew Ryback Photography.
Press release from Traverse City Horse Shows
---
Cathleen Driscoll (USA) continued her winning streak Friday of the first week of the Great Lakes Equestrian Festival, presented by CaptiveOne Advisors. After securing top call in the $38,700 CSI3* Speed the previous day, she and Flotylla (Alvaro x Bajou du Rouet) came back fighting in Friday's $38,700 Miner's North Jewelers CSI3* Welcome Stake, taking the win again in good company.

Catsy Cruz's (MEX) first-round track produced 13 clear rounds, and Driscoll had the advantage of going second to last in round two with Don Stewart's 12-year-old mare. Grace Debney (GBR) set the pace of 37.68 seconds as first to go, and Driscoll knew there was some room to make up time as her turn came to jump off.

"Flotylla is such a naturally fast horse so I try not to do anything too extreme," she shared. "I always try to have a plan going into the ring, but she's so fast I can put in a good time without being too crazy. I saw the numbers, I saw how the lines were in comparison for her with a big stride. I went in knowing a smooth, quick round would probably be enough for today."

Smooth and quick proved to be enough, cruising to a time of 35.15 seconds for the win, marking her second FEI victory with the same horse in just two days. Debney took second with Temple Equestrian's Jesprit H.S. (Eldorado vd Zeshoek x Carosso VDL), and Irish Olympian Shane Sweetnam (IRL) came in third with Sweet Oak Farm's RR Combella (Cornet du Lys x Indoctro).

"I have such a fabulous partnership with her at this point," Driscoll said of her relationship with Flotylla, which is producing results left and right. "I know her like the back of my hand. She trusts me and that allows us to go into the ring time and time again and have fantastic results. She's on amazing form right now. We'll just look to keep her happy and well and keep her jumping clear rounds."
The speed in the show ring translates to a bit of sass in the barn, but catering to Flotylla's needs is something Driscoll and her team are happy to do on a daily basis. "She's a queen. She knows she's a queen," Driscoll laughed. "In the barn she's a sweet mare but she loves her food, she loves her treats, and she loves her alone time. You have to live in her world and do things her way."

If "her way" is winning, they'll happily continue the routine. Driscoll is moving her way up the leaderboard for the $30,000 CaptiveOne Advisors Open Jumper Rider Bonus, and with several powerful mounts for FEI and National competition in her string, she's in a good position to continue rising in the ranks as she plans to stay in Michigan for the remainder of the season.

"I have a nice string of horses right now so I'm going to try to play them back and forth," she said of her plan. "There's a good variety of classes here, between two-star, three-star, and five-star. I'll try to save Flotylla for the three-star and five-star competitions and try to bring out some of my younger horses for the two-stars. We'll try to keep up with the consistency and see where we end up."

Show jumping over the weekend of GLEF I features the $30,000 Traverse City National Grand Prix on Saturday, followed by the $145,100 Meijer CSI3* Grand Prix on Sunday afternoon.