Press release from Traverse City Horse Shows
---
Cathleen Driscoll (USA) continued her fierce winning streak in international competition Friday afternoon at the Silver Oak Jumper Tournament, winning the $38,700 GGT CSI3* Welcome Stake and further solidifying her lead on the Open Jumper Rider Leaderboard at Flintfields Horse Park.

With Arome, a 13-year-old Selle Français gelding (Norway De La Lande x Attila III), Driscoll bested an 11-horse jump-off with over a second to spare over second-place finisher Francisco Goyoaga Mollet (ESP) with Icarus. Grace Debney (GBR) and Jesprit H.S. finished just a hair behind Goyoaga Mollet to finish third. Driscoll's gutsy slice to the Silver Oak Jumper Tournament oxer in the jump-off helped save precious time and secure the win as the class came to a close.

"I've been with Arome for about two years now and we've built a great partnership together," she said of the horse owned by Plain Bay Farm. "I've jumped five-stars and Nations Cup competitions on him, and we've learned a lot together. I can call on him and trust that he'll do right by me. He is becoming a super competitive horse. In the beginning he wasn't so fast but now he's learning to be fast and tidy."

Arome certainly came through for Driscoll Friday when asked to take on a challenging slice, but it's actually a move Driscoll practices quite often at home so she can execute in the show ring.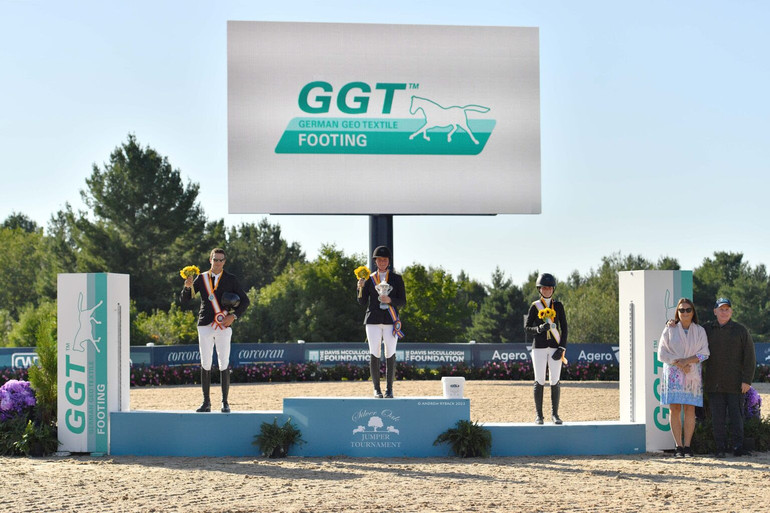 Francisco Goyoaga Mollet, Cathleen Driscoll, and Grace Debney are presented on the podium by GGT's Cynthia Keating and Silver Oak Jumper Tournament's Jeff Papows. Photo © Andrew Ryback Photography.
"I have a background in eventing, so I'm very comfortable on the slice," Driscoll said of her past working for several eventing stables near her home base in Maryland. "That's something we school a lot with the event horses and I've carried over into my training with the show jumpers. You see [fences to slice] so often in the jump-offs and I find it's a place where you can make up a lot of time if you have a horse that's good on the slice."

Though eventing left its mark on Driscoll and made her braver to the jumps and more willing to take risks, once she headed into the show jumping world, she never looked back. "I always wanted to jump, but at the time [eventing] fell into my lap," she explained of her time in eventing. "I grew up in an area that was rich with eventers so that's where my path took me at that time. In the end, it led me to the Prudents at Plain Bay Farm so I can't be upset about that."

Driscoll typically aims Arome for CSI5* classes, and she isn't making an exception for the CSI5* American Gold Cup at the Traverse City Horse Shows, set for Sunday, September 17. The win Friday is a great step toward their next goal of a top finish in a CSI5* grand prix.

"This is a super confidence builder," she continued. "We love it here in Michigan. We had a great summer so I'm coming off those good results as well. It's nice to have good performances in the ring the week leading up to [a big event]. He feels super and I think he's due a good result in these bigger classes. I hope it's coming soon."