Press release from Traverse City Horse Shows
---
Cathleen Driscoll (USA) wasn't going to leave Traverse City without another win. She took one final victory in Sunday's $38,500 CSI5* Winning Round aboard Don Stewart's Flotylla, a horse she's had tremendous success with over the past year.

"Floytalla is a special horse in my string," Driscoll said of the 12-year-old Polish-bred mare (Alvaro x Balou du Rouet). "She's such a winner, so we really try to place her in classes where we think she can be competitive. She stepped up beautifully to these 1.50m five-star classes so looking ahead at our fall schedule we're going to aim her for these Major League 1.50m classes. We try to make sure she has plenty of down time so we're not overusing her. We place her where she has her best opportunity to shine."

With Sunday's win and a second place in the CSI2* Grand Prix, Driscoll ended up the winner of the $30,000 Traverse City Open Jumper Rider Bonus, a title she took quite convincingly. She stepped into the lead early on in the season and held onto it with her consistent wins and top results.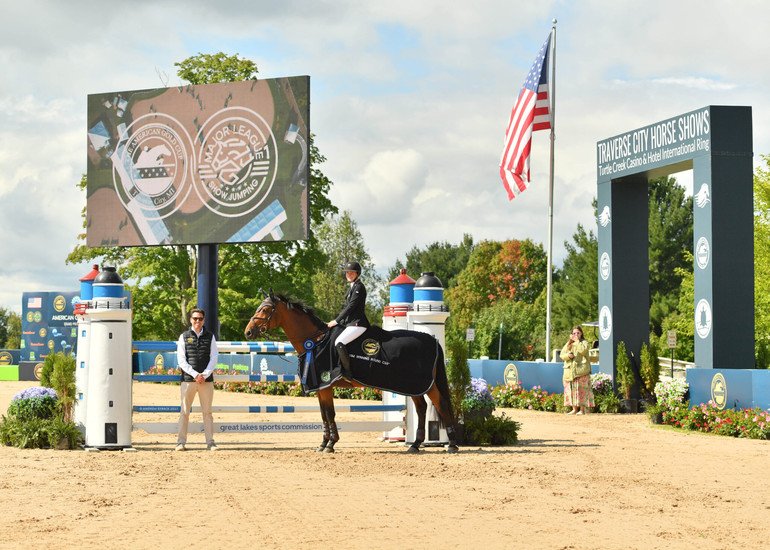 Cathleen Driscoll (USA) and Flotylla in their winning presentation. Photo © Andrew Ryback Photography.
"It's something that's always been on my mind," she said of winning the bonus for 2023. "It's a great bonus. In this line of work, a bonus doesn't come along every day. When I had a good start in July, I knew it was doable but it's a long circuit and there are a lot of good riders. Anyone can come in and have a good couple weeks like I did. It's an exciting moment for me."

Despite her seemingly overnight success, Driscoll hasn't been competing at the top of the sport for long. Now 30, she only began FEI show jumping at age 28, though she aspired to those levels for quite some time as a young rider.

"I always had dreams and aspirations growing up," she shared. "For a while it was hard to see a path forward. If you told me at this point when I was 30 I'd be here doing this and having this much success it would have been hard to imagine. I'm just so grateful for all the people that have helped me get here and are supporting me along the way."

Riders often ask Driscoll for her advice given her speedy rise to success, so she has a well-thought out answer prepared: "My biggest piece of advice is to trust the process and put in the work. It's a long road. You can't get discouraged when you see the young riders jumping the big grand prix. It doesn't happen for everyone. I didn't jump my first grand prix until I was in my late twenties. If you have the dedication and you put in the work and commit yourself, people will take notice and opportunities will come."