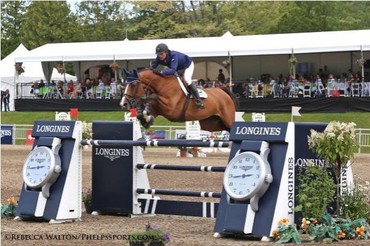 Charlie Jacobs and Cassinja S. Photo by Rebecca Walton/Phelps Media Group.
The International Ring at the Parc Équestre Bromont, host of the 2018 FEI World Equestrian Games, was alive with excitement as athletes competed in Saturday's Modified Grand Prix. Eight horse and rider combinations qualified for the jump-off, but it was Boston's Charlie Jacobs that captured the winning honors with Cassinja S, out racing Olympian Leslie Howard and Julia Madigan.

Madigan was the first to break the 35 second barrier in the jump-off, setting the pace to beat at a clear 32.57 seconds with Farfelu Du Printemps. Mario Deslauriers attempted to catch her time aboard Cherrypop, but fell just short with a clear round in 32.95 seconds.

Leslie Howard was out to take the win from the first jump with Balboa 6, leaving out a stride in the first rollback and racing to the final oxer. With all the rails intact they broke the beam at 31.10 seconds, but their leading time would not hold up for long.

Charlie Jacobs knew that he would not be able to leave a stride out in the first line, but he did race down the second line with Cassinja S, and the risk paid off. They stopped the clock at 30.79 seconds with a faultless effort to lead the victory gallop.
"To come here and have her run like she did, that big stride just eats up so much ground," smiled Jacobs after his win. "I couldn't be happier with her and she's only 9, so I think she has better days ahead hopefully."

This is Jacobs first time competing at International Bromont, and he has been very happy with the experience. "The venue looks fantastic to me," he commented. "I was talking to Roger [Deslauriers] about all the improvements they plan to make for the WEG in 2018 and it sounds like it's only going to get better. What a place!"

Sunday, Jacobs will compete in the CSI3* event's major highlight, the Longines FEI World Cup. It marks the first qualifying event for the new North-American League Starting at 2 :30, equestrian sport fans will be able to view the event on FEITv.

Jacobs will be competing aboard Flaming Star, who just returned from Flasterbo, Sweden, where the talented gelding jumped double clear for the U.S. Show Jumping Team in the Nations Cup competition.

"There is a lot of pressure," admitted Jacobs. "I want to go to Gothenburg and this is where it all starts. I am looking forward to it. There are some really nice horses here, but I am lucky to be sitting on one of them, so hopefully we will have a good day tomorrow."


Results - Modified Grand Prix
1. 745 Cassinja S Jacobs, Charlie 0 penalties 30.79 sec
2. 747 Balboa Howard, Leslie 0 penalties 31.10 sec
3. 213 Farfelu du Printemps Madigan, Julia 0 penalties 32.57 sec
4. 385 Cherrypop Deslauriers, Mario 0 penalties 32.95 sec
5. 238 Cescha M Lapierre, Isabelle 0 penalties 33.08 sec
6. 344 Creativo Leone, Peter 0 penalties 35.69 sec
7. 399 Carlo Cone, Mac 4 penalties 35.01 sec
8. 212 Vintovara Madigan, Julia eliminated
9. 256 Cees Lincourt, Melissandre 4 penalties 74.42 sec
10. 397 Catch The Cloud Cone, Mac 4 penalties 77.62 sec

Source: Press release from Phelps Media Group, Inc. International.