Christine McCrea and Candy Tribble's Wannick WH concluded Tryon Spring 7 with a win in the $25,000 Grand Prix at Tryon International Equestrian Center (TIEC). The duo bested the six-horse jump-off with a time of 41.528 seconds. Lucas Porter and Sleepy P Ranch, LLC's Doma Sue finished followed in second, completing the course in 44.517 seconds. Kady Abrahamson and Abrahamson Equestrian LLC's Bamiro placed in third, riding clear in 45.322 seconds. Competition at TIEC begins again on Wednesday, June 3, with the start of Tryon Spring 8 CSI 4*, the last week of the Tryon Spring Series.
McCrea and Wannick WH were the last pair in the George H. Morris Stadium for the jump-off, riding in hot on the heels of Lucas Porter and Doma Sue, who had just put in the fastest clear round of the jump-off. McCrea had scoped out the tracks she believed would save her time on course and made two bold inside turns to ultimately finish three seconds faster than Porter.
"Winning here in Tryon feels great. It's our first time here and I was so impressed with how everything went this week. I thought this class would be great for him so we went today and got really lucky," said McCrea.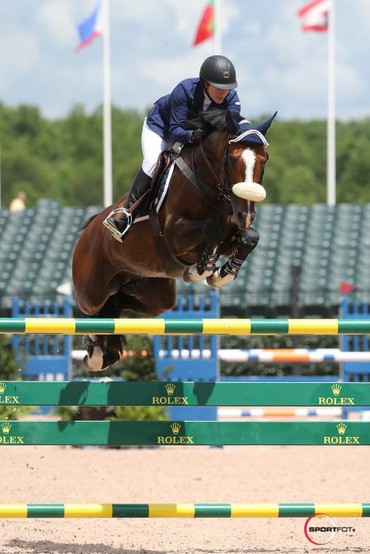 Christine McCrea and Wannick WH. Photo ©Sportfot.
The duo has built a solid partnership together as Wannick WH has been with the McCreas for nearly seven years. McCrea knows the ins-and-outs of the stallion's style and the win today served as a great moment for the pair.
"We've had him forever. We bought him when he was five-and-a-half and now he's twelve. It's like putting on an old sneaker, you just know. I can feel really secure about what I think is going to happen and hopefully it does happen," she commented. "He's just a really good horse and he really tries. He's a bit on the smaller side and for him to jump these big jumps is really cool. He gives you a great feeling."
Abrahamson and Porter were the first two riders to finish with clear rounds in the jump-off and McCrea knew she was going to have to ride competitively to keep all of the rails up and lay down a fast and efficient ride.
"The kids really put the pressure on this old lady today," laughed McCrea. "To be honest, I wasn't sure that I wanted to go inside to the double because it was quite short but I said to myself 'Okay, we're going inside of the double and if you clear that then you have to make an effort to get inside of the next two standards,'" she explained. "I sort of forced that turn but he slowed down and that allowed me to turn him quite tight and I got a great line. It really worked out to my advantage. It almost gave him enough of a half halt to rock back on his hocks, which pushed us through the next fence.
Christine and her husband Jonathan will stay at TIEC to contest the next week of FEI CSI 4* competition before returning to Connecticut for small summer break. The duo have a strong string of horses here and will look to continue their winning ways moving into Tryon Spring 8 next week.
"We'll be here for next week and then we'll head back to Connecticut for a bit. I haven't been home since December so I'm really looking forward to spending some time there. We'll do some of the more local stuff there, but will 100% be coming back here within the year. We've already put it on the schedule," commented McCrea. "We love it here and I think what Mark [Bellissimo] is doing with the FEI classes, for me as a rider, is what I want and it's what we've all been begging for. We're so thrilled to be here and to win this class was just great."
Adding TIEC into their show schedule has been a huge advantage for McCrea, as she can not only compete in FEI sanctioned competitions on U.S. soil, something she has been looking forward to for a long time, but also gives her the opportunity to choose from a wide range of classes and decide which are most fitting for her horses.
"I think the footing has been perfect. It has a give and it feels soft but firm. You can turn in it without slipping. The layout of the facility is really cool and I like the way it's starting to layout," said McCrea. I realize there's a lot more work to do, but I can say that if it was just this alone, it's amazing, but I think moving forward with the plans is just going to make it that much better and we're really excited for that."
Final Results for $25,000 Grand Prix:
1. WANNICK WH, 2003 Dutch Warmblood stallion by Heartbreaker x Elseroodnoot
CHRISTINE MCREA, Candy Tribble: 0/0/41.528
2. DOMA SUE, 2005 Holsteiner mare by Dollar D. Mur x Vorr
LUCAS PORTER, Sleepy P Ranch, LLC: 0/0/44.517
3. BAMIRO, 2001 Belgian Warmblood stallion by Heartbreaker x Quamira
KADY ABRAHAMSON, Abrahamson Equestrian LLC: 0/0/45.322
4. WINGS, 1998 Dutch Warmblood gelding by Lexicon x Jersey
ANGEL KAROLYI , Mclain Ward: 0/8/38.739
5. BELUGA, 2005 Swedish Warmblood mare by Cobra x Barracuda
SHANE SWEETNAM, Spy Coast Farm: 0/8/41.99
6. PLAYBOY, 2006 Belgian Warmblood gelding by Toulon x Lysca
CHARLIE JAYNE, Charlie Jayne: 0/8/45.8
7. WINNIE, 2003 Dutch Warmblood mare by Manhattan x Sourci
MARK BLUMAN, Stransky's Mission Farms, Inc.: 4/74.723
8. UITTERAARD, 2001 Dutch Warmblood gelding by Numero Uno x Natosca
MARK BLUMAN, Stransky's Mission Farms, Inc: 4/77.889