Press release from Traverse City Horse Shows
---
Conor O'Regan (IRL) kicked off his international run at the Great Lakes Equestrian Festival (GLEF) with a win Friday in the $38,700 Elk Rapids Marina CSI3* Welcome Stake aboard Mendini DR, owned by Dynomite Ranch, LLC. The Irishman bested a 13-horse jump-off, eight of which jumped double-clear, taking home victory with nearly a second to spare.

O'Regan had an advantage, being the very last in the order for round one, which welcomed 33 entries. Returning last for the jump-off, though he didn't get to see many of the rounds due to training clients in other rings, he understood the assignment.

Samantha Schaefer (USA) led with Bonnie Vie LLC's James Bond HX, and they ultimately claimed second place after O'Regan's blazing clear effort in 36.80 seconds. Third place went to Martien Van Der Hoeven (USA) and In A Hurry, owned by Pine Hollow Farm.

"I got her at the end of her six-year-old-year, so it's been five years," O'Regan reflected on his partnership with his winning 11-year-old Belgian Warmblood mare (Hunters Scendix x Cassini). "It's been a good five years just building and developing her into what she is today. She's not your typical, conventional jumper, she has her own style. She's not the biggest horse in the world with the biggest stride but she's got a big heart and she always wants to jump the jumps clean and try her best all the time."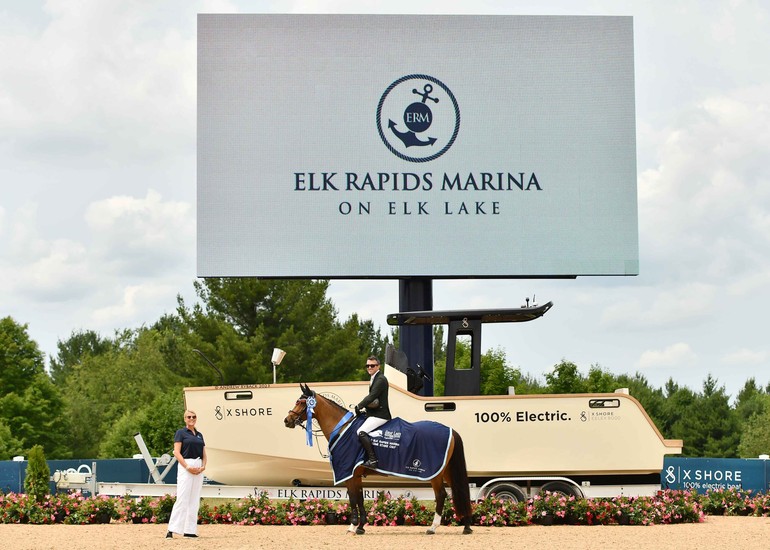 Conor O'Regan and Mendini DR in their winning presentation with Susie Cooper, owner of Elk Rapids Marina. Photo © Andrew Ryback Photography.
Mendini DR's best proved to be good enough Friday, and also that the partnership is one that is reaching its prime. Two pairs jumped quicker, but had a rail down on their way.

"She's definitely a careful horse but it's about allowing her to use that front end and get out of the way," O'Regan remarked on the mare's unique way of going. "Once I do that, I know that she'll always try to make the back rail and that's a big help. She never goes too high; she always does what she needs to do to get across and most of the time she leaves the jumps up."

Based in Upperville, VA, O'Regan is in Northern Michigan piloting two mounts in the FEI division during the second week of GLEF, both of which have the chops to contend in Sunday's CSI3* grand prix. He'll decide between the two depending on how they feel.

"[Mendini] was so good today, so maybe I'll leave her on that and I'll see how I'm feeling," he said of his plan for the rest of the week. "And then I have another really nice 10-year-old who is just starting to come into his own. He's jumping the national grand prix tomorrow."

Show jumping continues through the weekend with Saturday's $30,000 Traverse City National Grand Prix, followed by Sunday's $145,100 CSI3* Grand Prix of Michigan.