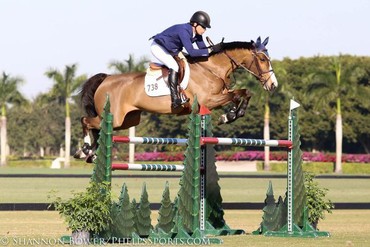 Conor Swail and Ariana. Photo (c) Phelps Sports.
The competition was fierce Friday at the International Polo Club Palm Beach (IPC) as The Ridge at Wellington Turf Tour completed its fourth week of competition. Conor Swail and Ariana were the trailblazers, leading the class from start to finish with their phenomenal double clear effort completed 31.860 seconds. Alexander Zetterman and Avon finished in second place with a time of 34.072 seconds, while Andrew Bourns and Tzargazer rounded out the top three with their time of 34.372 seconds.
Over 50 horse and rider combinations gathered on the polo field at IPC, vying for the $15,000 offered in prize money for the fourth of 12 Ridge at Wellington Turf Tour 1.40m Grand Prix. Nick Granat designed the course for the day, setting a technical track that proved for a heart thumping jump-off.
Brianne Goutal was the first horse to post a double clear effort and continue onto the shortened track. She rode Ballade Van Het Indihof to the time of 34.960 seconds. The 2014 Ridge at Wellington Turf Tour Leading Rider Jeffery Welles aboard Callais followed her to the second clean round of the day, but his time of 36.350 seconds would only prove good enough for the tenth place, while Goutal would finish fifth.
Goutal said, "All of us riders are really grateful to have The Ridge as an option to come and jump away from the show grounds-it is a nice change of pace and atmosphere. It is always really fun to jump on grass. The weather and everything couldn't have been better here today. Nona [Garson] and George [D'Ambrosio] do an amazing job maintaining everything. The management really shows."
Current leading rider Conor Swail aboard Ariana cleared the first course with ease and moved into the jump-off. They were smoking as they covered the ground and completed all the possible options to shave the seconds, with Swail never touching the reins. As only the twelfth rider of the day, Swail admitted that he was riding fast with the hopes of staying in the top three by the end of the competition.
"The jump-off today was short, so it meant that I had to be very fast," Swail said. "I left out a stride from one to two, then I did a good rollback. It was important to cover the ground efficiently. She was very good to jump the double today and we left out a stride to the final fence. I didn't leave too much room out there, but I knew I was going to have to run quite hard; there are some great riders here."
Swail continued, "Ariana is about 14 years old, and this is her first show since Toronto. The facilities are so great here to start your horses back. It is a great environment and good ground. It is a beautiful arena. She is well qualified to do this. She was my top horse over the winter, and she won some top classes over there. She jumped great today, as she always does. I always like to say that it is good enough for top three. I had a good day, so I am very pleased."
Zetterman attempted to catch Swail's speed with Avon later in the day, but he broke the beam two seconds behind Swail's blazing time, surpassing Andrew Bourns with Tzargazer who finished in 34.372. Juan Andres Rodriguez completed the jump-off just behind Bourns in 34.372 seconds aboard Bugatti for the fourth place.
It seemed as though nobody would catch Swail's time, but Sharn Worldey and Popstar Lozonais flew around the shortened course, racing to trip the timers. They nearly took over the lead with their time of 31.351 seconds, but four faults in the penultimate obstacle, a technical double combination, would put them out of the rankings.
Beth Underhill and Viggo finished sixth behind Goutal in 35.203 seconds, while Charley, with Juan Ortiz in the irons, captured the seventh place in 35.342 seconds. Angela Covert and Utan completed the day in eighth.
"We are getting set up for the rest of the season, and it is great to come and show over here. I try to bring a couple of horses every week. It is great to start with your better horses and bring your younger horses here and improve them," Swail concluded.
$15,000 1.40M Grand Prix - Table II Sec 2b
Place Entry Horse Owner Rider
1st 738 Ariana Susan Grange Conor Swail
2nd 823 Avon Alexander Zetterman Alexander Zetterman
3rd 777 TZARGAZER Andrew Bourns Andrew Bourns
4th 807 Bugatti FEI Juan Andres Rodriguez Juan Andres Rodriguez
5th 801 Ballade Van Het Indihof Remarkable Farms Lp Brianne Goutal
6th 543 Viggo Beth Underhill Beth Underhill
7th 769 Charley Synchronicity Group Juan Ortiz
8th 809 Utan Angela Covert Angela Covert
Source: Press release from Phelps Media Group, Inc.