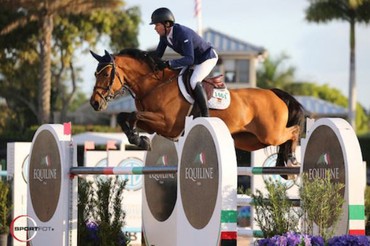 Conor Swail and Cita. Photo (c) Sportfot.
Week eleven of the 2016 Winter Equestrian Festival (WEF), sponsored by Artisan Farms, began Wednesday morning at the Palm Beach International Equestrian Center (PBIEC) in Wellington, FL, with a win for Conor Swail (IRL) and Cita in the $35,000 Douglas Elliman 1.45m Jumper Classic.
Olaf Petersen, Jr. (GER) is the course designer in the International Ring for WEF 11. Petersen kicked off the week with 70 entries in the 1.45m speed class and 27 clear rounds. Sixth to go in the order, Conor Swail set an uncatchable time of 65.31 seconds that would hold on for the win riding Ariel and Susan Grange's Cita.
Lauren Hough (USA) guided Paris Sellon's Street Hassle to second place in 66.67 seconds. Daniel Coyle (IRL) jumped Susan Grange's Tennyson to third place in 67.04 seconds, and Laura Chapot (USA) rode her own and McLain Ward's Quointreau Un Prince through the timers in 67.52 seconds to place fourth.
Cita, a ten-year-old Holsteiner mare (Casall x Pik Ramiro), last won a 1.45m FEI World Ranking class competing with Swail in November. She then jumped some smaller classes throughout the WEF circuit before stepping up again this week.
"She finished up last season very well with a big win in November, and we have been a little slower, just getting organized since then," Swail explained. "She went a little bit green on me at the start of the circuit, so we just took our time and did a lot of national 1.40m classes, and now it is time for her to step up a little bit again. She had a break for a few weeks and today she was really good; I thought she was fantastic."
Going sixth in the order, Swail did not get a chance to see anyone else go before his round, but the course was good for Cita and the rider stuck to his plan.
"I had an early draw, but it was quite a galloping course, there was a lot of room to run, and that suited my mare," Swail stated. "Even though she is a small mare, she has a huge stride. Starting with number one to two, I did seven strides there, which was a big leave out. Then for me, fences one, two, three, four, and five were where you made a lot of time. I galloped a lot the first five jumps, and then you were a little committed to numbers again through the middle of the course. Then there was another little gallop towards the end.
"I thought it was a nice round," Swail continued. "I was very pleased with how well she handled it. She stayed nice and smooth even though we were going at a high speed."
Speaking further of his mount, Swail noted, "She can get a little nervous, and we have just been trying to keep her as relaxed as possible. That is why we have not been rushing her too much this circuit. I felt it was time now to press on a little bit and see how she coped with the pressure of going quick again, so I was very happy with how she responded. I am hoping she is going to be one of my top jumpers, so this is a stepping-stone to move up for her."
Cita will finish the WEF circuit next week followed by a week in Miami before taking a little break. Her season will start up again competing at the Caledon Equestrian Park in Palgrave, Ontario, before heading on to Calgary, Alberta, for the Spruce Meadows Summer Series starting in June.
Also competing in the International Ring on Wednesday, the $6,000 1.40m speed, sponsored by Illustrated Properties, was held in a California split. Todd Minikus (USA) and Two Swans Farm's I Am Nala were the winners of Section A, while Darragh Kenny (IRL) and Bowers Cone LLC's Cassini Z topped Section B.
The eleventh week of competition at the 2016 Winter Equestrian Festival continues on Thursday with the $35,000 Ruby et Violette WEF Challenge Cup Round 11 and the Perfect Products Pre-Green Hunters 3'3" will award championship honors in the Rost Arena. For more information and full results, please visit www.PBIEC.com.
Final Results: $35,000 Douglas Elliman 1.45m Classic
1. CITA: 2006 Holsteiner mare by Casall x Pik Ramiro CONOR SWAIL (IRL), Ariel and Susan Grange: 0/65.31
2. STREET HASSLE: 2006 Selle Francais stallion by Quick Star x Laudanum LAUREN HOUGH (USA), Paris Sellon: 0/66.67
3. TENNYSON: 2007 Canadian Sport Horse by Oklund x Lupicor DANIEL COYLE (IRL), Susan Grange: 0/67.04
4. QUOINTREAU UN PRINCE: 2004 Selle Francais gelding by Diamant de Semilly x Rosire LAURA CHAPOT (USA), Laura Chapot & McLain Ward: 0/67.52
5. HOMER DE REVE: 2007 Belgian Warmblood by Nabab de Reve x Heartbreaker LORENZO DE LUCA (ITA), Stephex Stables & VDB Equestrian Stables: 0/67.69
6. CLEARWATER: 2007 Holsteiner gelding by Clearway x Come On MARILYN LITTLE (USA) Karen O'Connor: 0/69.10
7. BIALDA: 2006 KWPN mare by Salvatore x Grosso Z RAMIRO QUINTANA (ARG), St. Bride's Farm: 0/69.42
8. CAVALIA: 2007 KWPN mare by Vittorio x Jonggor's Ajonc LAURA KRAUT (USA), Hi Hopes Farm LLC: 0/69.52
9. CHANEL: 2008 Oldenburg mare by Challan x Lordanos DARRAGH KENNY (IRL), Kerry Anne LLC: 0/70.39
10. BONJOVI: 2006 KWPN gelding by Verdi x Corland EMANUEL ANDRADE (VEN), Emanuel Andrade: 0/70.61
11. CANTERO DA LAGOA: 2008 Holsteiner gelding by Cassini II x Corrado I SHANE SWEETNAM (IRL), Sweet Oak Farm: 0/71.01
12. SAN SOUCIS Z: 2003 Zangersheide gelding by Surrealist v/h Paradijs x Voltaire RODRIGO PESSOA (BRA), Rodrigo Pessoa & Caroline Lloyd: 0/72.22

Source: Press release from Equestrian Sport Productions News // Photo © Sportfot.