It was a beautiful day of top show jumping competition at the Spruce Meadows 'National', presented by Rolex. Spectators numbered 28,477 to see Ireland's Conor Swail win the $500,000 RBC Grand Prix, presented by Rolex. It was the highlight event of the CSI 5* tournament, which concludes on Sunday, June 12. Second place went to Eric Lamaze (CAN) and Fine Lady 5, while Rich Fellers (USA) and Flexible placed third. Earlier in the day, Eric Lamaze (CAN) and Rosana du Park won the Transcanada Winning Round 1.50m.

The Spruce Meadows 'National', presented by Rolex, concludes on Sunday, June 12, with the $175,000 CNOOC Nexen Cup Derby. Thirty-three entries took to the course in the RBC Grand Prix, presented by Rolex, which was designed by Guilherme Jorge of Brazil, who will be designing at the 2016 Olympic Games in Rio de Janeiro.

Swail said of the course, "There was a premium on carefulness today. There were a lot of tall, light
verticals. Scope-wise it wasn't a huge test, but I thought he did an excellent job creating the right amount of clear rounds."

Conor Swail aboard Martha Louise in the RBC Grand Prix, presented by ROLEX The first phase was held earlier in the morning and had ten entries. There was one clear round in Maggie McAlary (USA) and HH Ciske van Overis. They were the first to return in the jump-off and had one rail for
four faults in 47.95 seconds. They would finish in fifth place. Next in was Jonathan McCrea (USA) on Aristoteles V. They were more careful in a time of 49.72 seconds in order to ensure their clear round, which would hold up for fourth place.

McCrea has developed Aristoteles, an 11-year-old Dutch Warmblood stallion owned by Candy Tribble, since he was five years old. "To produce him to this level has been a long road," he said. "I've believed in him from the start. This year he's really stepped up to jump the bigger classes. He jumped his first Nations Cup a few weeks ago. I felt very relaxed today when I walked the course. He stepped up to the plate and delivered, so I was happy with him."

In the first round, McCrea finished exactly on the 86-second time allowed. "The two 1.55m classes earlier in the week, for me personally, built my horse up to today. I was clear with a time fault in both of them, so that was in the back of my mind today. I could hear the people in the box in the middle of the ring, as I was going to the second to last oxer, they were clucking. I thought, 'Oh
geez, I'm a bit slow here,'" he said with a smile.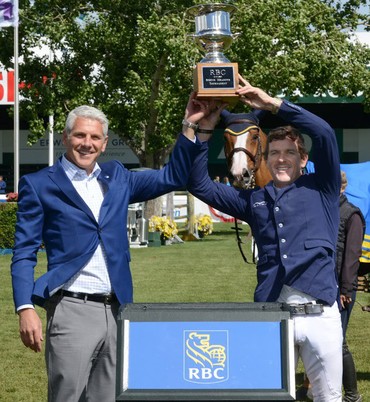 Conor Swail (IRL) hoists the champions trophy with Jeff Boyd, Regional President Alberta and Territories, RBC Royal Bank. Photo (c) Spruce Meadows Media Services.
Rich Fellers (USA) and his expectation-defying horse, Flexible, brought the winning time down to 43.77 seconds with no faults and they would end up in third place. The 20-year-old Irish Sport Horse stallion, owned by Harry and Mollie Chapman, has survived multiple potentially career-ending injuries. He looked as bright and sharp as ever as he made easy work of the jump-off.
"It's kind of getting to the point where I'm literally living a dream," said Fellers. "He felt as good today as he's ever felt. There's really no explanation. I do notice little things day-to-day, working with him, he's getting older and he has some of the typical characteristics of an older athlete. But when he walks in the ring, he gets young. Maybe he gets a lot out of adrenaline. We just take it day by day and see how he feels."

Going just that much faster next in the jump-off was the crowd favorite, Canada's Eric Lamaze on Fine Lady 5. Zipping around the course, they stopped the timers in 41.96 seconds. "She's naturally quick, and I knew Conor was after me," Lamaze said. "I thought I'd done enough, or for
sure enough to put the pressure that he had to take a few risks and see where it goes. I'm thrilled with this mare today. She jumped fantastic."

When Lamaze started riding Fine Lady 5, a 13-year-old Hanoverian mare (Forsyth x Hauptstutbuch) owned by Artisan Farms LLC & Torrey Pines Stable, he did not consider her to be a solid 1.60m horse. However, when asked to step up, she has proven that she can be competitive at some the biggest venues in the world. "She proved to me that she can jump some big courses if you manage her well and build her up. She again stepped up today to do a bigger class quite easy," he commented. "She's a very light, Thoroughbred-y type jumper. She doesn't have raw power. That's why all these speed classes and jumpoffs, she runs so fast. You just have to give her the courage to look at a big jump and believe she can jump it. She's very talented and very careful. It's important that she has a lot of confidence in me and I have a lot of confidence in her. That's how a little horse like that can make it over some of these big fences."

But it would not be enough as the last horse in the ring was able to find that bit more speed to win. Swail and Martha Louise, a 12-year-old Swedish Warmblood mare (Maloubet de Pleveille x Wolfgang) owned by Susan and Ariel Grange, opened up around the course, made a daring dash to the double combination, and cleared the final oxer in 40.66 seconds. Swail said he took the "fastest and shortest route," and it was his turn back to the combination that may have made the difference. He explained, "Going to the double I took a huge risk. I saw one very early and she was very, very good to jump in and out of that double. Once I had done the double – this is what goes
through your head when you're running around at that speed – I thought I'd done enough, so I'd go a little wider to the last and make sure to clear the back rail. That's how it worked out for me."
Going last in the jump-off "made a big difference," Swail said. "I watched Eric's round and I saw how good of a round he had. There were five clears, I have a fast horse, I ride not too bad, so I thought I would give it a good go and it all came off very well today."

Of his win, Swail said, "Honestly, I'm over the moon. I thought today, in this big ring, it's one of the biggest wins I've had here. I was just saying to Eric earlier in the day that I wasn't really expecting a whole lot because Martha hasn't shown so much since Florida. She really excelled today. It's nice sometimes when you get a bit of a surprise. I suppose when Martha Louise comes here, she loves this arena. She was amazing, phenomenal today."
Lamaze leads winning round
The Transcanada Winning Round 1.50m had 28 entries. In this format, the top 10 regardless of first round faults return for a jump-off. Faults do not carry through to the jump-off, but determine the order of go.

Lamaze and Rosana du Park, an 11-year-old Selle Francais mare by Kannan owned by Artisan Farms LLC & Torrey Pines Stable, were fast and clear in the first round, setting them up for the perfect position in the second round order. "This mare doesn't often have four faults, (but) if she did, that would be all she had," Lamaze pointed out. "I just had to look at the time on the board if I had an unlucky rail (in the first round). Fortunately she jumped clear and I had the pole position, last to go in. I had my plan. There were maybe a couple of options, but I thought I would just take the route the others took more or less, but put on some more speed. I would have gone faster if I had to go first."

When Lamaze entered the ring, he was following fellow Artisan Farms rider Tiffany Foster (CAN), who had set the leading time with a clear round in 55.88 seconds on Brighton. Lamaze and Rosana du Park sped around the course, turning in a time just under in 55.69 seconds for victory.
Third place went to Sameh El Dahan (EGY) on WKD Diva. They recorded a clear round in 56.82
seconds. Conor Swail (IRL) and Hetman of Color J, with a time of 60.53 seconds, finished fourth. Patricio Pasquel (MEX) and Babel were fifth with four faults in 57.28 seconds.

Lamaze is the winningest rider in Spruce Meadows' 41-year history, earning more than $4.55 million. But he said that winning never gets old, especially at Spruce Meadows. "They do it in such a fun way with the presentations. You can go around the world and not see presentations like that at major shows," he said. "Here it's fun to ride in (to the ring in) the golf cart too; you don't do that at any other show. I love the presentations here, and that's what keeps you wanting to win."

Rosana du Park was one of a handful of horses that were purchased by his owners, Artisan Farms, a few years ago and started competing at Spruce Meadows as young horses in the 1.30m and 1.40m Jumpers. She and Check Picobello Z are now winning consistently at the 1.50m level around the world. "We've had some good luck, but you need great owners behind you in order to do this," he acknowledged. "There are plenty of horses that we purchased, that you will never see because they weren't good enough. That's the game. You don't bat 100 buying horses and competing. You'll make some mistakes, and some horses will disappoint you. With Artisan Farms behind me, and Tiffany, they've made it possible and not be afraid to buy young horses, trying to find a special one, and get great horses to compete on. We're very fortunate to have that."

With an Artisan Farms 1-2 finish, Lamaze was happy. "We're all on the same team, and you have to cheer for each other. If [Tiffany] went after me, she probably could have caught what I just did on Rosana. She had one down and went earlier, but she came back to finish second, which is a very good result," he said.

The highlight competition at the 'National', presented by Rolex, on Sunday, June 12, is the $175,000 CNOOC Nexen Cup Derby and ATCO Classic 1.45m.
---

Source: Press release from Spruce Meadows Media Services // Picture © Spruce Meadows Media Services