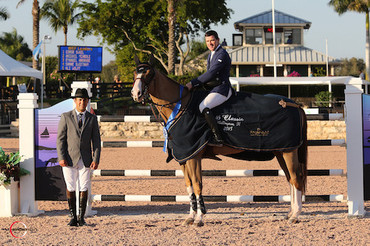 Conor Swail and Simba de la Roque in their winning presentation. Photo (c) Sportfot.
Ireland's Conor Swail began the third week of competition at the 2015 Winter Equestrian Festival (WEF) just as he left off in week two, with another trip to the winner's circle. After topping Sunday's $34,000 Suncast® 1.50m Championship Jumper Classic riding Susan and Ariel Grange's Martha Louise, Swail won Wednesday's $34,000 FEI 1.45m speed class aboard his own Simba de la Roque, a nine-year-old Selle Francais gelding by Kannan x Allegreto.
Sponsored by Adequan®, WEF 3 runs January 21-25, 2015. The week's feature event is the $127,000 Adequan® Grand Prix CSI 3* on Saturday, January 24. The 12-week WEF circuit continues through March 29, awarding over $8.2 million in prize money.
Leopoldo Palacios (VEN) is the course designer in the International Arena at the Palm Beach International Equestrian Center for week three. Palacios kicked things off with 63 entries in the 1.45m speed class and saw 31 clear rounds with increasingly fast times.
Shane Sweetnam (IRL) finished fourth in 55.90 seconds aboard Spy Coast Farm LLC's Cyklon 1083. Emanuel Andrade (VEN) placed third aboard his own Nokia de Brekka in 55.13 seconds, and Abigail McArdle (USA) guided David McArdle's Cosma 20 to second place honors in 54.76 seconds. Swail and Simba de la Roque finished well ahead of the others with the fastest round of the day in 53.06 seconds.
While Swail proudly capped off week two with his 1.50m win for owners Susan and Ariel Grange, Wednesday's win was special for the rider in a different way, competing a horse that he owns himself.
"I bought him in November, and he has just jumped four times," Swail said of Simba de la Roque. "I did a 1.30m schooling class and then a 1.40m jump-off and he was double clear. I did another 1.45m and he won that, and this was his next class and he has won that as well."
Swail bought Simba de la Roque from French rider Marie Hecart, whose father bred the horse. The nine-year-old gelding had a few different owners, but was reconnected with Hecart last year when she was riding for one of them.
"He is a lovely horse," Swail stated. "Marie had some good results with him as an eight-year-old, and so far, so good with me. He is very fast. He seems to have plenty of power, and he has a big stride."
"That was fun today," the rider smiled. "With that course, you had to run a little bit. For some horses, it can be difficult for them to run so fast and stay careful and calm. Obviously a few people decided not to overdo it today, but there were enough."
"I should have caught jump one a little better and the five-stride got a little far. I had to run right across," Swail detailed on his round. "I think after that he was very good. He was very efficient. I jumped into the last double very hot, and I think he was very good to me there. I was going very fast, and I was a little off. He was very good to jump in and out of that because that was a tricky jump to jump. He really helped me out there. I think a lot of people took more time to that. They were much safer, whereas I took a lot of risk there. I think that is probably one of the places where I gained a lot of time."
Swail looks forward to developing his partnership with Simba de la Roque throughout the winter and hopes to step the horse up to the next level.
"He will do the next 1.45m and maybe the 1.50m this week," he noted. "It is just a learning curve. I think there is a lot more left in him and once we get to know each other he could possibly do a few 1.50m classes and maybe even a little more. He is a very exciting horse to have, and it is nice to own him myself too."
"It was a good day," Swail concluded. "I thought the horse was fabulous. He is fast. I never realized how fast he was. He won quite well and no one could get near him, so that is good going forward. I think once we get to know each other better we will be able to smooth things out and get more efficient and do it better, so I am excited about him."
Also showing on Wednesday, the $6,000 Spy Coast Farm 1.40m speed was held in a California Split with 145 total entries. Laura Chapot (USA) took the top two positions in Section A with her own Bradberry and Mary Chapot's Shooting Star. Nicolas Pizarro (MEX) topped Section B with Jacobo Zaga's Calvaretto, and Heather Caristo Williams took the second place prize aboard Mr. and Mrs. Ralph Caristo's Balou's Fly High.
Week three of the 2015 Winter Equestrian Festival continues on Thursday with the $34,000 Ruby et Violette WEF Challenge Cup Round 3 in the International Arena. The Shapley's Green Conformation Hunters will conclude their championship in the E.R. Mische Grand Hunter Ring. For full results and more information, please visit www.pbiec.com.
Final Results: $34,000 1.45m Speed
1. SIMBA DE LA ROQUE: 2006 Selle Francais gelding by Kannan x Allegreto
CONOR SWAIL (IRL), Conor Swail: 0/53.06

2. COSMA 20: 2003 Hanoverian mare by Couleur Rubin x Stakkato
ABIGAIL MCARDLE (USA), David McArdle: 0/54.76

3. NOKIA DE BREKKA: 2001 Selle Francais gelding by Quick Star SF x Apache d'Adriers
EMANUEL ANDRADE (VEN), Emanuel Andrade: 0/55.13

4. CYKLON 1083: 2001 Swedish Warmblood stallion by Cardento x Cortus
SHANE SWEETNAM (IRL), Spy Coast Farm LLC: 0/55.90

5. BRIANDA: 2005 KWPN mare by Lupicor x Landeur
ALI WOLFF (USA), John C. Wolff: 0/56.08

6. BALLOON: 2003 Oldenburg stallion by Balou du Rouet x Landcapitol
EUGENIO GARZA (MEX), El Milagro: 0/57.01

7. NEVADA: 2004 Zangersheide gelding by Nelson Z x Chellano Z
SPENCER SMITH (USA), Artisan Farms LLC: 0/57.23

8. HH CANNAVARO: 2004 Holsteiner stallion by Caplan x Caretino
MCLAIN WARD (USA), Double H Farm: 0/57.55

9. BULL RUN'S ETERNAL: 2003 BWP gelding by Toulon x Mellinor
KRISTEN VANDERVEEN (USA), Bull Run Jumpers One LLC: 0/57.96

10. TAILORMADE ANNA CHACCA: 2005 Oldenburg mare by Chacco-Blue x Andiamo Z
SAMUEL PEROT (CHI), Samuel Parot: 0/57.97

11. GOODWINS LOYALTY: 2004 Irish Sport Horse mare by O.B.O.S. Quality x Candle King
KEVIN BABINGTON (IRL), Kevin Babington: 0/58.09

12. RECONNAISSANCE: 2005 Swedish Warmblood gelding by Camaro M x Irco Mena
LAUREN HOUGH (USA), Laura & Meredith Mateo: 0/58.22
Source: Press release from Lauren Fisher for Jennifer Wood Media, Inc.