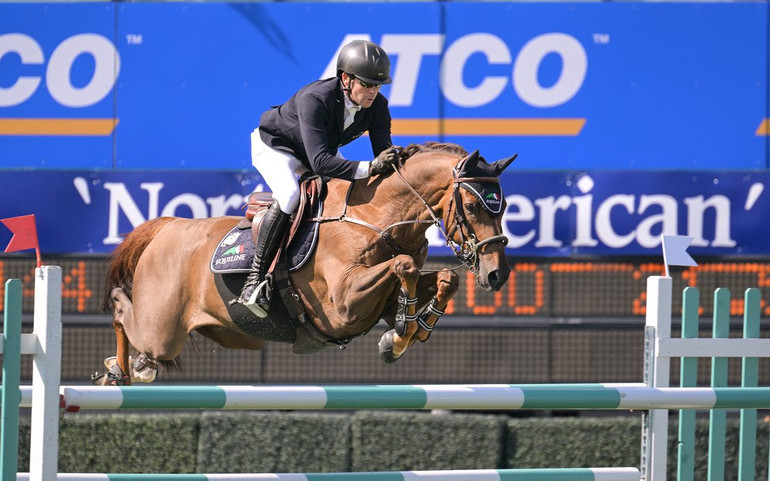 Conor Swail and Theo 160, winners of the CSI5* 1.50m The Entourage at Spruce Meadows. Photo © Spruce Meadows Media/Mike Sturk.
Edited press release from Spruce Meadows
---
Wednesday marked the start of the final week of summer tournaments at Spruce Meadows. The feature competition of the day was the CSI5* 1.50m The Entourage against the clock – the first of two qualifiers this week for the $1,000,000 ATCO Queen Elizabeth II Cup on Saturday.
Over 45 horse-and-rider combinations stepped through the iconic clock tower to tackle the 580m track laid out by FEI course designer Santiago Varela (ESP), where the riders were required to clear 13 obstacles and 15 jumping efforts in a time of 87 seconds or less.
Riders had to keep up a pace of 400m per minute in order to make the time allowed. Five of the riders were able to do so and post clear rides – Ireland's Conor Swail riding Theo 160 (Christian 25 x Calando IV) was the fastest of them all. Swail crossed the finish line clear in a time of 78.45s to secure his victory.
"Every time we go down in through that clock tower, you get pumped up off of that. So it's great to have a good start to the week. All the qualifications were today, now we've ticked all the boxes early," Swail commented on his great start to the week as he's now qualified for the weekend competitions.
It was double Irish on top with Daniel Coyle and Quintin (Quaprice Bois Margot x Emilion) finishing second in a time of 79.23, followed by Canada's own Tiffany Foster and Battlecry (Vigo d'Arsouilles x Latano I) in third who stopped the clock at 83.71 seconds.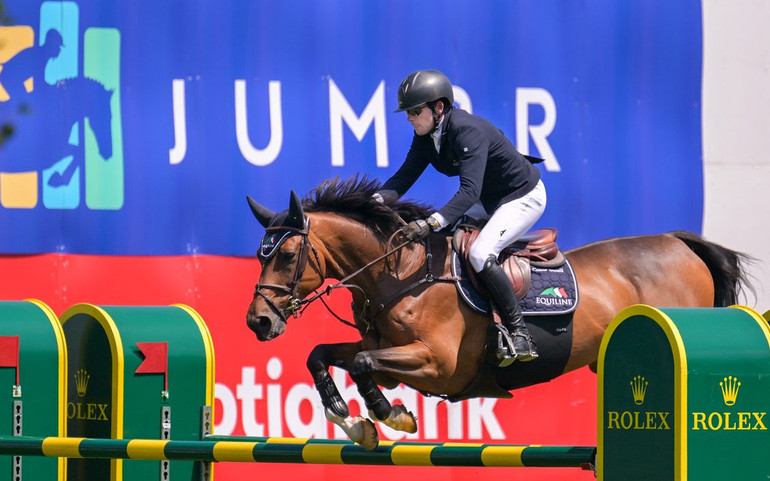 Conor Swail and Count Me In, winners of the CSI5* 1.45m The Stud Farm. Photo © Spruce Meadows Media/Mike Sturk.
Earlier in the day, over 45 competitors stepped into the International Ring to challenge The Stud Farm CSI5* 1.45m one-round competition. This competition was the first of two this week where competitors could earn their ticket into Saturday's $80,000 AKITA Drilling Winning Round.
Once again, it was Conor Swail and Count Me In (Count Grannus x Sherlock Holmes) that soared through the finish line clear – in a time of 67.89s to claim the win. Swail also picked up the third place on his other mount Nadal Hero & DB (Kannan x Polydor). Fellow Irishman Darragh Kenny split those placing to finish second with California Pie (Captain Cooper x Ramiro's Son I).