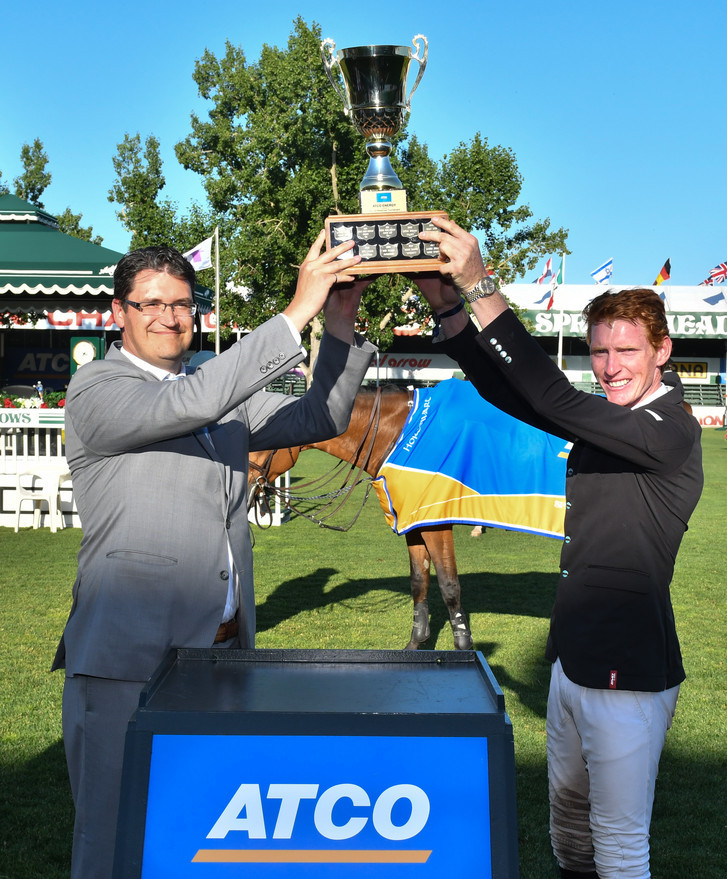 Daniel Coyle hoists the ATCO Energy Cup with Steven Piepgrass, Sr. Vice President and General Manager, Storage and Liquids. Photo (c) Spruce Meadows.
Daniel Coyle (IRL) scored his sixth FEI win of the 2017 Spruce Meadows Summer Series after posting another impresssive victory on day one of the 'North American' Tournament, presented by Rolex with a stunning victory in the ATCO Energy.

Wednesday evening's ATCO Energy 1.45m competition against the clock saw a massive starting list of 98 competitors. Walking under the clock tower as the final combination to challenge the Santiago Varela (ESP) course, was 22 year-old Daniel Coyle aboard Fortis Fortuna (Quidam de Revel x Carthago).

The 12 year-old mare owned by Sue and Ariel Grange displayed unbelievable speed as Coyle kicked her into high gear to take over the winning spot from Leslie Howard (USA). Coyle commented, "I had two big advantages in this competition, I was able to go around once with Martha Louise and I was the final competitor to go." He continued, "From one to two you had to jump careful because it was a tight distance, so once I jumped that, I started to gallop and then I just never stopped. Once I got her into gear like that its best to leave her there. I was still able to ride my plan and had all the correct numbers I had walked, then I made a riskier move to the wall – but she jumped it fantastic." Coyle overcame what seemed to be an unmatchable time set by Leslie Howard, but sealed the victory by a staggering 3.51 second lead.

Leslie Howard's Moondoggie (Lord Continuet x South Pacific), a 12 year-old Holstein gelding, held on to the leading time of 53.96 seconds for 41 rounds of top performing horse/rider combinations, to finish in second position over the young Irishman.

Following very close behind Howard, with a time of 54.05 seconds was Germany's Philipp Weishaupt aboard the 8 year-old mare by Chacco Blue, Call Me Eva.

The 'North American' Tournament, presented by Rolex has only just begun and the days to come are filled with more championship sport at it's prime, fantastic entertainment and a special salute to the Canadian Military.
---
Source: Press release and photo (c) Spruce Meadows.