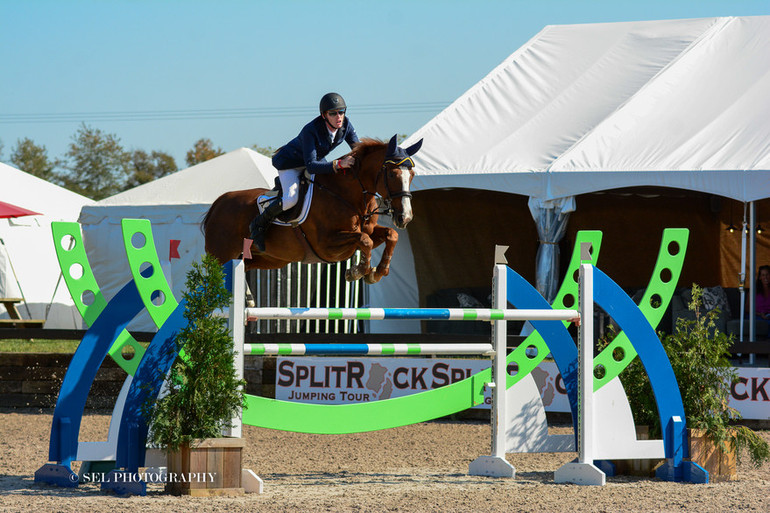 Daniel Coyle had quite a day at the Split Rock Jumping Tour's Bourbon International. Photo (c) SEL Photography.
Ireland's Daniel Coyle is very happy he decided to seek fame and fortune in the United States after placing first and second out of a starting field of 50 entries in the $35,000 Hollow Creek CSI3* Speed Cup at the Bourbon International CSI3* held as part of the Split Rock Jumping Tour.
Coyle rode Tienna, an eight-year-old mare owned by Susan Grange, to victory with a clear round in a blistering time of 57.74 seconds. With his second mount, Fortis Fortuna, also owned by Grange, he again turned in a faultless round but was almost a second slower, crossing through the timers in 58.64 seconds, still a full four seconds faster than anyone else.
"It is my first time here and it's a lovely show, it's been very good for me," said Coyle, 22, in his heavy Irish brogue. "I couldn't be any happier. The horse that won is only eight and she has only jumped a handful of 1.45 meter classes and I think she will be a very good horse in the future. And the other horse is just as good. I knew when I jumped that I had a very good round and everything just seemed to come up very nicely for me and the horse jumped amazing. I couldn't be happier with her and with the other horse. I've only had the mare since Florida and I've had the other only since Spruce Meadows, but I seem to get on well with them. I've had a great day!"
Alison Robitalle, Upperville, VA, rode Hooves LLC's Sensation 21 to third place behind Coyle with a time of 62.83, breaking the Irish hold on the top placings. Fourth place, however, went back to Ireland as Richie Moloney and Slieveanorra, owned by Equinimity LLC, took home that placing in a time of 63.25.
---
Source: Press release from Classic Communications // Picture © SEL Photography