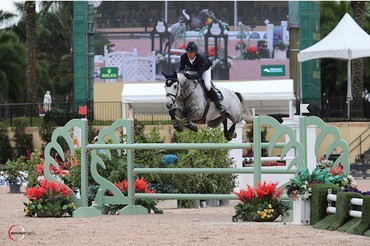 Darragh Kenny and Dirocco B. Photo (c) Sportfot.
Week twelve of the 2015 Winter Equestrian Festival (WEF), sponsored by Rolex, continued on Friday featuring the rising equine stars of the circuit in their young jumper finals. The $20,000 Adequan® 7-Year-Old Young Jumper Classic saw a win for Darragh Kenny and Dirocco B, and the $15,000 Adequan® 6-Year-Old Young Jumper Classic was won by Sarah Scheiring and Eros SCF. The $10,000 Holtgers 5-Year-Old Young Jumper Classic was held in the morning, rewarding clear rounds from the circuit's youngest horses.
WEF 12 continues through Sunday, March 29. The week features the $500,000 Rolex Grand Prix CSI 5* on Saturday, March 28, and the $100,000 Suncast® 1.50m Championship Jumper Classic Final will also be held on Saturday. The 1.50m jump-off and the Rolex Grand Prix, starting at 6:30 pm, will be live streamed here: http://bit.ly/1MaVwBa. The $50,000 USHJA International Hunter Derby will host its first round on Saturday, and its second round on the derby field Sunday, starting at 1 pm, will be live streamed at http://bit.ly/1H5mkfF.
Steve Stephens (USA) set the courses for Friday's young jumpers classes. The $20,000 Adequan® 7-Year-Old Young Jumper Classic concluded the day with a win for Ireland's Darragh Kenny aboard Oakland Ventures and Missy Clark's Dirocco B. Seventy-eight entries showed in the class, with 18 clear to jump-off, and seven double clear rounds. The riders were given the option to jump-off immediately following their first round or to wait until the end.
Kenny waited until the end of the class to jump-off and raced to the winning time of 36.531 seconds with Dirocco B. He edged out Laura Chapot, who had jumped off earlier with Mary Chapot's BEC Hugo in 38.40 seconds. Lauren Tisbo and Tequestrian Farms LLC's Hip Girl finished third in 39.42 seconds.
Kenny and Missy Clark purchased Dirocco B two months ago. The Dutch Warmblood gelding (Zirocco Blue VDL x Lux Z) previously had great success as a six-year-old with rider Devin Ryan, and Kenny has high hopes for the horse's career.
"I got him through a good friend of mine, Andy Kocher," Kenny detailed. "He had the horse, and I tried him once or twice and really liked him. He is unbelievably competitive. He is super careful, really fast, and extremely brave. He reminds me a lot of my good horse Picolo. He is the same type of horse that will win every class, and you can go all the time. I think it is a super nice horse."
"We bought the horse together as a horse for the future," Kenny said of his partnership with Clark. "I think it is going to be really talented. I am very lucky that Missy is helping me to get a few horses together to build up my career. I am very lucky that I have some very good owners right now, and I just want to keep trying to have younger horses coming up through the levels so that I have them when my older horses are ready to be done."
Kenny continued, "It is hard to know what they will do. He is one of those horses where you are not going to know until you do it. He jumps every height just as easy as he likes, and then you move up and he does that the same way, so I'll never know until I have to try to do it."
Commenting on his jump-off round, Kenny detailed, "He is a really naturally very quick horse. You do not really need to change the pace. You just pick up a good pace, and he stays going and then all I had to do was put him at the right distance."
In the $15,000 Adequan® 6-Year-Old Young Jumper Classic, 57 horses showed, with 14 clear for the jump-off and seven double clear rounds. The riders were once again given the option to jump-off immediately or wait until the conclusion of the first round. Lisa Goldman and Melissa Hirt's Roc N Groovy jumped off early and eventually finished second with their time of 33.66 seconds. Sarah Scheiring and Lauren Gristwood's Eros SCF jumped off later, taking the lead with their time of 32.22 seconds. Sarah Kerins and her own Tykillen Livella clocked in at 35.77 seconds to place third.
Eros SCF is a Dutch Warmblood gelding by Balou du Rouet x Coriano, bred by Karin Jimenez (USA) at Sporting Chance Farm in Pennsylvania. His rider, Sarah Scheiring, is based out of Chester Riding Club in New Jersey with trainer Jamie Maillet. His owner, Lauren Gristwood, was a working student at the farm five years ago, and was looking for a project after selling her previous horse. They found Eros SCF as a yearling, and Gristwood immediately bought him after seeing the horse's great movement and quiet demeanor.
Gristwood, of Virginia, broke the horse herself. She occasionally rides Eros at home when she has the time, but leaves the showing duties to Scheiring. She currently works as a groom for Canadian show jumper Ben Asselin.
"The first time I ever got on him was bareback in a field," Gristwood noted. "Sarah is the only other person that has ridden him. He was my first yearling. I love the young ones. It is really cool starting them from the ground up and see the progress."
"You would not believe how many people told Lauren how bad of a decision she was making when she first got him," Scheiring explained. "Every single person said, 'Why would you do that? That is so dumb! Why would you buy a one-year-old horse? Who knows what it's going to be?' But she believed in me. She always has. Last year she turned the reins over to me, and he has been unbelievable ever since."
"He is perfect. He is wonderful, and he never lets me down," Scheiring said of Eros. She then described the day they first saw him.
"He walked great," she remembered with a laugh. "It was winter; the ground was rock hard with snow. We put a pole in the round pen, made him trot over it, and he would not canter. We said, 'Ok, we can work with that.' Also, a dog came barreling in the barn when he was on the crossties, and he did not flinch at all."
Eros SCF only showed in three classes this winter as Scheiring geared him toward Friday's final classic. Commenting on their winning round, Scheiring detailed, "I saw Lisa Goldman go first, and she is always fast. She is hard to beat. My horse jumps really high and spends a lot of time in the air, so I knew I had to make it up in the lines and I had to leave one out. He is really good at turning, so I could land and turn. I walked the line from the Sotheby's jump to number 15 and walked a seven and stuck to it. It was a little bit scary, but that horse is so careful, I know he is not going to knock it down if I can get him there."
In addition to their winning prize, Sheiring and Eros SCF accepted the Champion Equine Insurance Jumper Style Award for week twelve. With a great day to conclude his winter, Eros SCF will have a little time off and then show in the summer with the main goal of competing in the Young Jumper Championships at the Hampton Classic Horse Show in August.
Also showing on Friday, the $10,000 Holtgers 5-Year-Old Young Jumper Classic was held in the morning, awarding prize money for clear rounds overall from the promising young horses. Todd Minikus and Spring Girl, Victor Amaya and Donald Cheska Stables' Foreigner, Nick Novak and Ricochet, Ronan McGuigan and Blythe Masters' Maximus, Charlie Jayne and Haylie Rolfe's Zara, Emily Hill and KBS Ronnin, and Candice King and Bellissimo LLC's First VDL all cleared the course without fault.
Final Results: $20,000 Adequan® 7-Year-Old Young Jumper Classic
1. 3561 DIROCCO B DARRAGH KENNY OAKLAND VENTURES & MISSY CLARK: 0/0/36.531
2. 2935 BEC HUGO LAURA CHAPOT MARY CHAPOT: 0/0/38.403
3. 6520 HIP GIRL LAUREN TISBO TEQUESTRIAN FARMS LLC: 0/0/39.427
4. 2860 APRIL MOON NICOLE SHAHINIAN-SIMPSON SILVER RAVEN FARMS: 0/0/39.775
5. 7162 ANGELINA 317 KATHERINE DINAN GRANT ROAD PARTNERS LLC: 0/0/40.859
6. 4451 ASTAKKATO MOLLY ASHE-CAWLEY LOUISBURG FARM: 0/0/40.926
7. 3829 DAVEAU JONATHON MILLAR MILLAR BROOKE FARM: 0/0/41.568
8. 5962 DAILY SMILE ERIC LAMAZE JAVIER SALVADOR STABLE BV: 0/4/39.059
9. 592 DIADORA JIMMY TORANO JIMMY & DANIELLE TORANO: 0/4/39.635
10. 4666 THALYS Z BENJAMIN MEREDITH THE THALYS GROUP: 0/4/40.395
11. 3280 SICANTA NICOLAS PIZARRO NICOLAS PIAZRRO: 0/4/40.726
12. 2847 DOTTIE Z JULIE WELLES THOBIAS KALLSTROM: 0/4/41.723
Final Results: $15,000 Adequan® 6-Year-Old Young Jumper Classic
1. 4469 EROS SCF SARAH SCHEIRING LAUREN GRISTWOOD: 0/0/32.226
2. 6871 ROC N GROOVY LISA GOLDMAN MELISSA HIRT: 0/0/33.661
3. 1689 TYKILLEN LIVELLA SARAH KERINS SARAH KERINS: 0/0/35.771
4. 6447 EREINA LAURA KRAUT PODEN FARMS: 0/0/35.997
5. 2002 DONATELLA DU GRAND CHAMP MAGGIE MCALARY MAGGIE MCALARY: 0/0/40.384
6. 1672 DIAMIRO DENISE WILSON BLUE GATE FARM LLC: 0/0/41.232
7. 3749 CICERO'S ELECTRIC LAURA KRAUT LAURA KRAUT & MAARTEN HUYGENS: 0/0/41.605
8. 5987 ELKENNY LAURA KRAUT LAURA KRAUT: 0/4/36.077
9. 3960 EXELLENTIE DN RAMIRO QUINTANA MARIA BRUGAL: 0/4/38.926
10. 6644 CARQUILOT NICOLAS PIZARRO NICOLAS PIZARRO: 0/4/39.805
11. 5533 EBAY GEMMA PATERNOSTER JULIA HARRISON LEE: 0/4/44.398
12. 5353 EDORADO JAMES FAIRCLOUGH STONE HORSE FARM LLC: 0/10/52.171
Source: Press release from Jennifer Wood Media, Inc.