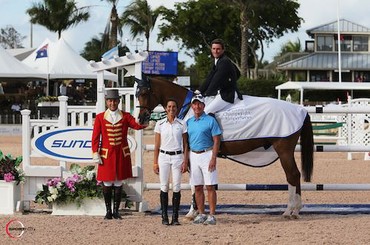 Darragh Kenny and Quiz. Photos © Sportfot.
Saturday afternoon at the 2015 Winter Equestrian Festival featured the $34,000 Suncast® 1.50m Championship Jumper Classic with a win for Ireland's Darragh Kenny and Spruce Meadows' Quiz in a challenging jump-off against the clock. Course designer Robert Ellis (GBR) saw 66 horses jump his first round course with 20 advancing to the jump-off, where six were able to complete the second track without fault.
Eugenio Garza and El Milago's Balloon jumped the first double clear in 43.93 seconds, immediately followed by Meagan Nusz and Amalaya Investments' SRI Aladdin in 42.53 seconds. The two finished fifth and third respectively.
Laura Kraut and Mike Collins' Ferox B soon jumped into the lead in 41.97 seconds, but eventually settled for second place when Kenny and Quiz took the top spot in 41.64 seconds.
Quentin Judge and Double H Farm's HH Donnatella finished fourth in 43.82 seconds. Nicolas Pizarro and Colasko, owned by Monica Burillo Eguia Lis and Pizarro, capped off the top six with a clear round in 49.71 seconds.
Kenny had a great year riding Quiz for owners Spruce Meadows last season and has continued into 2015 with great results. Kenny explained that the biggest factor in his success with the 11-year-old Selle Francais gelding (For Pleasure x Laudanum) has been to let the horse go in his own style.
"He has been super. He had a little time off last summer and then he showed a little bit. He came down here and was placed in two of the grand prix. He was placed in the 1.50m a week ago and he has been really good all circuit so far," Kenny detailed. "He felt really good today, and he is trying hard. I have learned how to properly ride him, so that makes a good difference. That means I can jump a lot more clear rounds and the horse has been great."
"You just have to leave him to do his own thing and try not to interfere," the rider noted. "He likes to be left alone and then he is just unbelievable. I just have to stay out of his way."
In a jump-off course where many riders took some unorthodox turns and different options, Kenny stuck to his strategy with Quiz and went for a smooth, concise track.
"A couple of people did six strides from jump one to two, and I knew that was not going to suit my horse, so I did seven and I kind of bent the turn so I could be tighter to the next jump," Kenny said of his round. "I was quite tight back on the liverpool. Quiz did the six strides to the double combination great. I went inside in the next turn and he was very good there, and then I think I was really tight to the second to last jump, and I think that is maybe where I got Laura."
Kenny will continue to compete Quiz in the Suncast® 1.50m Series throughout the circuit and looks forward to continuing their successful partnership.
Final Results: $34,000 Suncast® 1.50m Championship Jumper
1. QUIZ: 2004 Selle Francais gelding by For Pleasure x Laudanum DARRAGH KENNY (IRL), Spruce Meadows: 0/0/41.64
2. FEROX B: 2005
BWP gelding by Quidam de Revel CSF x Contender LAURA KRAUT (USA), Mike Collins: 0/0/41.97
3. SRI ALADDIN:
2005 KWPN gelding by Quasimodo Z x Burggraaf MEAGAN NUSZ (USA), Amalaya Investments: 0/0/42.53
4. HH DONNATELLA: 2003 Belgian Warmblood mare by Toulon x Mr. Blue QUENTIN JUDGE (USA), Double H Farm: 0/0/43.82
5. BALLOON: 2003 Oldenburg stallion by Balou du Rouet x Landcapitol EUGENIO GARZA (MEX), El Milagro: 0/0/43.93
6. COLASKO: 2005 Oldenburg stallion by Coleman x Granus NICOLAS PIZARRO (MEX), Monica Burillo Eguia Lis & Nicolas Pizarro: 0/0/49.71
7. EXQUIS WALNUT DE MUZE: 1999 BWP gelding by Nabab de Reve x Chin Chin HARRIE SMOLDERS (NED), Team Exquis: 0/4/41.78
8. WILEXO: 2003 KWPN gelding by Phin Phin x Calvados KATTY KING (BRA), Carlos Ribas & Katty King: 0/4/42.15
9. ROSIERE VESQUERIE: 2005 Selle Francais mare by Narcos II x Arpege Pierreville*HN LAUREN TISBO (USA), Tequestrian Farms LLC: 0/4/47.48
10. WILCO: 2003 KWPN gelding by Nabab de Reve x Fedor EMANUEL ANDRADE (VEN), Emanuel Andrade: 0/4/49.45
11. CHECK PICOBELLO Z: 2006 Zangersheide gelding by Cardento x Orlando ERIC LAMAZE (CAN), Artisan Farms LLC and Torrey Pines Stable: 0/4/52.20
12. COCO BONGO: 2005 Rheinlander stallion by Caretino x Calido ERIC LAMAZE (CAN), Artisan Farms LLC: 0/4/54.16
Source: Press release from Jennifer Wood Media Inc.