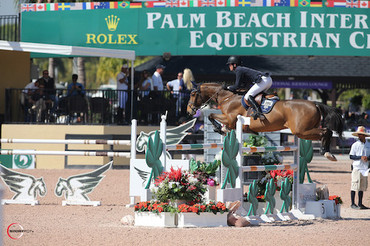 Darragh Kenny and Picolo. Photo (c) Sportfot.
Show jumping action at the 2015 Winter Equestrian Festival (WEF) took place on both sides of the Palm Beach International Equestrian Center (PBIEC) on Friday with classes for top international show jumpers as well as young up-and-coming talents.
In the International Arena on the main show grounds, Darragh Kenny (IRL) took the top two spots in Friday's $34,000 Spy Coast Farm 1.45m speed class aboard Oakland Ventures LLC's Picolo and Toffolon Partners LLC's Gatsby. The $25,000 Artisan Farms Under 25 Grand Prix Team Event, presented by the McNerney Family, was held in the International Ring at The Stadium at PBIEC with a win for the team of Kaely Tomeu, Brett Burlington, Lacey Gilbertson and Tom Foley.
Week four of the 2015 Winter Equestrian Festival, sponsored by Fidelity Investments®, continues through Sunday, February 1. The week will feature the $372,000 FEI World Cup™ Grand Prix CSI-W 5*, presented by Fidelity Investments®, on Saturday, January 31. Other highlights include the $85,000 Suncast® 1.50M Championship Classic on Sunday, February 1.
The $50,000 Wellington Eventing Showcase, presented by Asheville Regional Airport, will finish with their final two phases on Saturday, January 31. The cross-country begins at 1:30 pm on The Stadium derby field. The special showcase will feature some of eventing's top horses and riders competing for phenomenal prize money in the winter equestrian capital of the world.
Both of tomorrow's phases of the $50,000 Wellington Eventing Showcase, presented by Asheville Regional Airport, and Saturday night's $372,000 FEI World Cup™ Grand Prix CSI-W 5*, presented by Fidelity Investments®, will be live streamed at www.COTH.com.
Guilherme Jorge (BRA) set the track for Friday's 1.45m with 51 competitors and 23 clear rounds. Tiffany Foster (CAN) and Artisan Farms LLC's Melody des Hayettes Z set the leading pace at 60.31 seconds to eventually finish sixth. Alvaro de Miranda (BRA) upped the time in 59.49 seconds with his own and Victory Equestrian Sport BV's AD Amigo B, but was later pushed to fifth place. Darragh Kenny jumped into the lead with Gatsby in a time of 57.87 seconds, but soon topped himself to put Gastby in second. Jessica Springsteen (USA) followed with a clear round in 58.20 seconds to take third place honors riding Stone Hill Farm's Davendy S. The only person who could beat Darragh Kenny was Kenny himself as the rider topped his own time in the winning round with Picolo in 57.13 seconds. Conor Swail (IRL) jumped into fourth place in the end in 59.26 seconds aboard Vanessa Mannix's Grand Cru vd Jijf Eiken.
"I just said to somebody that for these classes with those two horses, it is difficult not to be in the top six," Kenny said of Picolo and Gatsby after his top-two finish. "They are two incredible horses. They are so careful, they are really fast, and you can do whatever you want with them."
Kenny's winning mount, Picolo, is a 12-year-old Selle Francais gelding by Diamant de Semilly x Alme. With Kenny in the irons, Picolo jumped to an impressive eight FEI victories in 2014 alone. The horse had a four-month break and started back last week with a couple of 1.40m classes. He stepped right up to the 1.45m this week and never missed a beat.
"Honestly, this horse is just amazing. Every time I ride him he is unbelievable. I have never, ever had a horse like this," Kenny proclaimed. "He just wants to win so much, and he tries so hard. He is so competitive, and he is just an incredible horse."
Second place finisher, Gatsby, is an 11-year-old Irish Sport Horse stallion (Simba x Cruise On) that normally competes with amateur rider Allison Toffolon.
"Ali usually shows him, and she is coming in two weeks. I thought I'd show him this week just to give him a round, and it is just easy," Kenny stated. "Their styles are a little bit different. I know Picolo so well. I know Gatsby quite well, but not as well. I went fast with Gatsby. I did four strides along one line, and I think Conor (Swail) was the only other person that did four there. Gatsby has such a big stride, so that is where you can be faster with him."
"I saw Jessie (Springsteen) go and she was really fast and really good and that made me a little bit nervous," Kenny admitted of his hold on the lead. "Then Eric (Lamaze) was really fast. He was actually faster than Gatsby, so I was a little more nervous. When I went with Picolo, I just wanted to make sure that I went as fast as I could possibly be. He is just incredible when you go against the clock. He is so easy. You just gallop at the jumps, and you never really worry that he is going to knock them down."
Now that Picolo is off to a great start for his 2015 season, Kenny plans to move the horse up to some bigger classes. "I am just starting to build him up," the rider explained. "This is his second week back showing. He will probably jump the 1.50m this week. My goal is to jump him on the Nations Cup team here in week eight. Then he might jump one of the under the lights grand prixs after that. He has just been such a great horse. You can do whatever you want with him, so it is great to have him."
Gatsby will continue to show in the High Amateur-Owner Jumpers with Toffolon, and they also have plans to compete in the Artisan Farms Under 25 Grand Prix Series throughout the circuit.
Also showing in the International Arena on Friday, the $6,000 Spy Coast Farm 1.40m Speed Challenge was held in a California Split with 95 total rounds. Laura Chapot (USA) was the fastest clear aboard Mary Chapot's Zealous to win Section A. Roberto Teran, Jr. (ARG) won Section B aboard ARK Partners LLC's Farina.
Final Results: $34,000 Spy Coast Farm 1.45m
1. PICOLO: 2003 Selle Francais gelding by Diamant de Semilly x Alme DARRAGH KENNY (IRL), Oakland Ventures LLC: 0/57.13
2. GATSBY: 2004 Irish Sport Horse stallion by Simba x Cruise On DARRAGH KENNY (IRL), Toffolon Partners LLC: 0/57.87
3. DAVENDY S: 2003 Belgian Warmblood mare by Kashmir van Schuttershof x Pachat II JESSICA SPRINGSTEEN (USA), Stone Hill Farm: 0/58.20
4. GRAND CRU VD JIJF EIKEN: 2006 Belgian Warmblood stallion by Contact vd Heffinck x Heartbreaker CONOR SWAIL (IRL), Vanessa Mannix: 0/59.26
5. AD AMIGO B: 2005 KWPN gelding by Tadmus x Hearbreaker ALVARO DE MIRANDA (BRA), Victory Equestrian Sport BV & Alvaro de Miranda: 0/59.49
6. MELODY DES HAYETTES Z: 2004 Zangersheide mare by Mozart des Hayettes X Ryon d'Anzex X TIFFANY FOSTER (CAN), Artisan Farms LLC: 0/60.31
7. CABALLITO: 2002 Holsteiner gelding by Contendro x Argentinus ANDRES RODRIGUEZ (VEN), Arao Enterprises LLC: 0/61.70
8. WASHINGTON SQUARE: 2005 KWPN gelding by Quattro B x Nimmerdor GEORGINA BLOOMBERG (USA), Gotham Enterprizes LLC: 0/62.50
9. MARK Q: 2002 Irish Sport Horse gelding by Obos Quality 004 x Positively
KEVIN BABINGTON (IRL), Kevin Babington: 0/63.15
10. QUATUOR DE B NEVILLE: 2004 Selle Francais gelding by Col Canto SF x Rosire HN
MARIE HECART (FRA), Rogelio Pellerano: 0/63.40
11. Z CANTA: 2004 KWPN mare by Casantos x Abantos CATHERINE PASMORE (USA), Pasmore Stables LLC: 0/63.63
12. VIVA COLOMBIA: 2005 Oldenburg mare by Couleur-Rubin x Landor S KIRSTEN COE (USA), Ilan Ferder: 0/64.14
Source: Press release from Jennifer Wood Media, Inc.