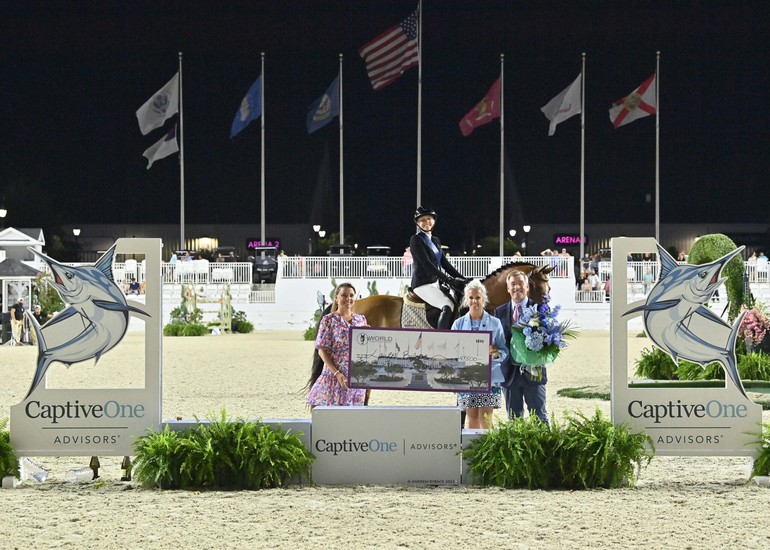 Lauren Balcomb & Verdini D'Houtveld Z with CaptiveOne representative Colby Hernandez and Christy Baxter and Jim Wolf of World Equestrian Center. Photo © Andrew Ryback Photography.
Press release from World Equestrian Center
---
A stunning sunset set the scene for the $150,000 CaptiveOne Advisors Grand Prix CSI3* during the 2023 Ocala Summer Series at World Equestrian Center – Ocala. Thirty-three premier athletes from nine nations battled for the victory over tracks designed by Guilherme Jorge (BRA). Ultimately, pathfinder Lauren Balcomb and her own Verdini D'Houtveld Z (Verdi TN x Caretino 2) laid down a track that was simply unbeatable, securing the pair a repeat victory from the 2022 WEC – Ocala Summer Series Grand Prix CSI3*.
Eleven starters earned a clear first round to return for the jump-off with Lauren Balcomb (AUS) leading the charge aboard the 12-year-old Dutch Warmblood gelding.
"I only had one question in the jump-off. The last line could have either been an eight or nine. I decided being the first one going, I would do nine. I was pretty quick in the [$50,000 UF Health Grand Prix Qualifier CSI3*], but had the last rail down, because I left one out. So, I decided to be nice and fast, and use his speed across the ground to put the pressure on the rest of the field," Balcomb explained her winning jump-off strategy.
Balcomb and the electric gelding stopped the timers in a mere 37.62 seconds, a time that no other competitor was able to catch.
Balcomb spoke about her development with Verdini D'Houtveld Z since last summer's win, "He has really matured in the past year, and I have certainly tried to as well. I feel like we are growing together, which is very exciting. He is just unbelievable, and I feel like the luckiest person to ride him."
Balcomb and Verdini D'Houtveld Z hope to continue their success in the near term, "The plan is to jump the next two weeks with him here, and hopefully a trip to Europe and Mexico is on the cards as well! It's been an exciting year, and I am so happy to have this facility right in our backyard. World Equestrian Center does such a fantastic job and you can't beat it. Everything is top notch."
Winners of the $250,000 MARS Equestrian Grand Prix during the final week of the 2023 Winter Spectacular Show Series, Marcello Ciavaglia and his own 12-year-old Zangersheide stallion HST Cartouche (Carthoes B Z x ADC Chantilly Z) secured the second-place spot on the leaderboard with a quick time of 38.02 seconds.
Olympic Gold Medalist William Simpson rounded out the top three aboard 5 Rooster's Whoop De Doo (Mr. Whoopy x Double Trouble X). Simpson and the 12-year-old Warmblood mare were quick and clear in 38.18 seconds to finish out the podium.
Grand Prix sponsor CaptiveOne Advisors representative Colby Hernandez spoke about the evening, "What an incredible opportunity to be able to be here, watch all these riders and see such an amazing competition tonight. We are very grateful to be a part of World Equestrian Center and I would like to congratulate all athletes on a wonderful night!"