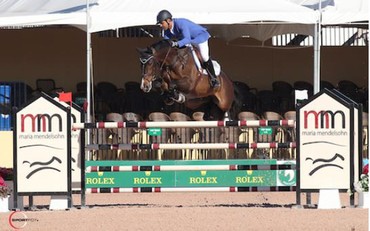 Doda de Miranda and AD Amigo B. Photo(c) Sportfot.
The 2015 Winter Equestrian Festival (WEF) began its fourth week of competition, sponsored by Fidelity Investments®, on Wednesday with a $34,000 1.45m speed class to kick things off in the International Arena at the Palm Beach International Equestrian Center (PBIEC). Following a win in Sunday's $34,000 Suncast® 1.50m Championship Jumper Classic with AD Argos to conclude week three, Brazil's Alvaro 'Doda' de Miranda kept his winning momentum going with a victory in the first class of week four aboard AD Amigo B.
The course designer in the International Arena at PBIEC for week four is Guilherme Jorge of Brazil. Jorge set the morning's 1.45m speed course for 58 starters with 18 clear rounds. Darragh Kenny (IRL) set the pace with an early clear aboard Toffolon Partners LLC's Gatsby in 60.30 seconds to eventually finish fourth. Eric Lamaze (CAN) soon came along with Artisan Farms LLC's Rosana du Park to take the lead in 59.72 seconds. They held on through most of the class, but were later pushed into second place. Andres Rodriguez (VEN) and Arao Enterprises LLC's Caballito jumped into third place in 60.05 seconds, followed by Doda de Miranda and AD Amigo B, who took the winning edge with their time of 59.61 seconds.
Owned by de Miranda and Victory Equestrian Sport BV, AD Amigo B is a ten-year-old Dutch Warmblood gelding by Tadmus x Heartbreaker. De Miranda bought Amigo B when the horse was six years old and explained that they have developed a great partnership over the past few years
"He is a very nice horse. It is very good when you ride a horse since they were young like that because you know exactly how they feel," de Miranda stated. "You know what to do in the warm-up and you can see when you walk the course whether it is a good class for them or not. Today, the class fit him very well."
AD Amigo B has not shown since August when de Miranda made the decision to geld the horse and he has since made a lot of progress. "He was a stallion and he was very fresh and would get distracted sometimes," the rider detailed. "This is the first show after that. I did one week of a national show and a lot of training at home. I have not competed with him for almost six months, but I did a lot of rounds at home. I think the program was very good because he got here fresh and happy."
Although de Miranda did not get a chance to see the leading round of Eric Lamaze before he went, he knew the time to beat was quick. "I walked the course in the morning and then I went to FEI to ride him a little bit because I didn't want him so fresh. I saw a few going and I saw Eric's time, so I knew it was very fast," de Miranda said. "Since I didn't see his round I can't compare, but one place that I took a lot of risk was to the last combination because I came in completely at an angle against the fence. The horse was very clever because I took all the risk there and he jumped quite well. I think if I had not taken that option I would not have been in the top three."
De Miranda enjoyed jumping the morning's course set by fellow Brazilian, Guilherme Jorge, noting, "When I was living in Brazil I jumped a lot of his courses and I have also jumped them in the United States and Europe and Canada. I like the way that he builds very much. He really respects the horse and the rider, especially the horse. I think that is important. He is one course designer who builds up day after day and in the most important class, he gets the best of the horses and riders without taking too much from the horses."
With back to back wins, de Miranda is having a great start to the winter and explained that he enjoys the opportunity to compete at the Winter Equestrian Festival each year. "Apart from escaping the winter in Europe, it is very nice to show here because it is such a top organization," he stated. "Everybody that works here is the best professional in what they do. It doesn't matter if it is in the show office or the in-gate; they are all very good."
"Nowadays, you also have the top riders here," de Miranda continued. "Before, you would see three or four top riders in the results and a lot of very good American riders, but now we have more top riders also coming from Europe, which makes it even more special. You can prepare the horses here for the rest of the season and the classes here are tougher than anywhere else. They are very fast. I think this is a perfect place also for the fact that you can compete in the same arena a lot. If you have a horse that you want to prepare for the grand prixs it can give them a lot of confidence. Also, if you want to give them a fresher mind you can go to the small classes. This is a great place to show and I hope we can keep coming every year."
De Miranda plans to show AD Amigo B again on Friday and, if the horse continues to jump well, he hopes to compete in the CSI 3* grand prix next week. In addition to the win, AD Amigo B was awarded the Champion Equine Insurance Jumper Style Award, presented by Laura Fetterman.
Also showing on Wednesday, Thomas Cerra and Three Sister Farm's Cassandra Z won Section A in a California Split in the $6,000 Spy Coast Farm 1.40m speed class. Julie Welles was the winner in Section B with Missy Clark and Stephex Stables' Twan. Meagan Nusz and Amalaya Investments' Vesuvius won the $6,000 Spy Coast Farm 1.40m jump-off class.
Competition continues on Thursday with the $127,000 Ruby et Violette WEF Challenge Cup Round 4 featured in the International Arena and the presentation of championship honors to the CWD Performance Hunter 3'6" in the Rost Arena. For full results and more information, please visit www.pbiec.com.
Final Results: $34,000 1.45m Speed
1. AD AMIGO B: 2005 KWPN gelding by Tadmus x HeartbreakerALVARO DE MIRANDA (BRA), Victory Equestrian Sport BV & Alvaro de Miranda: 0/59.61
2. ROSANA DU PARK: 2005 Selle Francais mare by Kannan
ERIC LAMAZE (CAN), Artisan Farms LLC: 0/59.72
3. CABALLITO: 2002 Holsteiner gelding by Contendro x Argentinus
ANDRES RODRIGUEZ (VEN), Arao Enterprises LLC: 0/60.05
4. GATSBY: 2004 Irish Sport Horse stallion by Simba x Cruise On
DARRAGH KENNY (IRL), Toffolon Partners LLC: 0/60.30
5. GRAND CRU VD JIJF EIKEN: 2006 Belgian Warmblood stallion by Contact vd Heffinck x Heartbreaker CONOR SWAIL (IRL), Vanessa Mannix: 0/61.14
6. MELODY DES HAYETTES Z: 2004 Zangersheide mare by Mozart des Hayettes X Ryon d'Anzex X TIFFANY FOSTER (CAN), Artisan Farms LLC: 0/61.38
7. BALOUS DAY DATE: 2005 Oldenburg mare by Balou du Rover x Domino
MOLLY ASHE-CAWLEY (USA), Louisburg Farm: 0/61.55
8. DAVENDY S: 2003 Belgian Warmblood mare by Kashmir van Schuttershof x Pachat II
JESSICA SPRINGSTEEN (USA), Stone Hill Farm: 0/61.90
9. MARK Q: 2002 Irish Sport Horse gelding by Obos Quality 004 x Positively
KEVIN BABINGTON (IRL), Kevin Babington: 0/61.97
10. BULL RUN'S FAUSTINO DE TILI: 2005 Belgian Warmblood stallion by Berlin x Darco
KRISTEN VANDERVEEN (USA), Bull Run Jumpers Five LLC: 0/62.52
11. ZERNIKE K: 2004 KWPN gelding by Sam R 60 x H Topas
BRIANNE GOUTAL (USA), Remarkable Farms LP: 0/62.92
12. FOR FREEDOM Z: 2005 Zangersheide gelding by For Pleasure x Baloubet du Rouet
KEEAN WHITE (CAN), Angelstone Partners: 0/66.49
Source: Press release from Lauren Fisher for Jennifer Wood Media, Inc.