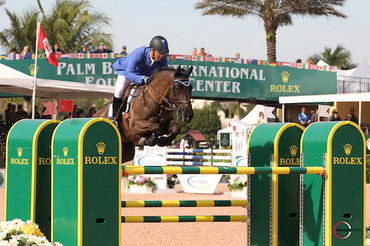 Doda de Miranda and AD Argos. Photo (c) Sportfot.
The 2015 Winter Equestrian Festival (WEF) concluded its third week of competition, sponsored by Adequan®, with a fantastic jump-off in Sunday's $34,000 Suncast® 1.50m Championship Jumper Classic in the International Arena at the Palm Beach International Equestrian Center (PBIEC). The win went to Brazil's Alvaro 'Doda' de Miranda and his 10-year-old Dutch Warmblood gelding, AD Argos (Padinus x Concorde). Mexico's Sofia Larrea and Jumex Sport Archimides finished second,and Great Britain's Nick Skelton placed third aboard Deauville S.
Leopoldo Palacios concluded the third week of WEF with 58 entries in the 1.50m competition and 14 clear rounds to advance to the jump-off. There were nine different countries represented by riders in the top 12 finishers. Nine were clear over the short course in an exciting race to the finish where De Miranda and AD Argos, owned by the rider and Victory Equestrian Sport BV, had the winning time of 32.23 seconds.
Larrea and Monica Burillo's Jumex Sport Archimides stopped the clock in 33.05 seconds to finish second. Skelton and Julius Peter Sinnack's Deauville S finished the third place round in in 33.32 seconds, and Russia's Ljubov Kochetova took fourth in a time of 33.49 seconds with her own Balou du Reventon.
Following a great win, De Miranda explained that his partnership with AD Argos has been a work in progress for the last two years. As a seven-year-old, Argos won a bronze medal at the 2012 FEI World Breeding Jumping Championships for Young Horses in Lanaken, Belgium, with Dutch rider Mathijs van Asten. De Miranda bought the horse that year when he was seven, turning eight years old, and explained that although very talented, Argos had been a difficult stallion and continued to be a challenge even after he was gelded. Sunday's win was a great payoff for the dedication that the rider has put into developing the horse.
"I bought him as a gelding, but he was a very difficult horse even last year," De Miranda explained. "That is the horse that I broke my shoulder with last year at WEF during week seven or eight. He is very spooky with people. He is a horse that is very brave, but he is very sensitive, especially the way that he sees things sometimes. You can have a very spooky fence and he will jump it no problem, but then maybe he is looking at something else that you don't notice. The most difficult thing for the last two years has been to keep him with you and know where to look."
"Today, when I came in the jump-off to the Hermès jump, I was scared that he would look at the flowers," the rider continued. "I showed him the flowers two times when I came in the arena and then he was okay, but sometimes he can surprise you for something that you cannot expect. That is why I rode him four days this week. When he is a little more tired, he feels better. For me, he is more relaxed."
Argos jumped in the $127,000 Adequan® Grand Prix CSI 3* on Saturday night and De Miranda felt that his horse was quite good, noting that they had a couple of mistakes that were mostly rider error. "I planned to jump today one more time, and I was very proud of him," De Miranda stated. "Today he was the best, the way that he was jumping was hard to have a mistake."
Sunday's jump-off course concluded with a long gallop across the International Arena to an oxer set near the in-gate. Although still cautious about Argos getting distracted, De Miranda raced through the course and felt that his horse was definitely on his game. "He is very fast, and he can turn very fast," De Miranda detailed. "If you turn and he is a little bit spooked with something else, you can get surprised, but today it was very good. He was very focused. I felt that he was with me the whole time and then to the last jump I knew that I was quite fast. I added one extra stride there not to go too crazy, but he jumped it very well. I was happy."
Final Results: $34,000 Suncast® 1.50m Championship Jumper
1. AD ARGOS: 2005 KWPN gelding by Padinus x Concorde
ALVARO DE MIRANDA (BRA), Victory Equestrian Sport BV & Alvaro de Miranda: 0/0/32.23
2. JUMEX SPORT ARCHIMIDES: 2000 Belgian Sport Horse stallion by Quidam de Revel x Bon Ami
SOFIA LARREA (MEX), Monica Burrillo Eguia: 0/0/33.05
3. DEAUVILLE S: 2006 Holsteiner gelding by Diamant de Semilly x Lux
NICK SKELTON (GBR), Julius Peter Sinnack: 0/0/33.32
4. BALOU DU REVENTON: 2006 Oldenburg stallion by Cornet Obolensky x Continue
LJUBOV KOCHETOVA (RUS), Ljubov Kochetova: 0/0/33.49
5. ZZ TOP VH SCHAARBROEK Z: 2001 Zangersheide gelding by Zandor Z x Latus IEMANUEL ANDRADE (VEN), Emanuel Andrade: 0/0/33.66
6. DAKOTA: 2003 Belgian Warmblood mare by Calvados Ex Sable Rose x Cash
PAIGE JOHNSON (USA), Salamander Farm: 0/0/33.87
7. ROSIERE VESQUERIE: 2005 Selle Francais mare by Narcos II x Arpege Pierreville*HN
LAUREN TISBO (USA), Tequestrian Farms LLC: 0/0/35.23
8. SAMSON II: 2004 Swedish Warmblood gelding by Cardento x Bellini
KIRSTEN COE (USA), Lovsta Stuteri: 0/0/35.33
9. BONANZA VAN PAEMEL: 2001 Belgian Warmblood gelding by Darco x Sheyenne de Baugy
CATHERINE PASMORE (USA), Pasmore Stables LLC: 0/0/35.65
10. QUIZ: 2004 Selle Francais gelding by For Pleasure x Laudanum
DARRAGH KENNY (IRL), Spruce Meadows: 0/4/33.09
11. COCO BONGO: 2005 Rheinlander stallion by Caretino x Calido
ERIC LAMAZE (CAN), Artisan Farms LLC:0/4/37.72
12. SI BELLA: 2006 Selle Francais mare by Diamant de Semilly x Digne Espoir
ADAM PRUDENT (FRA), Henri Prudent: 0/8/38.71
Source: Press release from Lauren Fisher and Maddy Stover for Jennifer Wood Media, Inc.