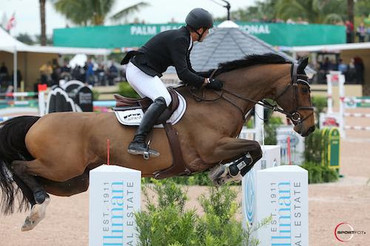 Doda de Miranda and AD Nouvelle Europe Z. Photo (c) Sportfot.
The first week of the 2016 Winter Equestrian Festival (WEF) continued Thursday at the Palm Beach International Equestrian Center (PBIEC) with top honors in the $35,000 Ruby et Violette WEF Challenge Cup Round 1 presented to Brazil's Doda de Miranda and AD Nouvelle Europe Z. WEF, which kicked off on Wednesday, continues through April 3 and awards $9 million in prize money.
Highlights of the first week of WEF include the $75,000 Battle of the Sexes on Saturday, January 16, at 7 pm, and the $75,000 Rosenbaum Mollengarden PLLC Grand Prix at 2 pm on Sunday, January 17. Both events will be live streamed at www.COTH.com, or click here to watch.
AD Nouvelle Europe Z, a 12-year-old Zangersheide mare owned by Victory Equestrian Sport BV & A.A de Mrianda Neto, carried de Miranda to the win to best a field of 48 horses. Course designer Eric Hasbrouck (USA) set the track, which produced 12 clear trips in the first round. Laura Kraut (USA) returned first over the jump-off course aboard Andretti S for owner Stars and Stripes. She stopped the clock clear in 36.07 seconds before de Miranda bumped her to second in a speedy 35.26 seconds.
Kraut held on for second place after another four double-clear efforts, while Filip de Wandel (BEL) and his own Gentley jumped to third in 36.22 seconds. Kraut also earned fourth place with Cherry Knoll Farm's Constable in 37.81 seconds, and Denise Wilson (USA) rounded out the top five for Blue Gate Farm, LLC in the irons of Galous in 37.94 seconds.
De Miranda has had the ride on AD Nouvelle Europe Z since 2014 and is pleased with her success at the grand prix level. She last jumped at Doha in November before arriving in Wellington in early December to rest up for the WEF season.
"I am very proud of her today. She is a very competitive horse who always does her best for the rider and is very fast," said de Miranda. "She jumped so well today that George Morris asked me to not enter Sunday's grand prix and save her for FEI competition during Week 2."
Morris, who watched from the sidelines on Thursday, has coached de Miranda and his wife Athina Onassis de Miranda on and off since 2013. Most recently, the Brazilian Equestrian Federation announced his appointment as team trainer in preparation for the 2016 Rio de Janeiro Olympic Games in August, a decision de Miranda is ecstatic about.
"I'm very happy to work with George, and I am lucky to have that opportunity," said de Miranda. "He's a legend and knows a lot about horses, but also gives confidence to the rider. When he coaches you, you believe you can do anything."
In addition to the winning his portion of the $35,000 in prize money, de Miranda was awarded the $3,000 SSG Gloves "Go Clean for the Green" bonus. Each week of the WEF Challenge Series, a $3,000 bonus will be awarded to the winning rider if they are wearing SSG 'Digital' Riding Gloves in all rounds of competition with the SSG logo clearly visible.
Other highlights in the International Arena included Cian O'Connor riding to first and second in the $8,000 Douglas Elliman 1.45m Jumpers, winning aboard Crespo PKZ and taking second with Sam Du Challois.
---
Source: Press release from Equestrian Sport Productions // Picture © Sportfot