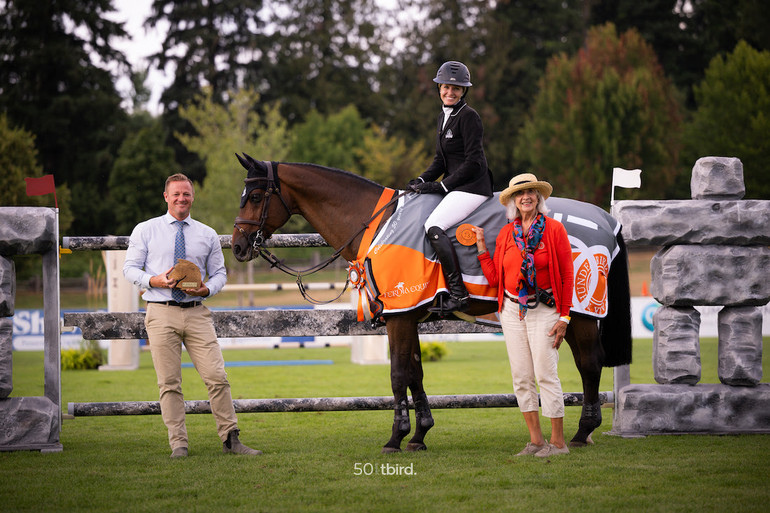 Tiffany Foster (CAN) and Brighton stand for the winners' presentation with tbird President Chris Pack and Lynn Foster. Photo ©tbird/Kim Gaudry.
Press release from Thunderbird Show Park
---
At 17 years old, Artisan Farms' Brighton is still at the top of his game. Tiffany Foster (CAN) and her longtime mount put the strength of their 10-year partnership on display Wednesday at Thunderbird Show Park, recording a confident win in the CSI3* tbird Speed on the opening day of international competition at the CSI3* Summer Fort Welcome.
Foster and Brighton (Contendro II x Quick Star) topped a field of 19, crossing the timers of Peter Holmes' (CAN) 1.45m track in 60.75 seconds. Robert Blanchette (IRL) and Chardonnay (Comme il Faut x Jus de Pomme) finished second (61.13 seconds), while John Perez (COL) and Desperado DN (Argentinus x Calypso) finished well back in third (67.61 seconds).
"This horse is so fast, I save a half-second over every jump just because I know that his footspeed is really fast, and he's a super efficient jumper," Foster said. "The jump itself is really fast. I think it's probably one of the fastest horses in the air that I've ever seen—definitely that I've ever ridden."
Indeed, Brighton is a speed specialist. While he has recorded a win at the CSI4* 1.60m Grand Prix level, the remainder of his wins have come at 1.50m or below. The bay gelding has now recorded 28 FEI victories in his career, with all but one of those wins coming with Foster in the irons. According to Jumpr App, the pair has jumped clear at the 1.45m height at a rate of 60 percent since 2015.
"I try really hard with him, especially in the last few years, [to] aim him for classes that I think he can be competitive in, that are going to be easy for him," Foster said. "He's such a competitive horse, so you'd like to enter him in every single class, because you always know that you have a chance to win. But I try to pick things that I think are going to be easy for him, and I think that's kept his heart in the game as long as it has."
The class was decided early. Blanchette and Chardonnay set a stiff early test, taking a clear lead as fourth to jump. That gave Foster and Brighton a target, jumping just two positions later. Foster used her extensive knowledge of her horse to her advantage, knowing that if she had the right plan, she could execute it. The plan included a bold turn back to the plank on course. Executed proficiently, none of the remaining competitors could match it.
"With horses, it's 'best laid plans...,' but with [Brighton], a plan is actually really easy to execute, because it's like he thinks with me," Foster said. "So, I opened up that turn [and] got a good shot on the plank. I knew for him, it was smarter to do the nine [stride option] than the eight to the last jump. But I knew if I took a slice on the plank, I could open up the nine, and it could be fast."
Foster, who grew up showing at tbird, is now closer than ever to home, basing her operation at a newly constructed farm down the street to the venue.
"It's been awesome, because this year was the first year that we've kind of been able to base here in Langley properly at our own facility," Foster shared. "Thunderbird was great, and they let us [stable] here for a couple of years, but it's obviously different when you have your own place and your own arena to work in, paddocks for the horses, walker for the horses, everything for the horses...The horses have been super happy, and it's been so nice to be home."