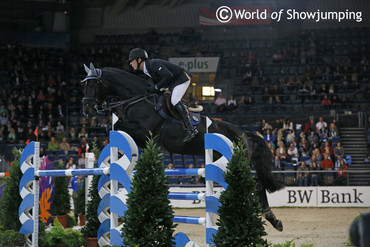 Manfred Ege with Utopia. Photo (c) Jenny Abrahamsson.
The CSI2* Grand Prix at the Baden Classics went to home rider Manfred Ege. Riding Utopia (Concas x Chambertin) the German rider had one of four double clear rounds in this 1.50 competition, but was 0.30 seconds ahead of Mario Stevens on Brooklyn (Balou du Rouet x Arpeggio) – also from Germany – in the jump-off. Third place went to Janika Sprunger on Uptown Boy (Odermus R x Joost), while the final double clear and the fourth place belonged to Andreas Kreuzer on La Luna (Late Night x Cantus).
At Sentower Park it was Niels Knape that won the CSI2* 1.45 Grand Prix. The Dutch rider was aboard Caluna's Cacharel Z (Chuck Z x Andiamo Z), and produced the fastest of the double clear rounds in this class. Runner-up was Abdel Said on Vingino (Voltaire x Cassini I), who was 0.6 seconds behind on the time to catch. Third place went to Pieter Keunen on Mojito (Krunch de Breve x Emilion).