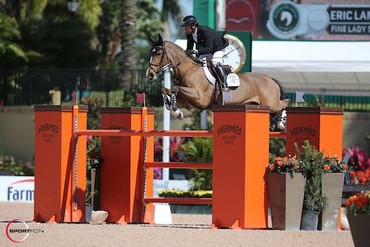 Eric Lamaze and Fine Lady 5. Photo (c) Sportfot.
The seventh week of competition at the 2016 Winter Equestrian Festival continued on Thursday with the $130,000 Ruby et Violette WEF Challenge Cup Round 7 featured in the International Ring at the Palm Beach International Equestrian Center and a win for Eric Lamaze (CAN) and Fine Lady 5. The victory marks Lamaze's fourth win in the series this year, including wins in weeks two and three with Rosana du Park, and a win week four aboard Check Picobello Z.
Santiago Varela (ESP) set the track for Thursday's WEF Challenge Cup for 71 starters. Twenty-nine entries jumped clear in round, and 27 moved on to the jump-off, where 11 were clear over the short course.
Tiffany Foster (CAN) was the first rider to clear the jump-off track in 37.77 seconds, eventually finishing third with her mount Victor, owned by Artisan Farms and Torrey Pines Stable. Hardin Towell (USA) and Jennifer Gates' Lucifer V were next to clear the track in 37.83 seconds, holding on for fourth place. Todd Minikus (USA) then took the lead in 37.42 seconds aboard Quality Girl, but soon settled for second as Lamaze and Fine Lady 5 raced to the finish in a time of 36.30 seconds.
The 13-year-old Hanoverian mare (Forsyth x Drosselklang II), owned by Artisan Farms and Torrey Pines Stable, won the Challenge Cup class three times with Lamaze in the 2015 Series and notched her first win for this year. "I thought the course was nice," Lamaze said of the competition, "but at the end, there were a lot of clears. The jump-off almost became another class, so strategy is quite simple.
"I think whenever you are in a jump-off like that, you basically just go as fast as you think your horse can go and hope that some of those forward distances keep showing up so that you can keep going fast," Lamaze explained. "With her, I can really trust her and show her some hard angles and believe that she will do the right thing, so I was again on the right horse for a jump-off with so many in it. A lot of it becomes about risk and what you are willing to risk. That is how you win those classes."
Lamaze also spoke about his students and fellow Canadian riders that were successful in the class. "I was really happy today also with Tiffany (Foster) being third, and another student, Kara Chad, that was in the jump-off. Also, Elizabeth Gingras that had to go first and finished with a very fast four faults to qualify for the grand prix, and Yann Candele that finished tenth," Lamaze continued. "As a group, I am really proud and happy that everybody did great and everything is coming together. We have a plan, and so far everybody is really doing great, and I am very happy about that. It means as much to me as winning."
In addition to the winning prize money, Lamaze picked up a $3,000 bonus for the fourth time this season for wearing SSG 'Digital' style riding gloves as part of the SSG Gloves 'Go Clean for the Green' promotion. That brings his tally up to $12,000 in bonus money for the circuit so far.
Also competing in the International Ring on Thursday, Kent Farrington (USA) and RCG Farm's Creedance topped the $8,000 Douglas Elliman 1.45m jump-off class. A $2,500 MAYBACH – ICONS OF LUXURY High Amateur-Owner Jumper speed class was also held with a win for Rogelio Pellerano and Precieuse Platiere.
Final Results: $130,000 Ruby et Violette WEF Challenge Cup Round 7
1. FINE LADY 5: 2003 Hanoverian mare by Forsyth x Drosselklang II ERIC LAMAZE (CAN), Artisan Farms LLC: 0/0/36.30
2. QUALITY GIRL: 2003 Oldenburg mare by Quidam's Rubin x Dobrock TODD MINIKUS (USA), Quality Group: 0/0/37.42
3. VICTOR: 2002 KWPN gelding by Elmshorn x Grandeur TIFFANY FOSTER (CAN), Artisan Farms LLC & Torrey Pines Stable: 0/0/37.77
4. LUCIFER V: 2006 Westphalian gelding by Lord Dezi x Grandeur HARDIN TOWELL (USA), Jennifer Gates LLC: 0/0/37.83
5. GENTLEY: 2006 Belgian Warmblood gelding by Bentley vd Heffinck x Major de la Cour FILIP DE WANDEL (BEL) Filip de Wandel: 0/0/40.96
6. ROYCE: 2004 Oldenburg stallion by Café au Lait x Grandilot MARGIE ENGLE (USA), Elm Rock LLC: 0/0/42.29
7. ZELOTE VDL: 2004 KWPN stallion by Chin Chin x Libero H TINA YATES (USA), Highpoint Farm LLC: 0/0/42.55
8. ARISTOTELES V: 2005 KWPN gelding by Padinus x Lux JONATHAN MCCREA (IRL), Candy Tribble: 0/0/42.85
9. RAIA D'HELBY: 2005 Selle Francais mare by Fergar Mail x Papillon Rouge ADRIENNE STERNLICHT (USA), Starlight Farms LLC: 0/0/42.91
10. FIRST CHOICE 15: 2003 Hessian Warmblood gelding by For Keeps x Angard YANN CANDELE (CAN), Watermark Group: 0/0/43.04
11. LUCERO LS LA SILLA: 2005 SLS stallion by Dollar de la Pierre x Accord II KARINA JOHANNPETER (BRA), Haras Joter Ltda: 0/0/46.12
12. MARTHA LOUISE: 2004 Swedish Warmblood mare by Maloubet de Pleville 1039 x Wolfgang CONOR SWAIL (IRL), Ariel and Susan Grange: 0/4/37.39

Source: Press release from Equestrian Sport Productions News // Photo © Sportfot.