Press release from Traverse City Horse Shows
---
At the beginning of the jump-off in the $38,700 Alltech CSI2* Welcome Stake, Erynn Ballard (CAN) knew she had a tall order. She was one of 17 to jump clear over Nick Granat's (USA) first-round course, and she knew all the returning pairs were fast.
Of the 16 that opted to return, Ballard went first with One Way VD Molendreef, owned by Wight Show Stables LLC. She put in a quick clear in 38.91 seconds. "One Way had a really nice double clear, and when I came out of the ring I thought 35 [seconds] wins the class," she recalled. "I thought One Way would be sixth or seventh because I thought that enough people would be fast with one down."
Her lead didn't last, but she had a secret weapon in her back pocket in Nanini Van D'Abelendreef, owned by Ilan Ferder. Coming in midway through the jump-off order, she pushed the time that much quicker to 34.69 seconds. "Thirty-four [seconds] won the class and [One Way] was ninth. That just goes to show you the quality of horses jumping off. Not that many had a rail down," Ballard said.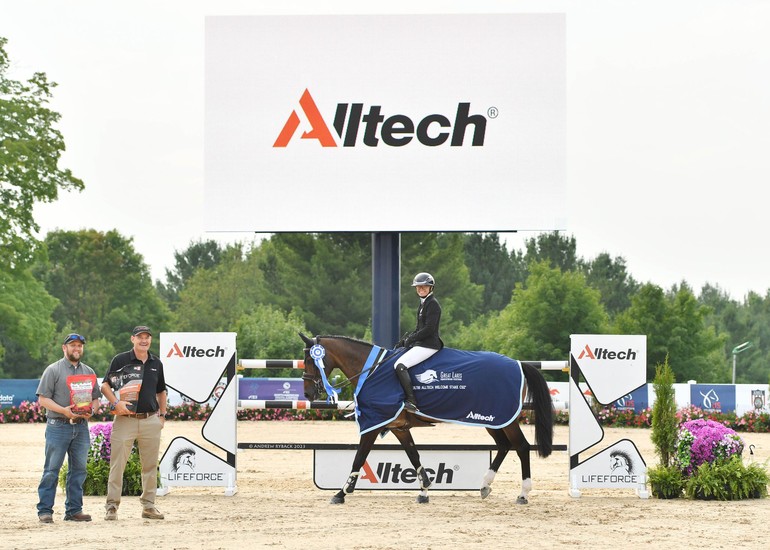 Erynn Ballard (CAN) and Nanini Van D'Abelendreef in their winning presentation, pictured with Tim Karl and Corey Douglas of Alltech. Photo © Andrew Ryback Photography.
While she was surprised by the way the class shook out, she wasn't surprised at all by who stood in the winner's circle, as she has as much admiration as possible for Nanini Van D'Abelendreef. "She's forever my favorite girl," she said of the 10-year-old Belgian Warmblood mare (Kannan x Heartbreaker). "It's really fun to develop her. We've had her since she was seven-coming-eight and I did her from 1.30m straight up to 1.50m. When you have a relationship with a horse like that who's so special and so good, it just makes it a little different."
Aside from a short stint when Sydney Shulman Desiderio (ISR) took the reins, Ballard has been "Nina's" primary rider. "Last year, Sydney had her and I was in Europe, so I was watching her and I said, 'In a perfect world, you buy Nina, and I get to ride her while you're pregnant.' That's actually how it worked out," Ballard shared.
It's not just the speed that made Ballard fall in love. She loves everything about the mare. "I love a good mare," she continued. "She's a fighter. She tries so hard for you every time. This was a great jump-off for her, because the faster you go the better she jumps. It was not an easy class to win. Cathleen Driscoll (USA) is fast. She is really fast. So when you know she's on top you have to give it everything, especially when there's 17 clear."
Driscoll claimed second with Magnolia, owned by Plain Bay Farm, just off the pace, and in third was Margie Engle (USA) with Jackofhearts, owned by Gladewinds Partners, LLC.
"I think now that she's 10 we know who she is; she's a winner," Ballard continued. "A horse that tries so hard like her, we just fit her in where we know she's going to win. For her, the most important thing is to use her in classes she can win. That's who she is; she's a winner."
On the tail end of a successful season in Northern Michigan, Ballard is ready to finish strong for week six of the Great Lakes Equestrian Festival. "It's a great place," she remarked. "I'm always best when I'm riding so the fact that they added a two-star in for us along with Young Riders is to my advantage. The days are long but they're worth it. The jumping is good, and the facility is amazing. You can come here and show for many weeks and know that every week there's something to look forward to."

CSI2* action resumes Friday with the $38,700 CSI2* Hippodata Speed Classic, followed by Saturday's $77,300 CSI2* Grand Prix.