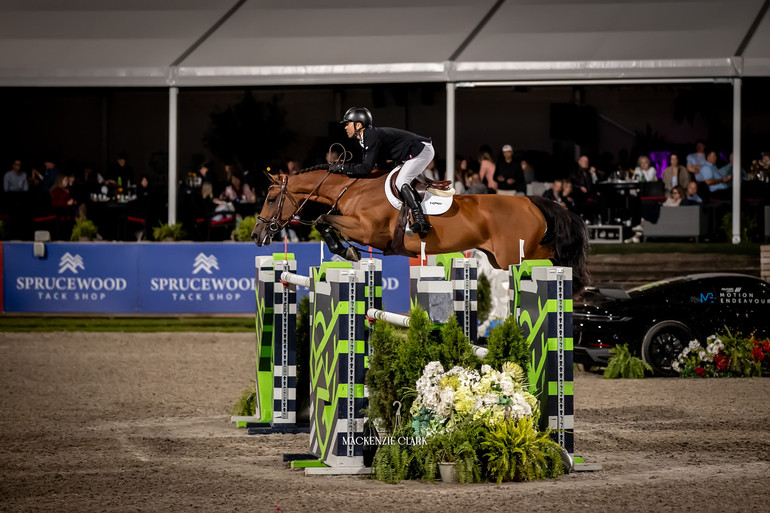 Kent Farrington and the 9-year-old Toulayna won the Kubota 5* Grand Prix at MLSJ Toronto. Photo © Mackenzie Clark.
Edited press release from Major League Show Jumping
---
The third leg of Major League Show Jumping came to a close at Angelstone in Ontario, CAN, on Saturday night with a benchmark win for U.S. Olympic team silver medalist Kent Farrington in the $250,000 CSI5* 1.55m Kubota Grand Prix. He piloted Toulayna, a 9-year-old Zangersheide mare (Toulon x Parco) that he owns together with Rabbit Root Stables, to her first 5* Grand Prix victory in front of an electric crowd.
After winning Thursday's qualifier with Toulayna, Farrington acknowledged that the mare has proven herself as a contender at the top level.
From a field that included 16 of the top-100 riders in the world, Farrington (42)—currently world no. 8—topped an eight-horse jump-off with nearly two full seconds to spare. The turns were tight and the foot speed was unbeatable from Toulayna, a horse that's had less than 10 five-star starts in her career.
Challenging Farrington was Brazil's Santiago Lambre and Chacco Blue II (Chacco-Blue x Cincaba Rouge), who finished second. They crossed the timers just off the pace as the last to return over fellow Brazilian Guilherme Jorge's courses.
Nineteen-year-old Mimi Gochman scored her best 5* Grand Prix placing to date with a third-place podium appearance riding Cosmos BH (Chellano Alpha Z x Artos Z).
MLSJ action heads east next week to Ottawa, Canada's capital city and the fourth leg of The League.