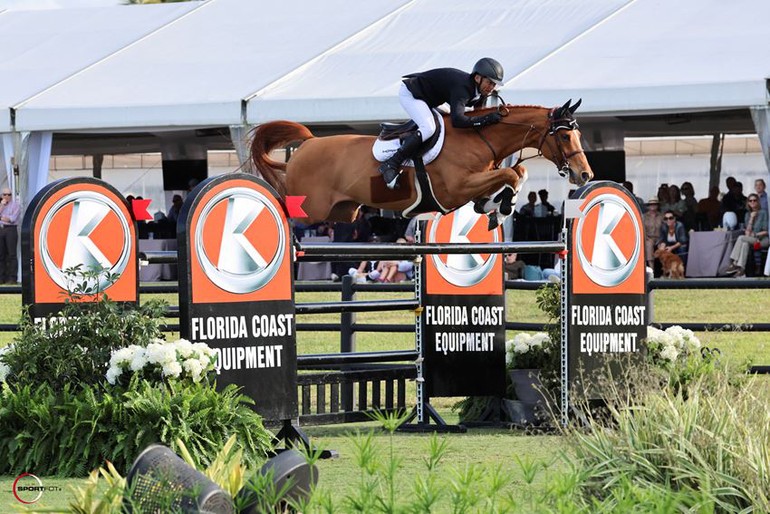 Kent Farrington and Landon won the CHF140,000 Florida Coast Equipment CIS3* Grand Prix. Photo © Sportfot.
Press release from Wellington International
---
The Winter Equestrian Festival's (WEF) Week 2 finished with a fantastic display of sport on the grass derby field at Equestrian Village on Sunday afternoon. U.S. Olympic team silver medalist, Kent Farrington and Landon stormed to a win in the CHF140,000 Florida Coast Equipment CSI3* Grand Prix over runner-up Daniel Coyle (IRL).
A sweeping course designed by Oscar Soberon (USA) welcomed an all-out foot race in the jump-off. The five who advanced were led off by Coyle and Ariel Grange's Gisborne VDL, a 13-year-old Dutch Warmblood stallion. They set the pace at 40.05 seconds.
Returning immediately after, Farrington and Landon, a 10-year-old Zangersheide gelding quickly took over the lead by only fractions in 39.30 seconds. In the end, Landon, owned by Haity McNerney, could not be caught.
"Landon is a big-strided horse, but Daniel's horse is also a big-strided horse, and I thought he had an incredible round," said Farrington. "I probably have a little quicker foot speed than him, but it took a lot to beat that round today because he was dropping strides everywhere on a huge gallop the whole way around."
Landon's speed across the group proved enough to take top honors, the gelding's first grand prix win to date. "He's very careful and a competitive horse," said Farrington. "I have a great team coming up and he's one of that group, so it was an exciting day for the horse and our team."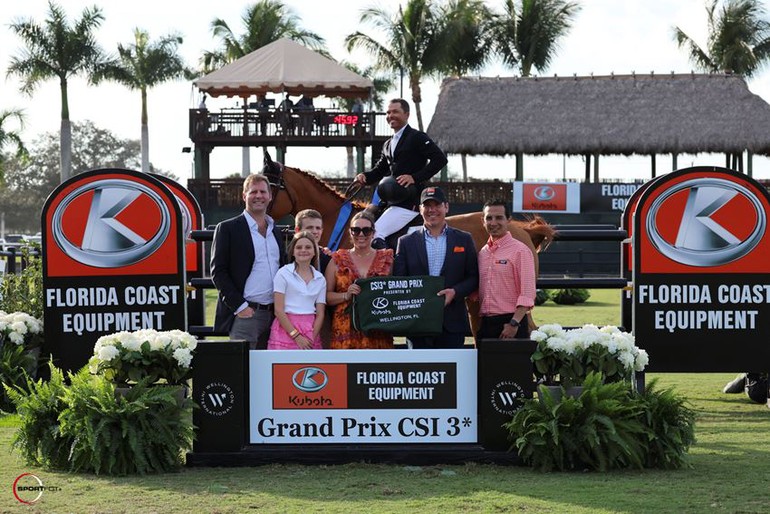 Kent Farrington and Landon presented as winners of the CHF140,000 Florida Coast Equipment CSI3* Grand Prix by Todd Bachman, CEO of Florida Coast Equipment and Trisha Bachman, Benji Griswold, Benji Griswold Jr, Alexandria Griswold, Trisha Bachman and Nico Cubillos. Photo © Sportfot.
Of Landon's strengths, Farrington noted, "He has so much power and such a big stride, he has to learn to contain his power and we are starting to see that now. His rounds are getting much smoother and the jump off today I thought was great."
Coyle settled for second and Mexico's Tanimara Macari took third riding IB Chica for owner Eickendorf Horses and IB Berger GmbH.
The derby field at Equestrian Village received rave reviews during WEF 2, and Farrington echoed the sentiments, saying, "I think this is a great part of what we have here in Wellington; different venues are great not only for the sport but for the horses that are here for a long time. This is a huge grass ring and unique like an old turf field. I think it's some of the best footing you can find in the world which is a great set up for places like Spruce Meadows and Aachen. We love to jump here as often as we can."
Winning groom and Landon's caretaker Denise Moriarty was honored with the $500 Grooms Award, presented by Double H Farm, by Wellington International's Director of Sponsorship, Lenore Brown.
WEF continues on January 25 with the NetJets CSI4*/CSI2*.