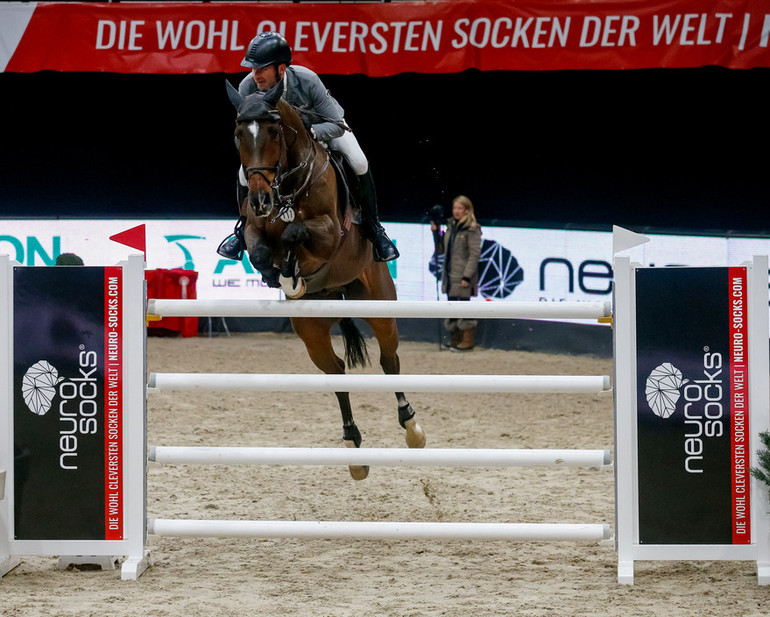 Philipp Weishaupt and Coby on the way to victory in the Neuro Socks Masters at the Neuro Socks Amadeus Horse Indoors. Photo © EQWO.net.
Edited press release from EQWO.net
---
The first world ranking win at the CSI4* Neuro Socks Amadeus Horse Indoors in Salzburg, Austria, went to Philipp Weishaupt (GER) and Coby (Contagio x Escudo 19).
The 1.50m class also counted as the first qualification for Sunday's Equitron-pro Grand Prix and had 68 horse-and-rider combinations lined up.
Eventually, it was Philipp Weishaupt who made sure that the third German anthem of the day was played after clocking the time of 57.60 seconds in the saddle of Coby – ahead of his compatriot Felix Haßmann with Cayenne Wz (Claudio x Ramirado) in 58.05 seconds. After three four-star competitions, Haßmann has recorded two wins and a second place on his Salzburg account. In third place came Julien Anquetin (FRA) and Baya du Ter (Kannan x Poor Boy) with a time of 58.36 seconds.
"At home in Riesenbeck, we just have to turn on the light in the morning and we can start, but it takes a lot of effort to get this arena ready for horse and riders. So we're all the happier to be able to compete here," said Philipp Weishaupt in the winner's interview – enthusiastic about the Neuro Socks Amadeus Horse Indoors.