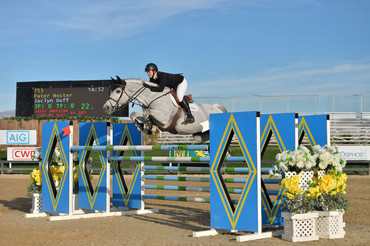 Jaclyn Duff and her Pater Noster. Photo (c) ESI Photography.
Jaclyn Duff and her Pater Noster took the HITS Thermal $50,000 Go Rentals Grand Prix last Sunday, on the heels of Olympic Gold Medalist Will Simpson's previous five Grand Prix winning streak.

Duff and Pater Noster completed the jump-off with no faults and in 44.311 seconds – less than a second faster than the second-place rider Tiffany Sullivan on Haley Farms LLC's Zilox T, who finished in 44.985. Only four riders made the jump-off and only Duff and Sullivan went double-clear. In third place with eight faults in a time of 45.407 was Josephina Nor Lantzman on Chello Z, owned by Josephina Nor Stables LLC. Coming in fourth, also with eight faults was Christian Heineking on AJE Equitation's AJE Cluny in 43.621 seconds with eight faults in the final round.

Duff said after the class, "The course today was very technical with lots of options. The first two lines were on half-strides and then the seven strides leading into the triple – an oxer to a long one stride to a vertical followed by a very, very short two-stride to another vertical – caught a lot of people off-guard."

Sullivan said she wasn't too keen on Zilox T when she first tried her but later changed her mind. "When I first tried her, she was unrideable for me on the flat but we went ahead and jumped some and she was wonderful," she said. "Last Sunday was our first class together and this week she sort of decided she 'gets it.' She was awesome today. We had a great time."

Nor Lantzman added to the post-Grand Prix conversation, "In the first round I was a little conservative but wanted to go clean and coming back I just wanted to be double-clean, and I was. We will take it. We train a lot of combinations at home so the technical and options did not surprise us. Now we'll go home for a couple of weeks then come back, it's a great circuit and of course I like to show here."

Grand Prix competition at HITS Thermal ramps up even more this Sunday, February 8, and Sunday, February 22 (Desert Circuit Weeks IV and V) for the the $50,000 HITS Grand Prix CSI-W2*, which are qualifiers for the Longines FEI World Cup Jumping Finals this April in Las Vegas, Nevada.

Source: Press release from HITS, Inc.