Press release from Desert International Horse Park
---
Gregory Wathelet (BEL) got the last word of Desert Circuit III. To conclude FEI jumping in the Grand Prix Arena Sunday afternoon, the Belgian Olympian jumped double-clear and took the win with Clarity in the $145,100 Gillibrand Sand CSI3* Grand Prix.
Wathelet was the final of four pairs to jump clear over Manuel Esparza's (MEX) first-round track. The course was fair, but presented challenges to many competitors, with even Conor Swail (IRL) just falling short of qualifying for the jump-off. As last to go, Wathelet knew he was up against only one double-clear round, put in by Ali Ramsay (CAN) and Bonita VH Keizershof Z. The time to beat, 42.59 seconds, was efficient but certainly achievable for a rider of his caliber.
"I was the last one, a lucky place, so I could see [others go] and knew what I had to do," Wathelet said of his strategy in the jump-off. "I haven't done that many jump-offs with that horse; it's quite new for me. It's not the fastest one to take some risks. Maybe I took too many risks."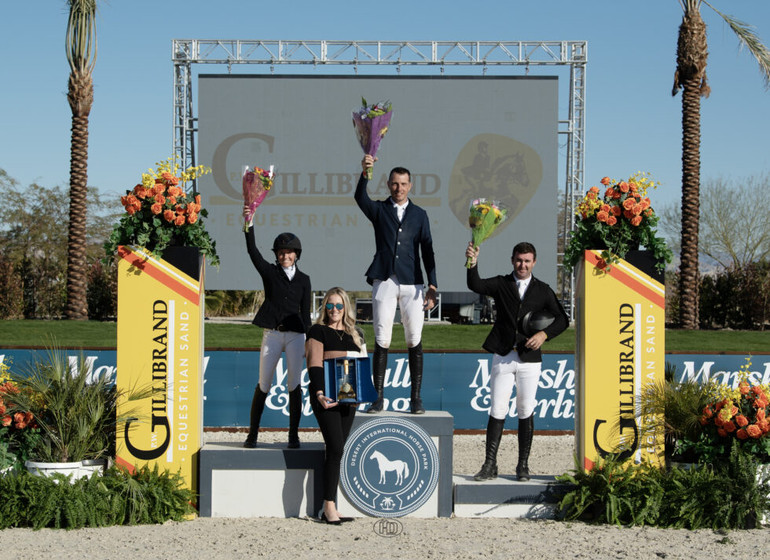 Gregory Wathelet (BEL) topped the podium in the $145,100 Gillibrand Sand CSI3* Grand Prix, pictured with Caroline Hollosy from Gillibrand Sand. Photo © High Desert Sport Photo.
The risks paid off, however, for the duo, who had taken multiple top four results but had yet to see a victory here in the desert. Their time of 39.47 seconds awarded them the win by over three seconds
"We've had him for a while, maybe two or three years," Wathelet said of Clarity, a 2009 Holsteiner gelding (Clarimo x Ephebe For Ever). "He was with a student of mine, [Marie Valdar Longem (NOR)]. I decided to take the reins in September. I knew him for a long time, but he's only been with me for a few months."
Wathelet believes the future is bright for this horse with him aboard, and results are already coming in. "He's done some nice things at the end of the winter in Europe and has done well here. He's quite consistent and safe, jumping big grand prixs easily enough. I'm really happy with him and I hope it keeps up," he shared.
The season in California is off to a swinging start for Wathelet, with six FEI wins and national victories on top of that as well. The Belgian is looking forward to future wins back in the Grand Prix Arena after the first off-week.
"I'm for sure very happy," he said. "The horses jumped great. Argentina [De La Marchete] won yesterday. I had a good feeling compared to last week, but I didn't ride well. When something goes wrong with her she can have a few fences down because she's nervous. That's completely my fault. I'm happier with her today than I was last week. In general they all jumped well. This weekend I had only two and I won yesterday and won today.
"I hope [the success] keeps going but we know it won't be like that every week. We have to be quick to win here as we saw yesterday. It was a proper Grand Prix this week. I hope the horses stay fit, good, fresh, and they still have enough for the next few weeks."
Final Results: $145,100 Gillibrand Sand CSI3* Grand Prix
1. CLARITY: 2009 HOLST gelding by Clarimo x Ephebe For Ever
GREGORY WATHELET (BEL), An Breeding: 0/0/39.47
2. BONITA VH KEIZERSHOF Z: 2011 ZANG mare by Bustique x For Pleasure
ALI RAMSAY (CAN), Ramsay Equestrian Inc.: 0/0/42.59
3. COPYCAT: 2013 WESTF gelding by Comme Il Faut x Wogenbrecher
LORCAN GALLAGHER (IRL), Lost Lake Farm LLC: 0/4/42.17
4. CARISSIMO 25: 2013 HOLST gelding by Cascadello x Clinton
MAVIS SPENCER (USA), Georgy Maskrey-Segesman: 0/4/42.92
5. CACTUS DE COSNIERE: 2012 SF gelding by Padock Du Plessis x Flipper D'Elle
ERIC KRAWITT (CAN), Eric Krawitt: 4/77.48
6. THEO 160: 2012 HOLST gelding by Christian 25 x Calando IV
CONOR SWAIL (IRL), Team Philippaerts: 4/77.69
7. KARDENTA VAN'T MEERHOF: 2010 BWP mare by Cardento x Concorde
ELISA BROZ (USA), Hidalgo LLC: 4/78.16
8. SIG CHIARI: 2012 OS gelding by Cristallo II x Landadel
KYLE KING (USA), SIG International: 4/78.48
9. NADALE VAN DORPERHEIDE: 2013 BWP gelding by Zilverstar T x Winningmood
CASSIO RIVETTI (BRA), Ilan Ferder: 4/80.40
10. VITAL CHANCE DE LA ROQUE: 2009 SF gelding by Diamant de Semilly x Rivage du Poncel
CONOR SWAIL (IRL), Conor Swail: 4/81.53
11. ECHO DE VIRTON: 2010 SBS gelding by Vagabond De La Pomme x Grignoteur De La Fontaine
MARIE VALDAR LONGEM (NOR), Marie Valdar Longem: 5/84.34
12. LAVALLINO TER KLOMP: 2011 BWP stallion by Clearway x Coriano
JENNIFER WAXMAN (USA), Lost Lake Farm LLC: 8/79.62