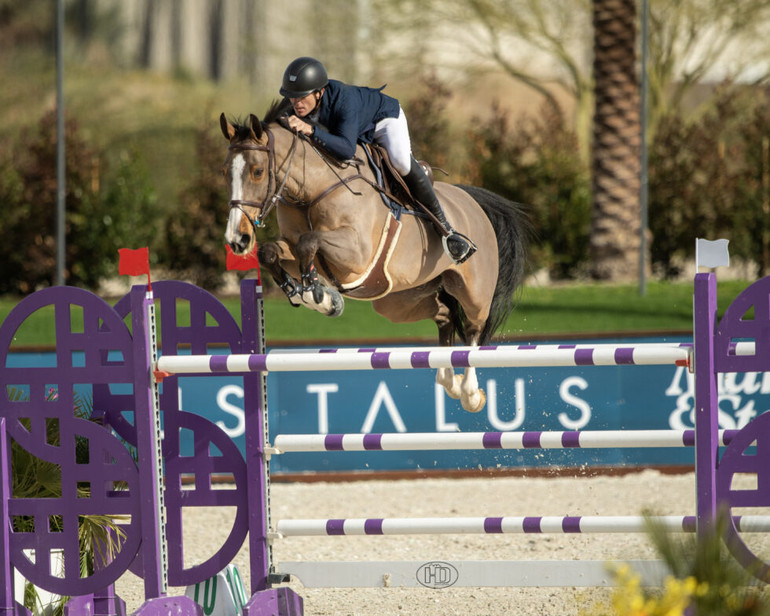 Gregory Wathelet and Ace Of Hearts, winners of the $30,000 FarmVet 1.45m Open Classic. Photo © High Desert Sport Photo.
Press release from Desert International Horse Park
---
Gregory Wathelet (BEL) came out with a bang during his first trip to Desert International Horse Park (DIHP). The Belgian Olympic team bronze medalist took two big victories Thursday as FEI and National show jumping kicked into gear for Desert Circuit II.
As the day began, it was FEI action taking center stage in the $5,000 Hygain CSI3* 1.40m Two Phase. Colm Quinn (IRL) set the track for athletes to prepare their mounts for the week's upcoming events. Wathelet piloted three mounts, the second of which proved to be the cream of the crop, but showed he will be a true contender no matter the ride as Desert Circuit continues.
In the first FEI class of the circuit, Wathelet claimed top honors aboard Berline Du Maillet Z, owned by Mambour Delphine. Of the 19 international entries, his second-phase time of 26.99 seconds was plenty to seal the deal.
"I've had her for two years already," Wathelet said of the 12-year-old Zangersheide mare (Berlin x Action-Breaker). "She's very competitive up to 1.50m. It's a really careful mare. She's done some really good things. I'll do the 1.50m Friday and the 1.45m on Saturday; that's the plan for this week."
Wathelet knew he had the horsepower, but actually planned to rein it in prior to getting in the ring. "The plan at the beginning wasn't to go very fast because she hadn't jumped for six weeks now," he continued. "I wanted to see how she felt because sometimes she can feel very careful, but right away she felt really easygoing and confident.
"I'm really happy," Wathelet continued regarding his time in the desert thus far. "I must say everything is really great. The ground is super; it's what we have at the best shows in Europe. It's big with good fences, big warm-up, lots of space, and stables are very good for the horses, which for me is the most important."
Second-place honors went to Stella Buckingham (USA) and Great White, while Elisa Broz (USA) and Kardenta Van't Meerhof claimed third.
Wathelet's winning streak continued in the $30,000 FarmVet 1.45m Open Classic as he sped to the win in the single-round speed class aboard Ace Of Hearts. In a convincing manner, the pair crossed the timers in 59.738 seconds, over four seconds faster than the second-place combination.
The course, built by Quinn, was all about track and eliminating strides wherever possible around the tight turns. Wathelet's strategy proved extremely effective as the 13-year-old Estonian Sport Horse stallion navigated the course flawlessly. Broz took another podium finish, this time finishing in second place aboard Crispo R, while McKenna Norris and Billy Nala claimed third.
"[Ace Of Hearts] is a really, really careful horse," Wathelet said. "He's older but very green because he was injured for quite a long time. He's been back for over a year and is a really good jumper. I wanted to start National this week and increase next week, and the next tours go a bit higher. The quality is very good. I've had him since he was 5 years old but he spent about four years out between [ages] 8 and 11.
"He didn't show much in November and December because I wanted to save him for these shows; I think there are really good classes for him here. I also wanted to bring him for the FEI grand prixs during the tour," Wathelet remarked.
Wathelet's first trip to DIHP has proven fruitful already. "The idea was to try something else," he said about attending a new event. "It's a different system here and different classes. I wanted to change for the winter and get a new experience. On top of that, I really like California. I thought I'd combine the sport here with a vacation."
Planning to stay for additional weeks of Desert Circuit, Wathelet traveled an impressive up-and-coming string to contend for top results. "I wanted to see what kind of level it was here; it's always difficult to say and compare what you can get here to Europe," he continued. "I brought horses who have done really good results at two- and three-star shows in Europe. It was a good fit for me to be competitive. That's my goal is to be competitive and have fun. It's a good start."
Show jumping at Desert Circuit II continues Friday with the $38,700 Morning Star Sporthorses CSI3* 1.50m Speed and the Non Pro 1.20m Gambler's Choice to benefit Manes for Movement.